A very sleek Beijing-Jeep Cherokee XJ, Spotted in China in front of a KFC in a faraway suburb of Beijing. The good Jeep has been modified to the max with heightened suspension, giant 20 inch tires, black door handles, a heavy antenna on the front bumper, chromed mirrors, sun visors on the side windows, a snorkel, a bull bar, a roof rack, and a brown orange paint job.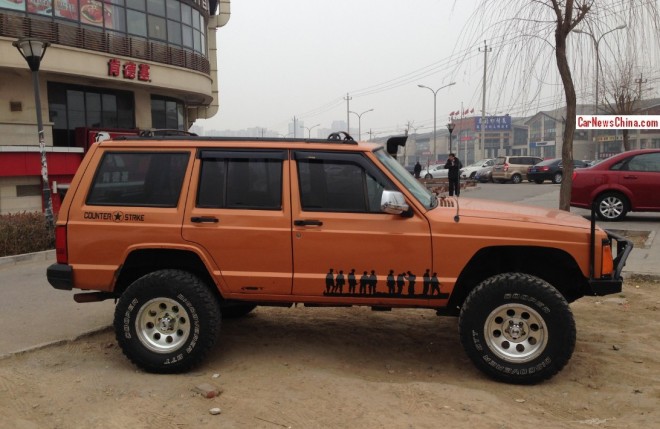 The most interesting additions however were these Counter Strike stickers, referring to a popular first-person shooter video game. The stickers fit perfectly well in the ensemble. Initially I had doubt about the shiny mirrors, until I realized they match with the alloys, although not exact.
The Beijing-Jeep Cherokee was manufactured in China from 1984 until 2009 by Beijing-Jeep, a joint venture between the Beijing Auto Industry Corporation (BAIC) and AMC/Chrysler. This particular car seems to be a late 1990's example. The Cherokee was available with a 2.4 liter four-cylinder and a 4.0 liter six-in-line. When Chrysler pulled out of the joint venture in 2009 BAIC decided to continue the Cherokee alone under the Beijing Auto Works brand name, and production is still going strong today.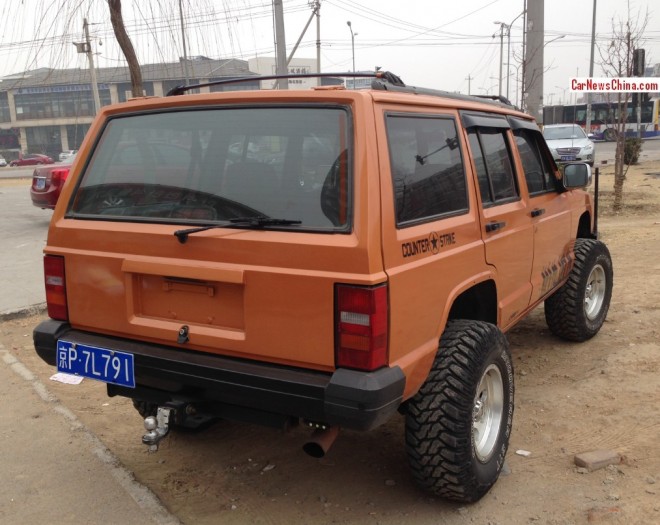 There seems to be no reason to move the license plate to the bumper, but shiny tail hook and large exhaust pipe are very good.
---