The very first official photo of the BYD Tang super SUV, scheduled to debut on the 2014 Beijing Auto Show later this month. The BYD Tang is a hybrid SUV based on the upcoming BYD S7, which again is based on the good old BYD S6.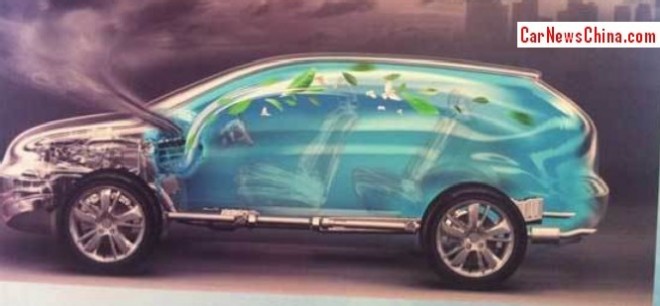 The Tang will be powered by BYD's new 'DMII' dual mode hybrid-drive system mating a petrol engine to an electric motor. The petrol engine is a 2.0 turbocharged four-cylinder with 205hp and 320nm. The electric motor is the same unit as in the recently launched BYD Qin sedan; delivering 149hp and 200nm. Combined output of the power train in the Tang will be 354hp and 420nm, making the Tang the most powerful mass market hybrid SUV in the world.
Price of the Tang will start around 300.000 yuan. Green-car subsidies of central and local governments will bring price at the dealer down to about 265.000 yuan or 42.000 USD.
The photo shows a '542' badge on the door. We are not sure what it means. There seems to be no connection with power; neither in hp nor in kw. More as we get  it…