A ready-to-play Ford F-150 Tonka Edition, Spotted in China in the great city of Chongqing by Reader Colin, thank you for the pictures! The F-150 Tonka Edition is the result of a collaboration between Ford and the famous Tonka toy brand. Based on the regular Ford F-150 and dressed up with Tonka's signature bright yellow paint, Tonka badges, chrome alloys and sills, all-terrain tires, chromed exhaust pipes, and heightened suspension.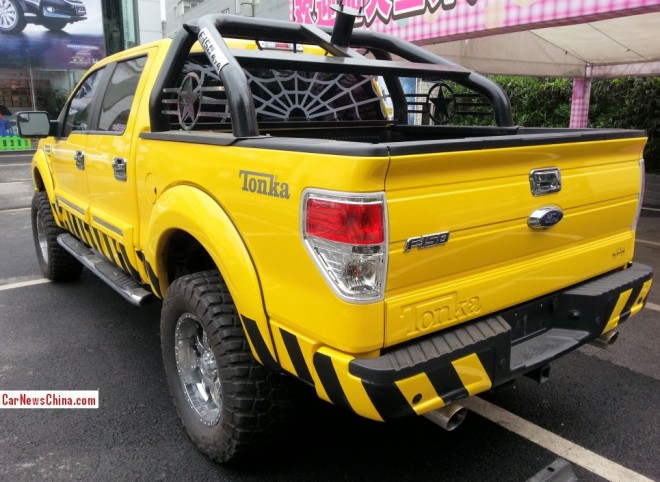 The Chongqing car is even further Tonka'd with a large rack in the bed and construction-style decals. Power comes from a 5.0 liter V8 with 360hp, making for a very fast Tonka truck.
This is the very first time we see the Ford F-150 Tonka Edition in China. It is a rather rare vehicle even in the United States. Ford made only 250 in 2013 and 500 in 2014. The new Tonka Edition based on the 2015 F-150 will arrive only late next year.
The Ford F-150 is not officially imported in China, but demand is high and the F-150 Raptor is especially popular. Most cars arrive via the thriving gray market (direct dealer to dealer sales), mostly from dealers on the U.S. West Coast straight to the hungry Chinese market. Prices are sky high, a base F-150 goes for around 450.000 yuan or 72.000 USD. The Tonka was likely about double that, and sure worth every mao!