An immensely mad Infiniti FX45, Spotted in China in a faraway suburb of east Beijing. The vehicle was parked like an a*hole, blocking the whole pavement straight on a crossing, note blue sign to the left. But no matter all that bad, because this Infiniti is Bling! Porned up with an eye killing shiny silver chrome wrap and further prettified by a hefty body kit, darkened windows, giant wheels with 6-spoke alloys and red Brembo brakes, and a matte gray roof rack.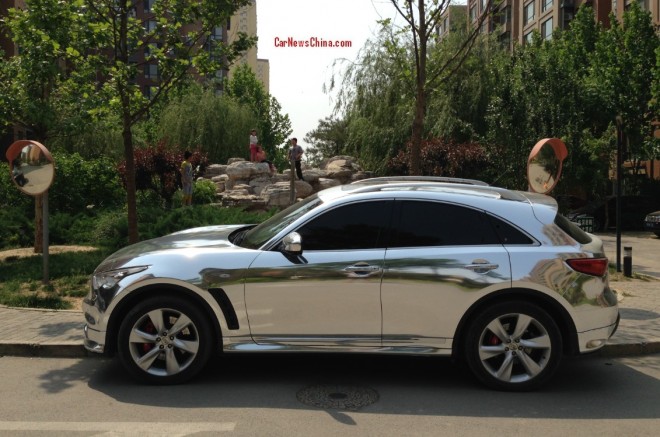 Mirrors for the pedestrians of little use today… The wrap was of top quality and perfectly extended over the bumpers, mirrors and door handles. Only dissonant are those alloys. Shiny would have been better, or black,  but not this half-baked stuff. The Infiniti FX45 is super speedy SUV powered by a massive 5.0 liter V8 with 430hp and 500nm. Speedy Silver!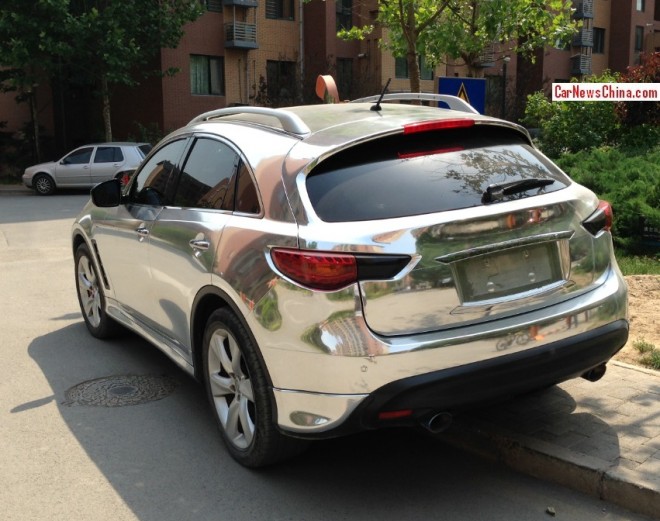 Rear lights partly black, and time now for our small and not-yet very famous (but we are working on that) China Infiniti FX Collection™: matte white FX45, matte black FX45, gold FX35, orange FX35.