This is not a Volkswagen Polo in China, although it has the badge, the grille, and the headlights of a 2006-2009 Polo Mk5. Nevertheless, this is a very interesting vehicle in its own right, Spotted in China on a messy parking lot in a faraway suburb of east Beijing. It is called the Fulu Motor FLC3 and manufactured by the Dezhou Fulu Vehicle Corporation based in the great city of Dezhou in Shandong Province.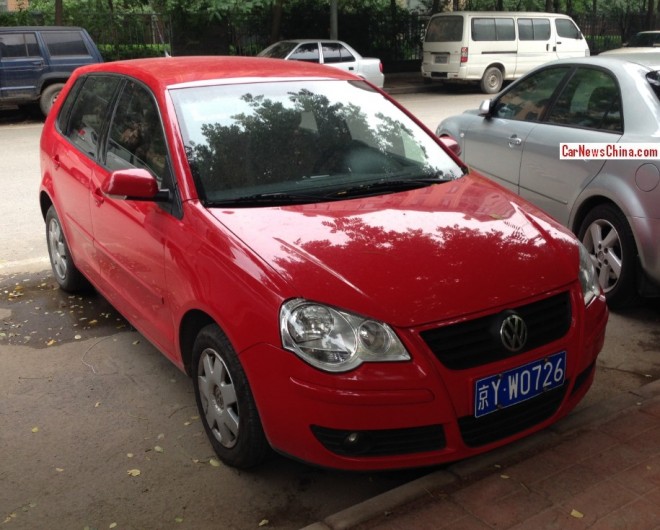 A 2006-2009 Polo Mk5 for reference, spotted just a few streets away from the Fulu FLC3. The Polo MK5 was manufactured in China by the Shanghai-Volkswagen joint venture.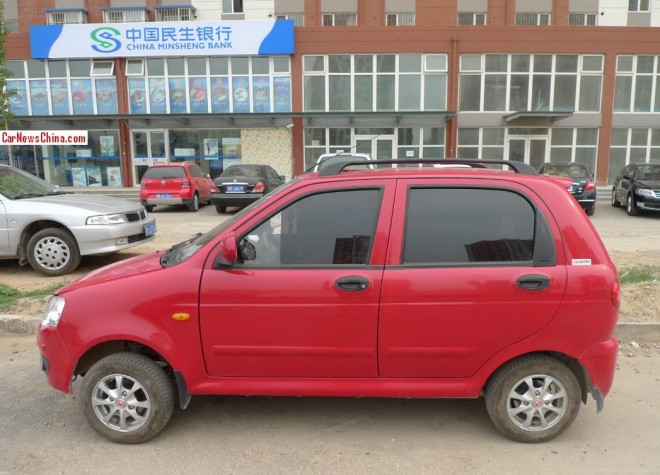 The rest of the body is a copy of the Chery QQ3 mini car, roof rack included, albeit quite a bit smaller.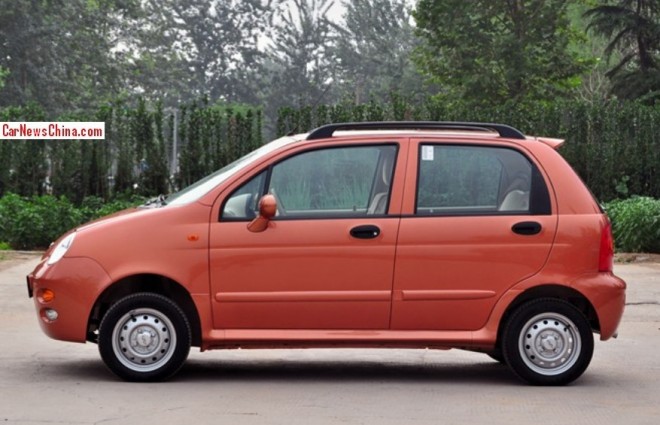 The Chery QQ3 for reference. Wheel covers of the Fulu are much cooler.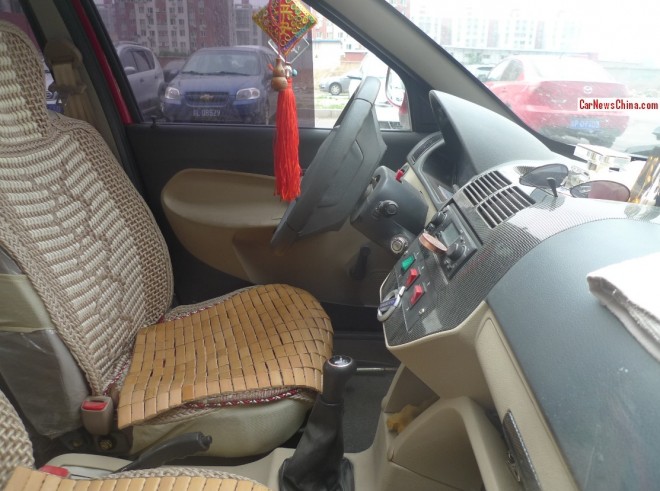 The interior is inspired again by Volkswagen and fitted with a Volvo badge on the 'carbon-fiber' center console. The Fulu Motor FLC3 is powered by a 0.6 liter two-cylinder petrol engine with 35hp and 52nm. That doesn't sound like a lot but the FLC3 weighs only 640kg so it tops at a very decent 95km/h. Transmission is a four-speed manual.
Fulu Motor also makes an electric variant called the FLE3, powered by a 72V/5.6 KW electric motor. Weight comes in at a heavy 954kg and top speed is only 55km/h. Better take the petrol engine!
Size: 3300/1500/1540, wheelbase is 2200.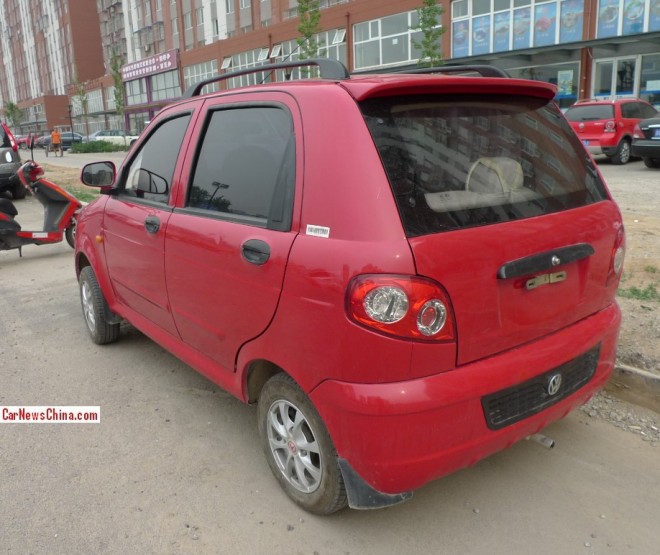 The Volkswagen logos don't come factory-installed but the company knows very well what it copied, so most dealers got the badges ready to go… This kind of vehicle is officially only available for the elderly and the disabled but in reality anybody can buy one. Price for the FLC3 starts around 9000 yuan or 1440 USD. A new Polo starts at 63.000 yuan and the Chery QQ3, it is still in production!, starts at 26.800 yuan.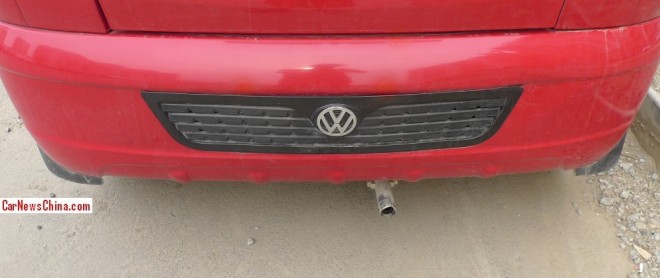 A professional badge job. Tiny exhaust pipe sticking out far.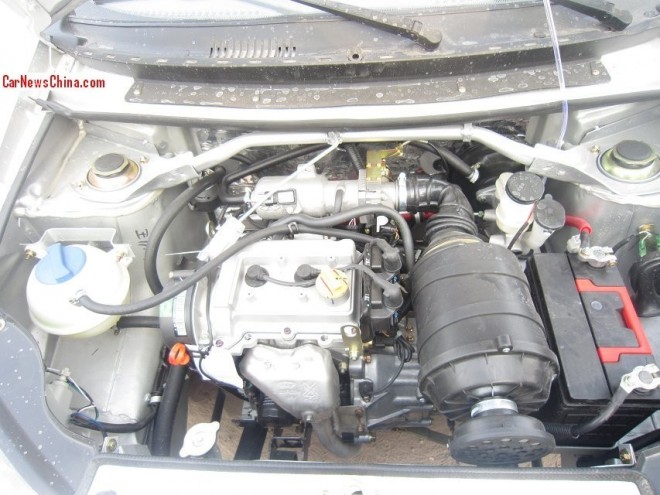 A look under the bonnet (via). There seems enough space for a four-cylinder.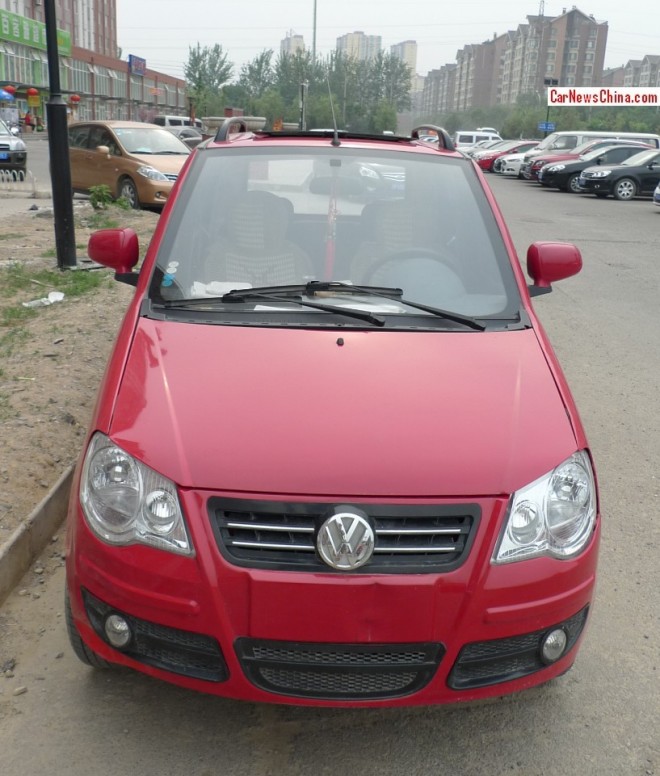 Really not a Polo.
Thanks to Readers DMitra and Erik for helping me to identify this fine Chinese autocar.