A flashy BMW X6M sporty SUV, Spotted in China in the great city of Shanghai by Reader Chiprdan, thank you for the pictures! The X is wrapped is a eye-murdering Pink wrap and further sexed up by darkened windows, a black grille, black B & C pillars, black window frames, a black front spoiler, black mirrors, black doorhandles, and black 10-spoke alloys. License plate reads 619M6, and that is  the best license plate we have seen on an X6M in China so far.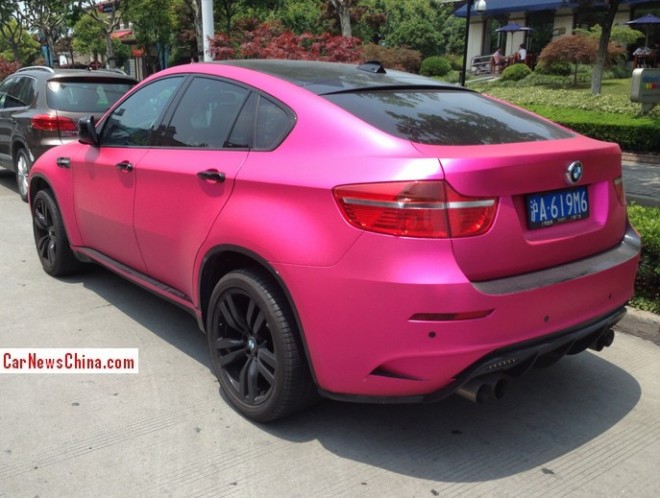 Pink is so shiny is shades the sun, taking out all light of day, by just being there. The wrap appears to be of top quality, and a job perfectly done, the Pink body contrasting constantly with the black detailing. The BMW X6M is one of the fastest SUV's in the world, powered by a twin-turbocharged 4.4 liter V8 with 547hp and 680nm, good for an unlimited top speed of 285 km/h and a 0-100 in 4.7 seconds. Speedy Pink Six!
Time now for our Famous China-BMW X6 Collection™: body kit, shiny blue, matte red, lime-green, in gold, silver & lime-green, and a Hamann Tycoon in matte-black.