A super stretched Hummer H2 limousine, Spotted in China on a car market in Beijing by Reader & Serial Spotter Navigator 84, thank you for the pictures! The H2 is extended by at least six meters making for a giant party sled. It is for rent for weddings and other miserable occasions, normally they go for some 800 yuan per day, including a driver and disco, but excluding the much-needed beer.

This is one of the longest Hummers I have seen in China. Pink flowers on mirrors are a typical Chinese wedding-thingy. The Hummer brand is very popular in China even today, GM really missed a big opportunity here. Low-mileage H2 and H3 Hummers are still imported dealer-to-dealer from the United States, and sell for lots of money.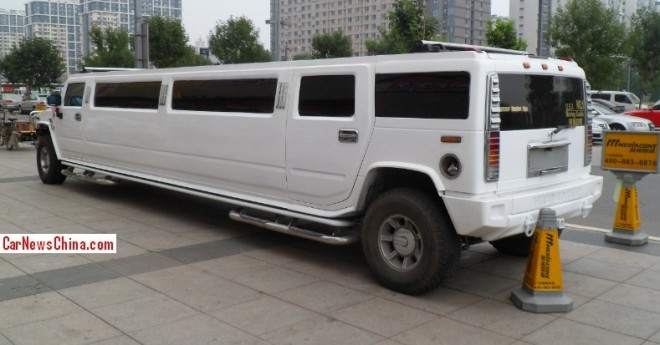 It is sure an impressive car, but it should have some extra Bling, like shiny alloys, or a bunch of antennas.