A massive Rolls-Royce Phantom Drophead Coupe, Spotted in China in the great city of Shanghai by Reader Antoine Chalendard, thank you for the pictures! The majestic machine is painted in white with the bonnet and window frame made out of naked stainless steel.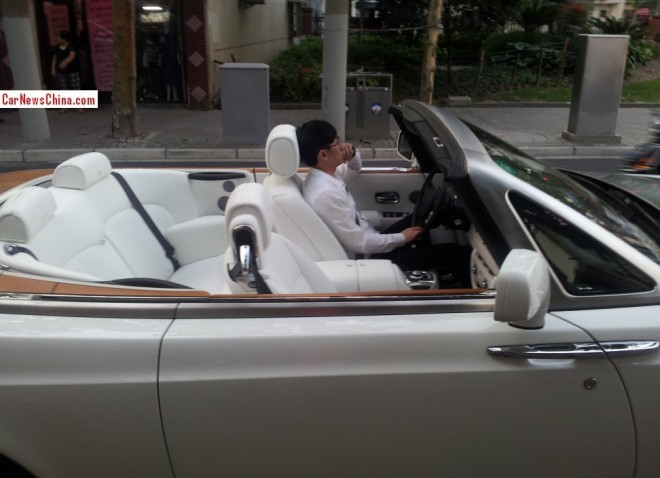 Seats in white with a cream-white dash. Driver in white with black hair, pretending not to notice Mr. Chalendard. Teak wood paneling around the convertible's tonneau cover. Suicide doors with heavily chromed handles.
The Drophead Coupe is a very rare car in China as most such wealthy buyers prefer something with more privacy. Price is a steep 8.008 million yuan, or 1.3 million USD. The '8' is a lucky number in China and the Chinese are deeply superstitious, so all automakers make sure they got at least one eight in the price of each car. Staying with Rolls-Royce; the base Phantom sedan goes for 6.88 million yuan. Six is lucky as well, but not as lucky as eight.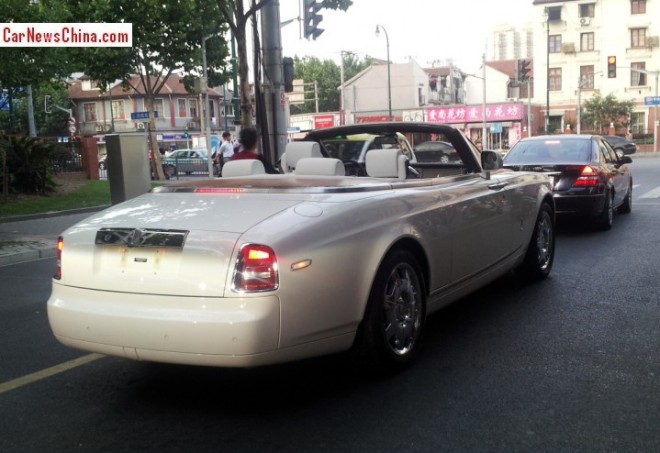 No license plates, this seems to be a brand new car. Note Changan-Ford Mondeo in the background, this Phantom is a BIG car. Big engine too, a 6.7 liter V8 with 453hp and 720nm, good for a 240km/h top speed and a 0-100 in 5.8 seconds. Fast white whale!