An absolutely manic Oakley Design Lamborghini Aventador LP760-4 Dragon Edition, Spotted in China in the great city of Shanghai by Reader Antoine Chalendard, thank you for the pictures! The Dragon Edition was launched in 2012, built by tuner Oakley Design in cooperation with supercar broker Refined Marques. Only ten units were made, and this particular example is the number one car.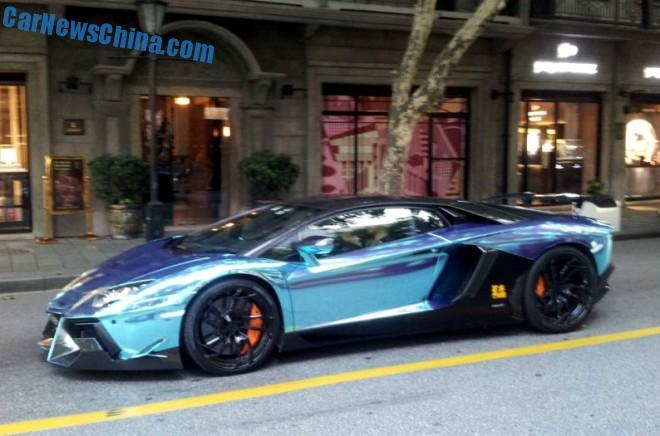 The Dragon Edition 1/10 is wrapped in a light chrome aqua blue wrap covering most of the original black body. the wrap was wrapped by Oakley at the buyers request. Other additions include a fatass body kit with an impressive front spoiler, a completely new rear bumpers with lots of wings and vents, a huge carbon fiber rear wing, the largest tires that would possibly fit in the arches, and freaky 5-double spoke blue black alloys. The interior is dressed up with carbon fiber bits, black leather with red stitching,  red dragons stitched on the door panels and a special dragon edition 1/10 badge. Oakley tuned the 6.5 liter V12 engine to 760hp and 740nm for an top speed of  375km/h and a 0-100 of 2.4 seconds. Fast Lamboo!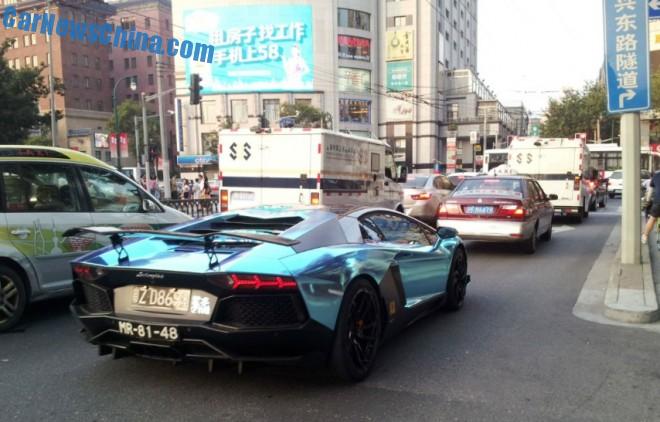 This rare Dragon Edition sports Guangdong Province and Hong Kong Macau license plates, indicating it was purchased in Macau and driven over the border to Guangdong, and then again to Shanghai. Buying supercars in Macau, or in Hong Kong, is a loophole to avoid the nasty Chinese taxes that can easily double the price of a heavy-engined car. Yes, even the rich need to save some money these days! Anyway, it won't be long before the government finds out and closes the loop.
Mr. Chalendard furthermore found out that the vehicle belongs to a 30-something who earns his bog money by trading wholesale with the country of Papua New Guinea. Must be good business…