A very froggy Porsche Cayenne S Hybrid, Spotted in China on a parking lot in central Beijing. The good Porsche is wrapped in an eye-soothing shiny green wrap, and further porned up with darkened windows, black winglets under the fog lights, black bars in the grille, and huge 22 inch tires with matte black six-twin spoke alloys.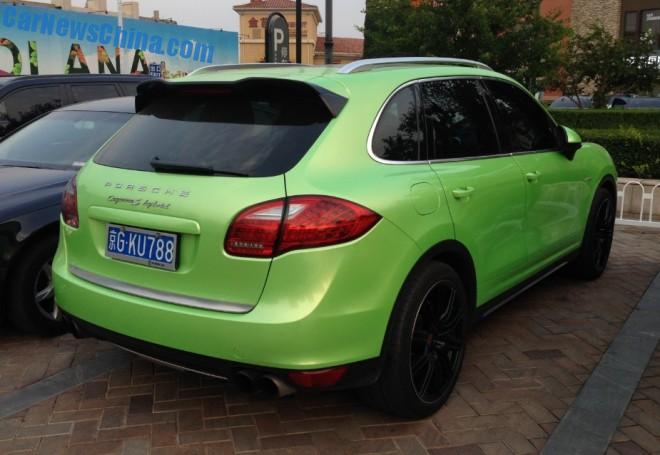 The wrap is of the highest quality and was neatly applied over the bumpers, door handles, and mirrors. The mirror stalks however are in black, ans so is the rear wing. Chrome rim around the black windows a perfect contrast with shiny green body. Only dissonant is the roof rack which is in standard matte gray, not matching or contrasting with anything else on the car. The rood rack should have been black.

The 2010 Cayenne S Hybrid is a very rare car in on Chinese roads. Porsche never not officially sold the hybrid in China, so the owner of this vehicle must have paid a lot of money to get it via the gray market. The new 2014 Cayenne S Hybrid will be officially sold in China but pricing hasn't been announced yet.
Time now, for our Famous China-Porsche Cayenne Collection™: license, matte black, TechArt Magnun, Mansory, shiny purple, Mansory Turbo, shiny green, gold, shiny blue, Mansory 958, canary yellow, Luma CLR 558 GT, TechArt Magnum, baby blue, Hamann Guardian, a fish, pink, body kit, police car, matte black, broken with semi-naked girls, very pretty, Hamann Guardian,  stretched, pink, in gold, another stretched, in orange, with dog-pee, and French.