An extremely beautiful Audi 100 sedan with its original period license plates, Spotted in China on the Beijing Asian Games Village car market in Beijing. The vehicle was in perfect shape. Fresh looking paint, shiny chrome, original fog lights, original badges, original wheel covers, and not a spat of rust or rot in sight.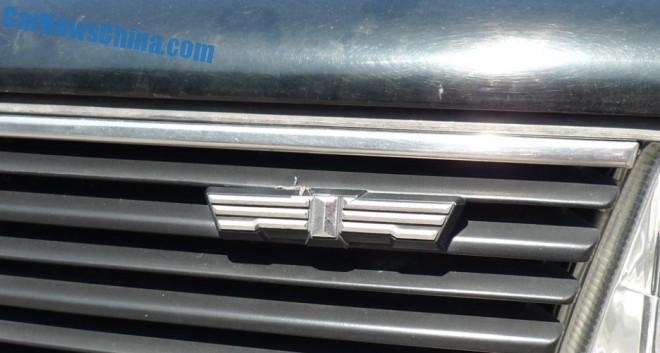 The third generation 'C3' Audi 100 was manufactured in China from 1988 until 1999 by the FAW-Volkswagen joint venture in Changchun in northeastern Jilin Province. This particular car is a 1996 example.
In the early years production numbers were low and almost all cars went straight to the government. From the mid 1990's private buyers started to buy the big old Audi as well. In 1999 the 100 was finally replaced by the first generation Audi A6.
Most China-made Audi 100's had the 'winged 1′ logo on the grille. The '1' stands for First Auto Works, or FAW. The Audi 100 also served as the base for various Hongqi-branded sedans and limousines. Hongqi, meaning Red Flag, is a brand under First Auto Works.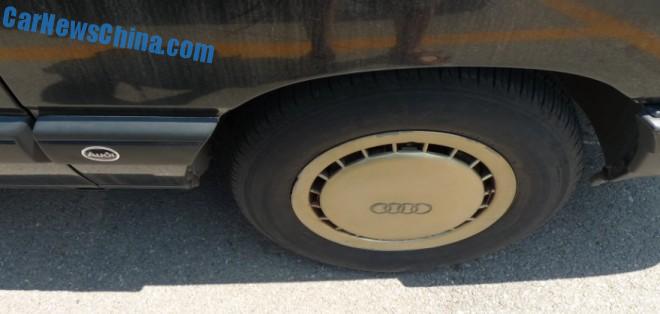 Original period wheel covers are extremely rare. Color is slowly fading.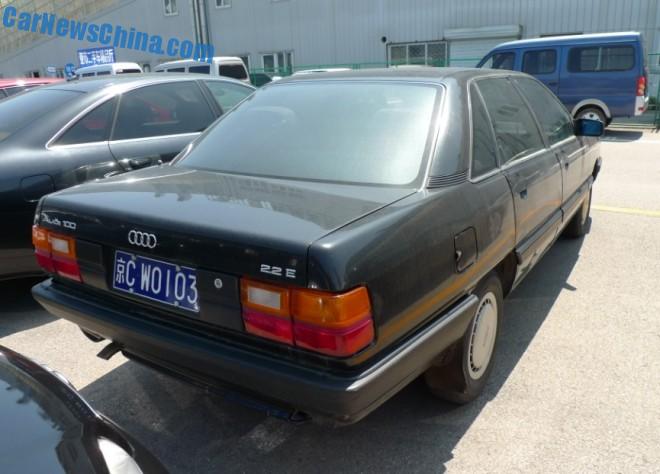 In its early days the Audi 100 was the only upcale sedan available in China, and that is basically how the dominance of the Audi brand in China's luxury car market started. They were there first, with a good and well-received car. Streamlined design still impressive today!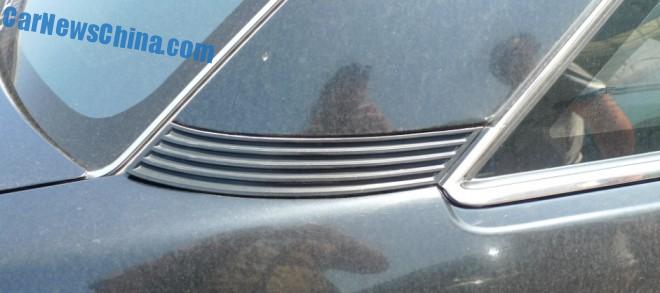 The famous plastic five-bar plastic ornament connecting the side and rear windows.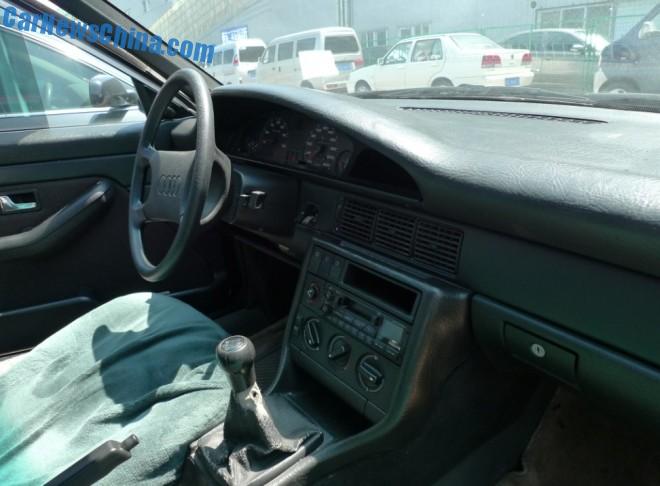 I then met the owner of the vehicle, an owner of a nearby second hand car shop. The Audi 100 was his personal car and he wouldn't sell it for the world. He bought it 12 years ago and clocked a respectable 250.000 + kilometers without any serious problems. Note triple air vents and period radio-cassette player.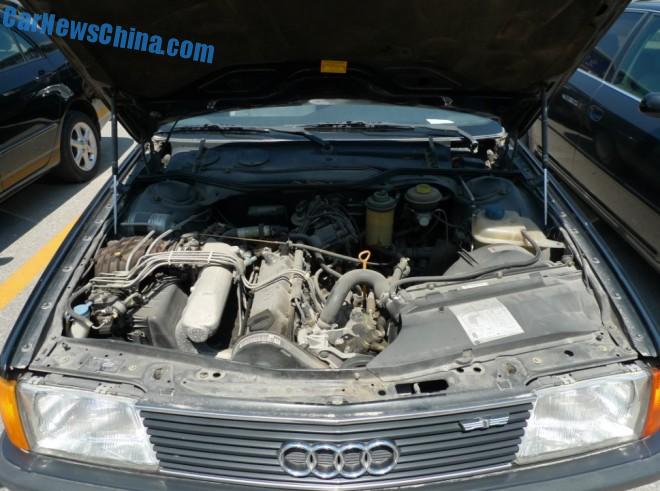 The owner was especially fond of the engine, always ready and always running. The China-made Audi 100 was available with a 2.0 four-cylinder or a 2.2 five-cylinder. This is is the five here, looking a bit dusty but otherwise picture perfect. When new the engine had an output of 127hp (95kw).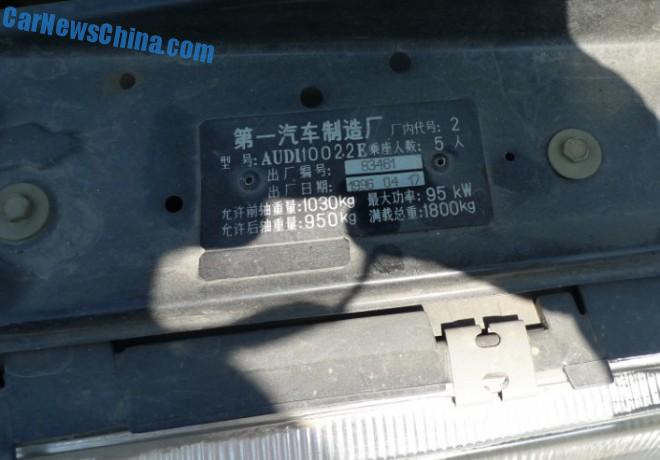 Audi 100 2.2 E. For five passengers. Curb weight of 1030 kilo. Number 83461. Date stamped on 17-04-1996.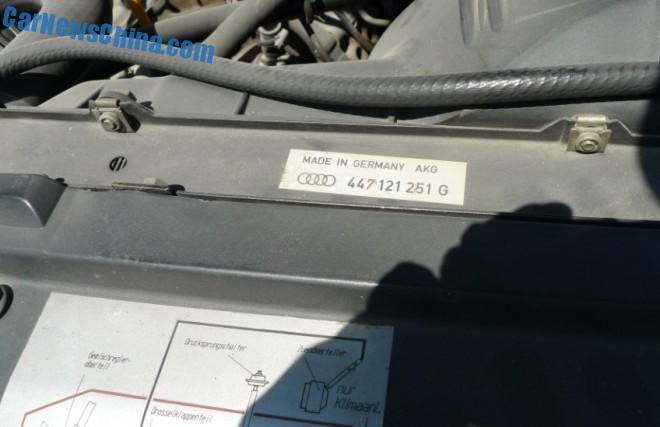 The engine was made in Germany and shipped to China. The engine diagram is in German, which must have been a hard read for a Chinese mechanic. The 2.0 four-cylinder was manufactured locally in China, and thus a lot cheaper. Still, most Audi 100's that I see have the 2.2 under the bonnet. Earlier on we met an abandoned 100, one from the army, and a fine standard example.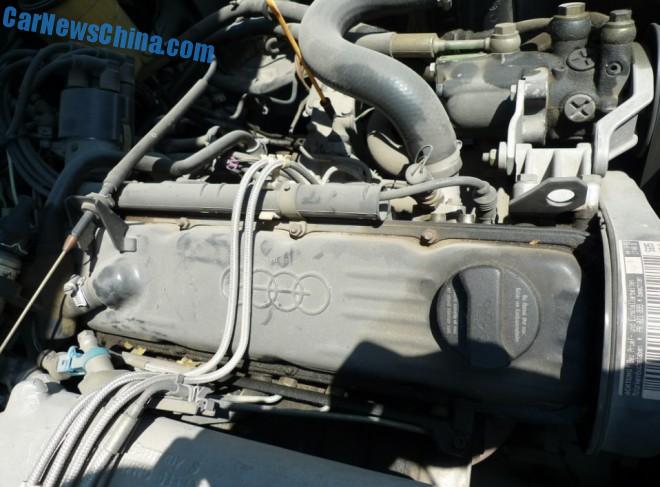 Audi logo stamped in engine block.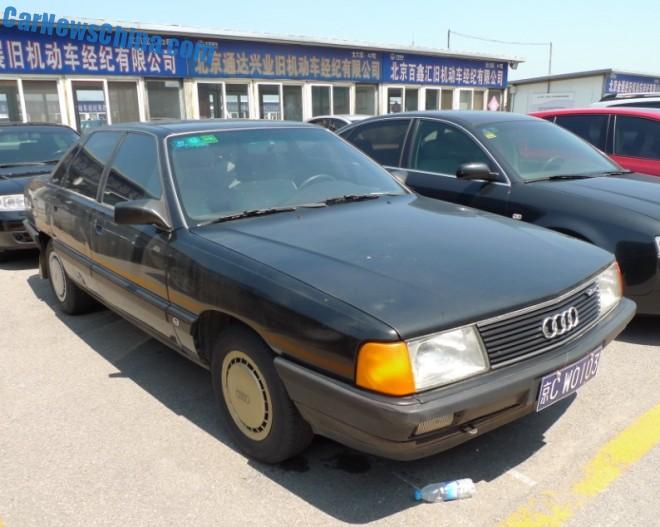 An important car in China's automotive history, and a great car in any way. May this good FAW Audi 100 clock a many miles more!
Click or Die: