A stealthy Porsche 911 Turbo Cabriolet supercar, Spotted in China on the Beijing Tuning Street. The good Porsche is wrapped in an eye smothering matte black wrap and further porned up by darkened windows, a black convertible roof, extra large tires with five-triple spoke matte gray alloys, and an all-red interior.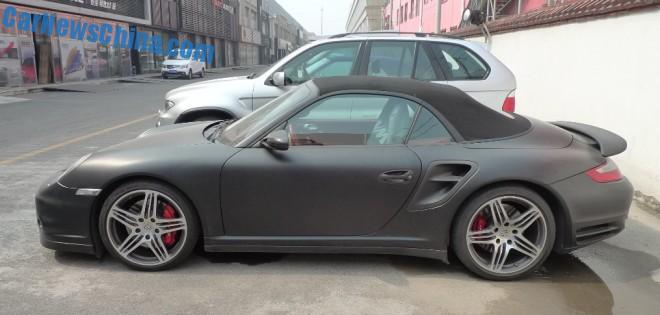 Red brakes form a perfect contrast with matte gray alloys and matte black body. The wrap is of top quality and was neatly applied over the bumpers, door handles, and air intakes behind the doors. The mirrors might appear to be wrapped but they were not. painted instead in standard Porsche black, indicating this once was a black car and we had us a lazy wrapper.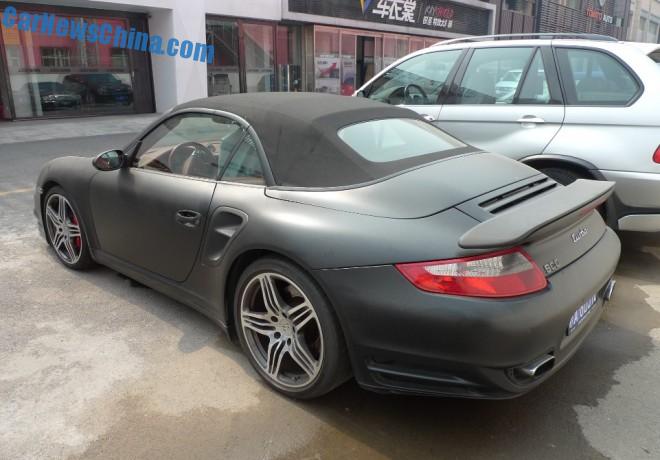 The Porsche 997 was manufactured from 2004 until 2012. The manic Turbo was powered by a twin-turbocharged 3.6 liter flat-six with 473hp and 620nm, good for a 318km/h top speed and a 0-100 in 3.7 seconds. Speedy Stealthy Porsche!