This is the Dojo Pioneer, an electric vehicle from China manufactured by a company called Jiangsu Daojue Industrial Corporation, based in the great city of Yangzhou in Jiangsu Province. The Dojo Pioneer (Kaitazhe, 开拓者) is fitted with a grille nicked from Ford which nicked it from Aston Martin. The front as a whole is nicked from a Ford Fiesta, including the location of the logo and the super sharp headlights.
The Dojo Pioneer is basically a slightly upmarket variant of the Dojo Cool Run (Kupao, 酷跑). The Cool Run, designated A101, sports a different logo than the newer Pioneer but they are both sold under the Dojo brand.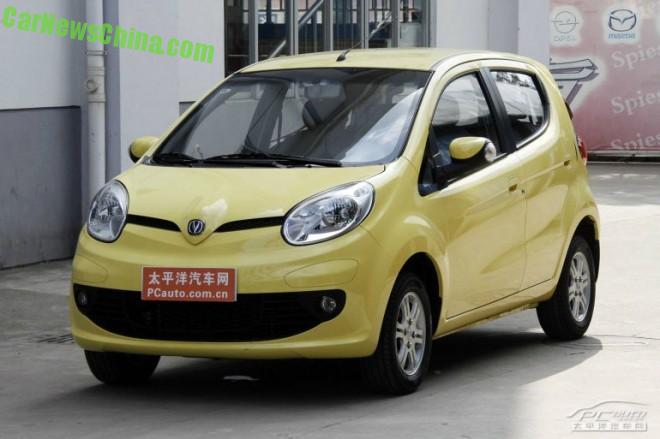 The Cool Run is based on the petrol-powered Changan BenBen Mini, priced from 36.900 yuan to 48.900 yuan. It is not unusual for Chinese automakers to sell platforms, with body but without the engine, to electric carmakers for conversion to electric cars. Changan Automotive supplies various platforms to various companies, including Jiangsu Daojue Industrial Corporation.
In this particular case however things are a bit more fuzzy. Changan Automotive has a giant joint venture with Ford, called Changan-Ford, that makes Ford-branded cars for the Chinese market, including the Fiesta and the Mondeo. But is is unlikely that Changan knows what Jiangsu Daojue is doing exactly with their BenBen platform, they normally couldn't care less as long as they get paid. Ford almost certainly didn't know. That is, until now.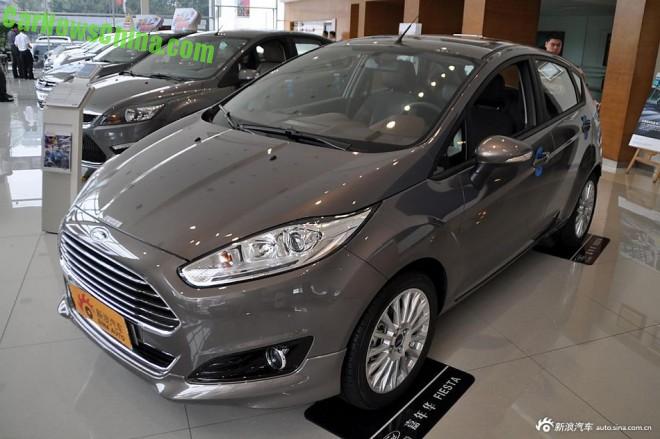 The Changan-Ford Fiesta hatchback for the Chinese car market. Price starts at 79.900 yuan and ends at 122.900 yuan.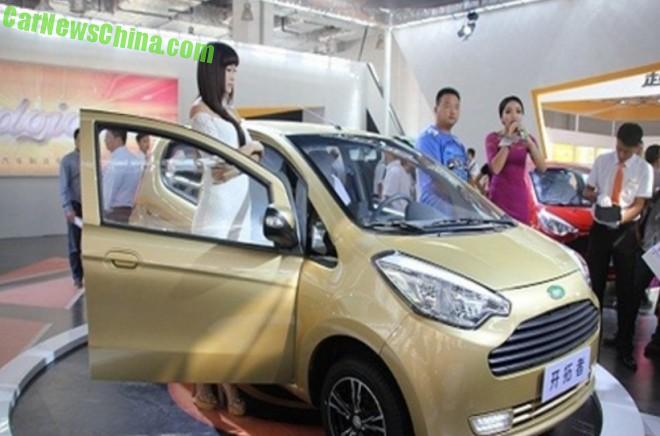 Back now to the Dojo Pioneer, designated A106, seen here with a pretty lady who sure likes to drive electric. LED fog lights and extra sporty alloys for the show. Power comes from a 13.4 hp electric motor sending horses to the rear wheels. Battery is lead-acid. Top speed is a decent 40 kilometer per hour and 0-30 (thirty) is gone in 9.6 seconds. Range is 120 kilometer. Charging takes 8 hours on 220V or 30 minutes for 80% battery on a fast charger.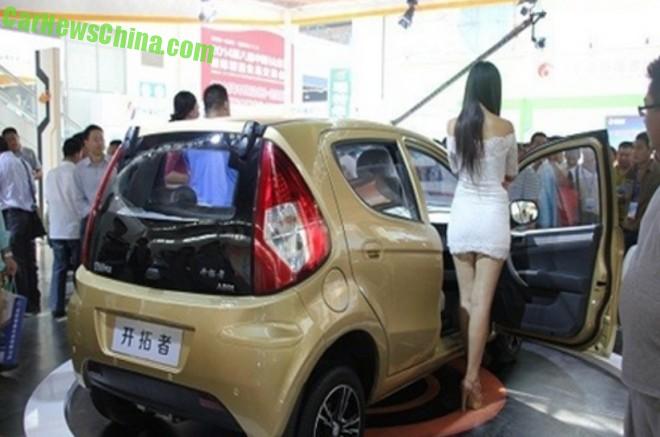 Size of the Pioneer:  3520/1570/1490, and curb weight is 850 kilo. The Pioneer can seat five humans or one absurdly tall model. Price for all this pretty including green-car subsidies: 43.000 yuan or  just under $7000. More expensive than a base BenBen, but cheaper than a Fiesta, and Ford isn't selling anything electric in China anyway.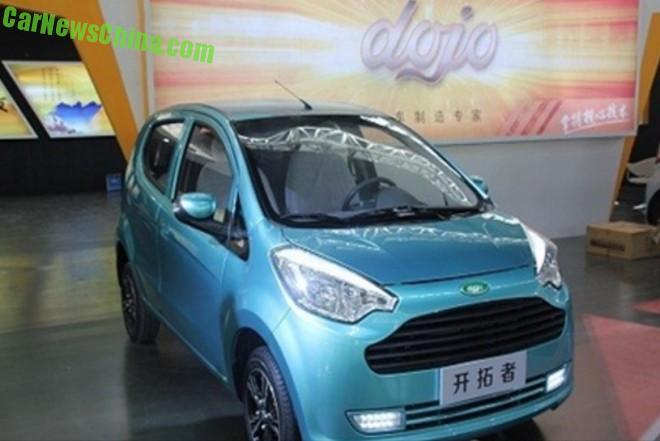 In blue with LED fog lights and sporty alloys.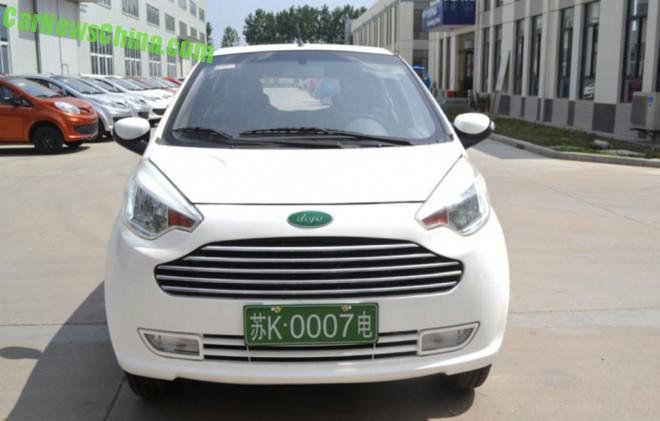 A white Pioneer at the factory with standard fog lights and a rather special EV-license plate. Note the long line of Cool Runs on the left.