A beautiful Bling Maserati Ghibli sedan, Spotted in China in the great city of Chengdu in Sichuan Province by Hellen-Ge. The good Ghibli is wrapped in an eye killing shiny light green wrap, sucking the sun out of the sky, and further sexed up with darkened windows, extra shiny chrome, sporty wheels with matte gray multispoke alloys and red brakes.
The wrap appears to be of top quality and neatly covers the bumpers and mirrors. The door handles, which we usually like to see wrapped in the same color as the bumpers and mirrors, is separately wrapped here in shiny chrome, matching with the chrome strip around the windows. Tasteful.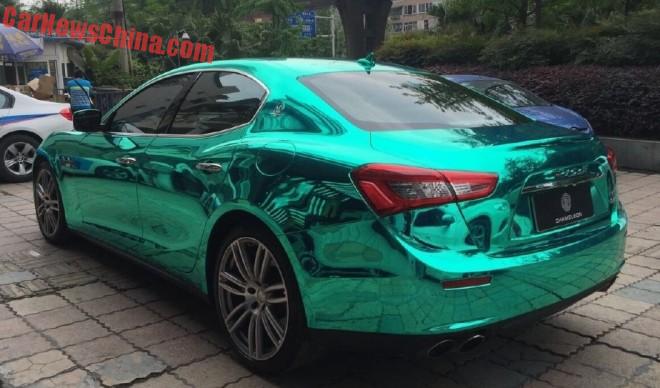 Red rear light break green body a tad too much. Darker covers would have been better, but otherwise a fine shiny ass. The Maserati Ghibli was launched on the Chinese car market in November 2013, but sadly we don't see a lot of them. This Chengdu car is indeed the very first modified Ghibli we met in China.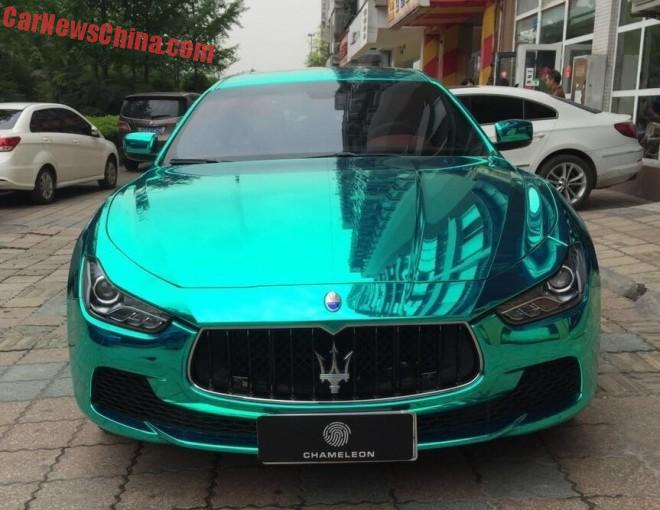 May there be more, because this Maser' is seriously looking good in green. Chameleon is the Chengdu company that wrapped the wrap, no website but they got a QQ, and they also did a nice Scirocco.