The completely outrageous Jiangling Yuhu concept has been unveiled on the Shanghai Auto Show, shocking friend and foe alike. The Yuhu previews a possible far-future sporty pickup truck, featuring a completely crazy and unforgettable design.
The Yuhu is fat over five meters long and almost two meters high. The two-door cabin seats four. It is purely a design study without an engine. The real thing, if it ever hits the market, surely needs something very powerful! Wheel arches are huge and the wheels themselves are just incredible:
The alloy actually crosses over to the wheels, sure that will make for a comfortable ride.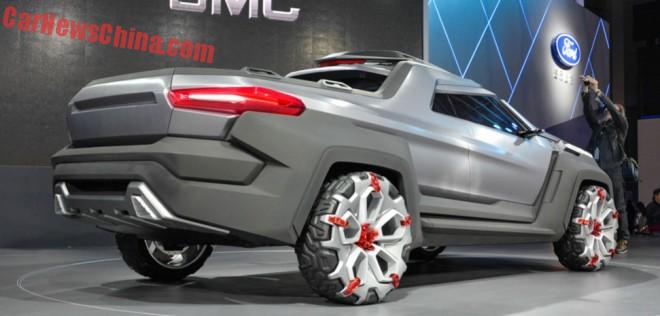 The Jiangling Motor Corporation, or JMC, is one of China's largest builder of small and medium commercial vehicles. They also make a series of rugged SUV and pickup trucks.
With Changan Auto, JMC owns the controversial Landwind brand, famous for the infamous Landwind X7 SUV. Last but not least, JMC has a successful joint venture with Ford Motor for making Ford-branded commercial vehicles and SUV's.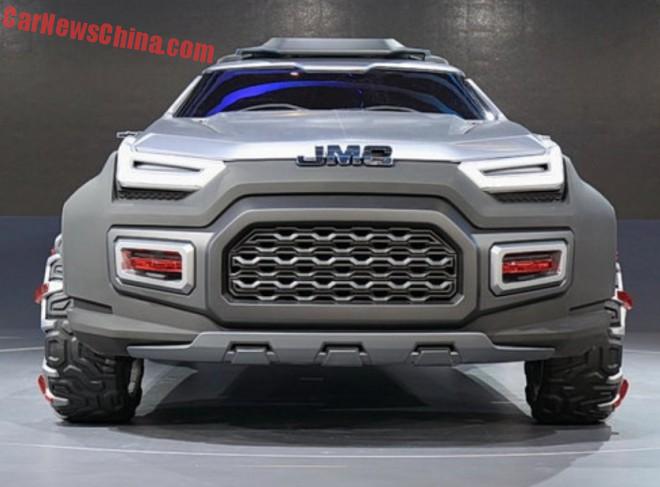 A very angry car this is, ready to kill all those people wining about that Range Rover thingy. Interestingly, back in 2013 JMC also launched a Yuhu-named concept on the Shanghai Auto Show, and they use the name for a series of cheap pickup trucks. Yuhu is best translated as 'Domestic Tiger'.