A very flashy Dodge Challenger SRT8 392, Spotted in China in the great city of Shanghai by Reader Antoine Chalendard, thank you for the pictures! The mad 'Merican coupe is painted in froggy green and black, and further Dodged up with black mirrors, darkened windows, and sporty twin-five matte gray alloys with red brake calipers.
The SRT8 392 is an extra speedy variant of the SRT8, powered by a 6.4 liter (or 392 cubic inch, hence the name) Hemi V8 engine, good for a massive 470hp and 637nm, sending horses to the rear wheels via a five-speed automatic transmission. Unlimited top speed is 274 kilometers per hour and 0-100 is gone in only 4.7 seconds. The SRT 392 is rather rare as it was only manufactured from 2012 until 2014.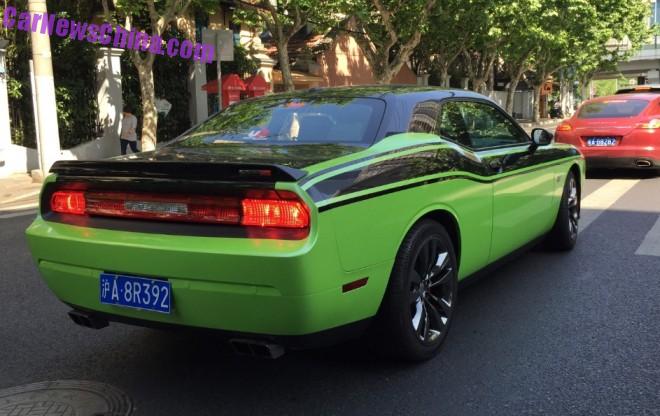 Extra large wing on the back, but do you really need more down force with a curb weight of 1887 kilo?
The Dodge Challenger is not officially imported into China, just like the Viper, but quite some arrive via the gray market, mostly from dealers on the U.S. West Coast. Current price of the base car hovers around the 600.000 yuan or 96.000 USD. Price in the U.S. starts at… 26.995. That indeed, is a healthy markup!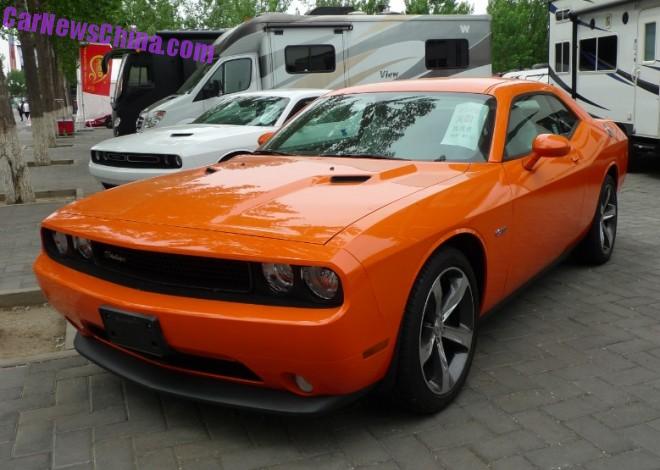 I met two fine Challengers on the recent FB-Show in Beijing. First up an orange 100th Anniversary Edition. Delivery miles, for 750.000 yuan.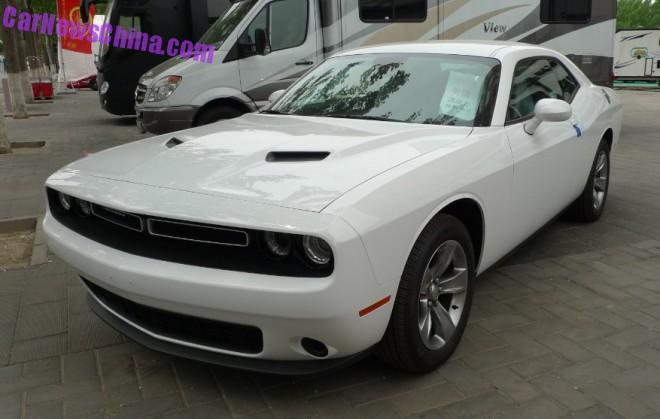 The base SXT, brand new just from the boat, for 590.000 yuan.
Lotta money, but good car. May there be more V8 engines to roar this country!