A super happy Lexus LS400, Spotted in China on the Wufang Tianya Automobile Parts City in Beijing by Serial Spotter Navigator 84, thank you for the pictures! The pretty Lex' is painted in Pink and further sexed up with darkened headlights, darkened windows, black mirrors, a black roof, big wheels with shiny five-spoke alloys, and a badass body kit.
Oval shaped exhaust pipes integrated in rear bumper. Pink works wonder well on aerodynamic shape of the first generation Lexus LS400, which was manufactured from  1989 until 1994 with a facelift in 1992, this Pinky is an original pre-facelift example, powered by the famous 1UZ-FE 4.0 liter V8 with 250 horses. The first generation LS400 was not officially exported to China, but some cars arrived via the gray market and other misty channels. We have small collection: red body kit, a silver example in Beijing, a police car in Zhuhai and a crazy car in Beijing.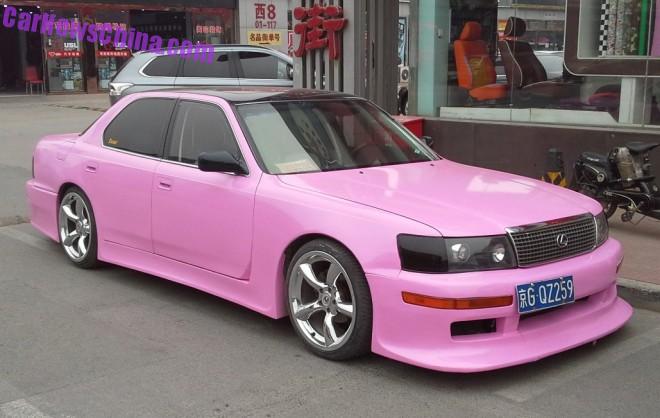 A brilliant piece of work this Lexus sure is. Door handles in Pink too. Shiny silver alloys go well with Pink body and black windows. One of the best looking Lexii we have seen in China so far.