Landwind Motor has announced pricing for the extremely controversial Landwind X7 SUV, a 99% Chinese clone of the Range Rover Evoque. Price will start at 134.000 yuan and end at 149.000 yuan ($21.573 – 23.988). The Landwind X7 will officially launch on the Chinese car market on August 6.
Now!, let's have another look at that Range Rover again:
Here she is. This is the China-made version, manufactured by the Chery-JLR joint venture. It was launched on the Chinese market in February. Present price ranges from 398.000 yuan to 552.000 yuan (64.075 – 88.868). The Evoque is thus at least three times as expensive as the X7.
Landwind is a Chinese car maker jointly owned by Jiangling Motors and Changan Auto, coincidentally (or not?) both joint venture partners of Ford, with Jiangling-Ford and Changan-Ford respectively. Ford owned Land Rover-Range Rover until 2008 when they sold it on to the TATA conglomerate of India.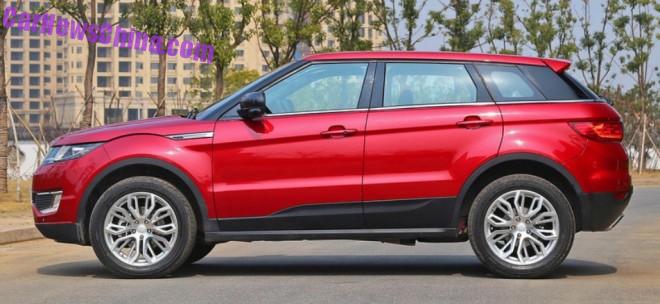 This again is the Landwind X7. Time for a comparison on size:
Range Rover Evoque 5-door: 4365/1900/1635, wheelbase is 2660 and kerb weight is 1850 kilo.
Landwind X7: 4420/1910/1630, wheelbase is 2670 and kerb weight 1775 kilo.
Size wise, it is the same car. Interestingly, the Evoque is 75 kilo heavier.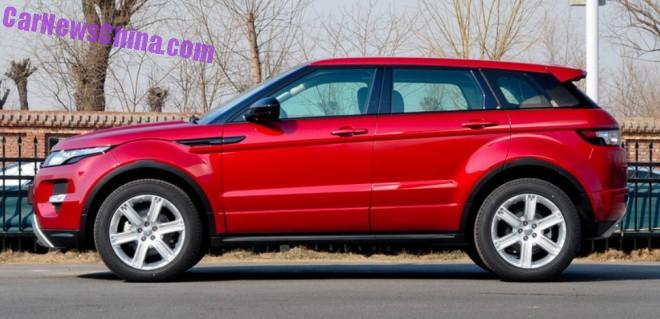 This is the Evoque. The X7 has nicer wheels. Power now:
Evoque: Ford 2.0 turbo petrol with 240hp and 340nm, mated to a nine-speed automatic, AWD. Fuel consumption: 10.8 liter per 100 kilometer.
X7: Mitsubishi 2.0 turbo petrol with 190hp and 250nm, mated to an eight-speed automatic, FWD. Fuel consumption: 10.4 liter per 100 kilometer.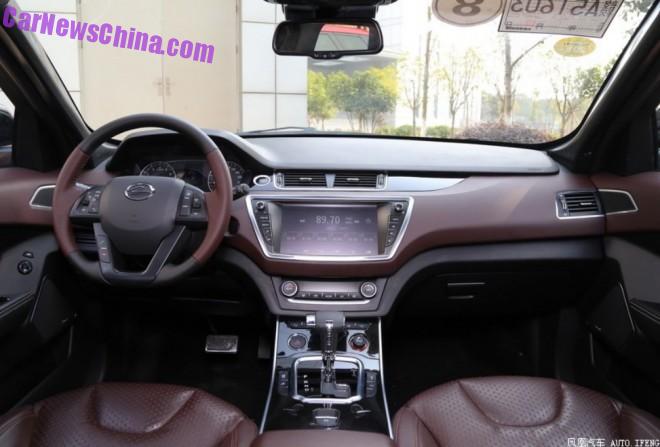 The Landwind X7 has a much larger screen for the infotainment system and sweet leather seats. Design is partly cloned, start button!, and partly self designed.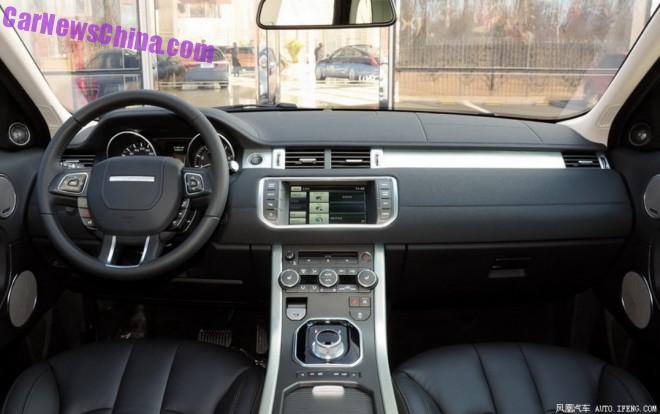 But the Evoque has a knob for a gear selector, an that is hip, although not very manly, but then again, the Evoque was never meant to be a manly car.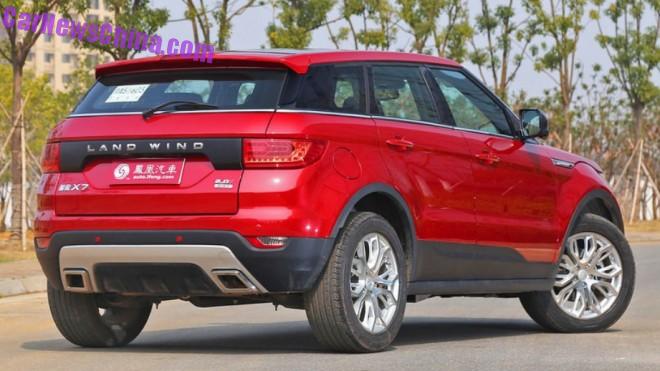 The best cloning work has been done at the back, Landwind in overdrive, hitting those copy-paste buttons again and again, harder and harder. Compare with the original: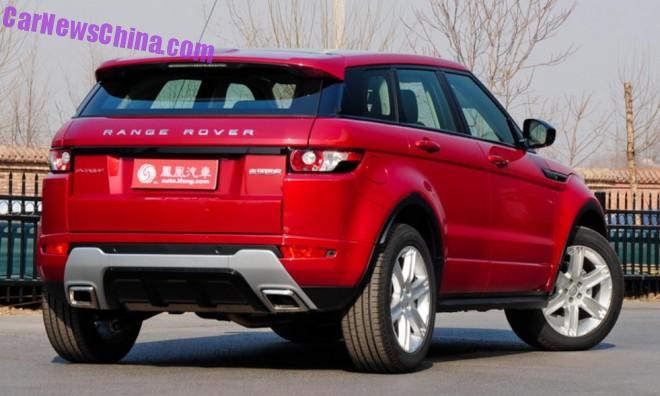 We almost mixed 'em up too…
The zillion dollar question now it: will be Landwind X7 be a success? In many ways it already is. Tata-JLR has been unable to stop Landwind building the bloody car, and that is considered a huge victory; tiny Landwind from China beating the giant Indian-British conglomerate. A sales success seems likely too. There is an enormous hype going on over this car, with customers ready to pay up, with many saying JLR can only blame itself, asking far too much money for the Evoque.
Gold on the horizon for Landwind, and other Chinese automakers, because a success will absolutely inspire more cloning again, and some has already started… More to come!