The controversial Zotye S21 SUV debuted today on the 2015 Chengdu Auto Show in China. The Zotye S21 is controversial because it looks a tad too much like the Audi A3, even in two-tone. Zotye Auto is good at being controversial; so we have the Damai X5 (Tiguan), the Zote T700 (Macan), and the T600 (Audi Q5). Well, at least they stay within the same company!
But she ain't no Audi in here! A brilliant interior with the largest touch screen we have ever seen on a Chinese car. Bigger than in a Tesla and much bigger than in the Volvo XC90. Color scheme very nice as well. Light purple blue with creamy white, like the exterior but somehow much better. Zotye should have the interior designer draw the exterior too!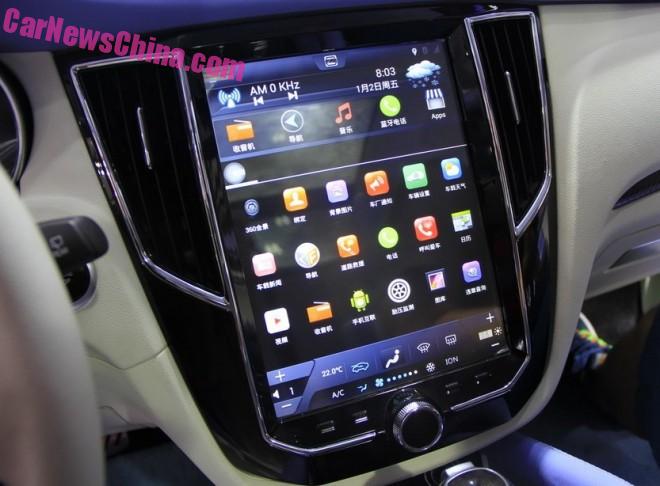 The system is fully functional and controls everything there is to control. It seems to work on an Android operating system.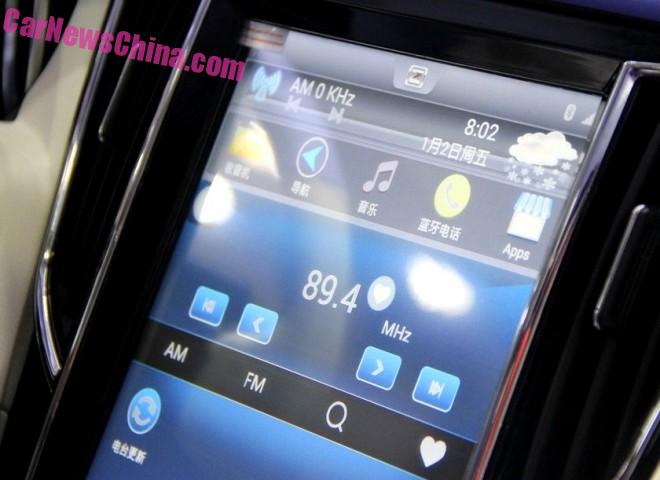 The radio. Icons are big enough but they look a tad too 2005.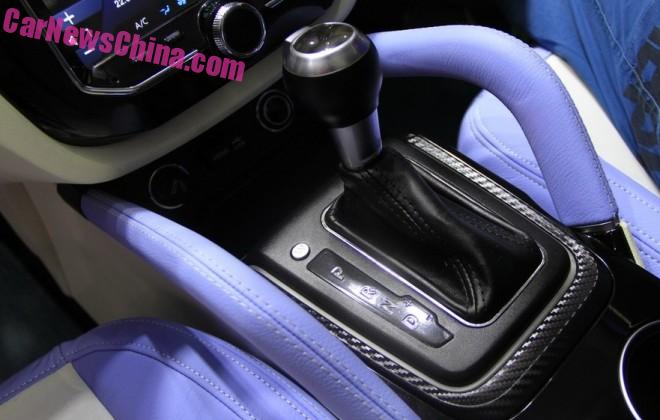 Automatic gearbox with a gear knob that looks very manual. Carbon fiber, fake we presume, around the gear lever, but nice anyway. Handlebars in purple blue too. Leather seats in white and purple blue.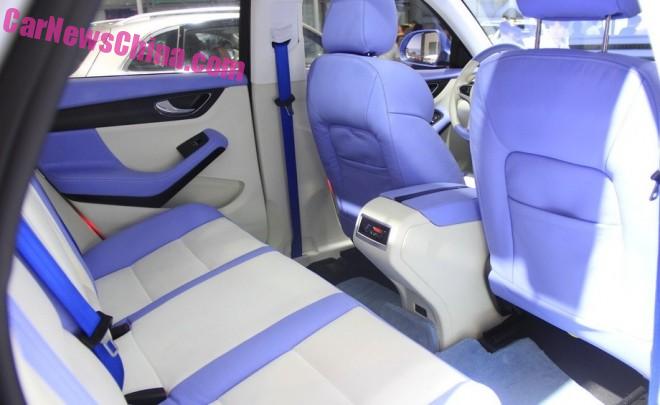 Theme continues in the back, sexed up even further with hard blue safety belts.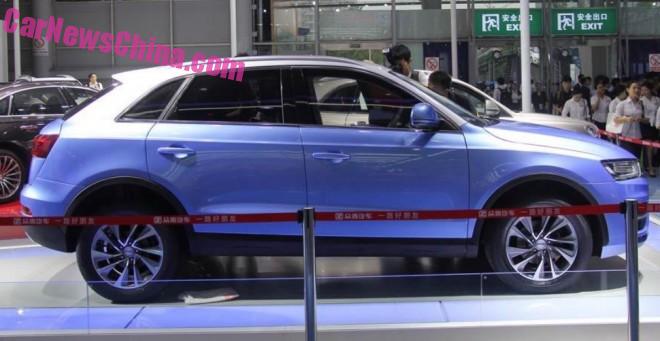 Very much an Audi A3 from the side.
The S21 is the biggest Zotye ever, so it will most likely slot above the T600 in the line-up, and below the upcoming T700 Macan. The S21 will hit the Chinese car market sometime next year, but Zotye hasn't announced anything more specific. They also didn't say what will be under the bonnet. The car on show has an engine, we saw it arriving under its own power. Chinese media still it will get a 1.5 turbo, mated to a five-speed manual or a CVT. More on this when we get it…
Audi Q5 taillights, two square shaped exhaust pipes in the bumper, flanking a skid pad.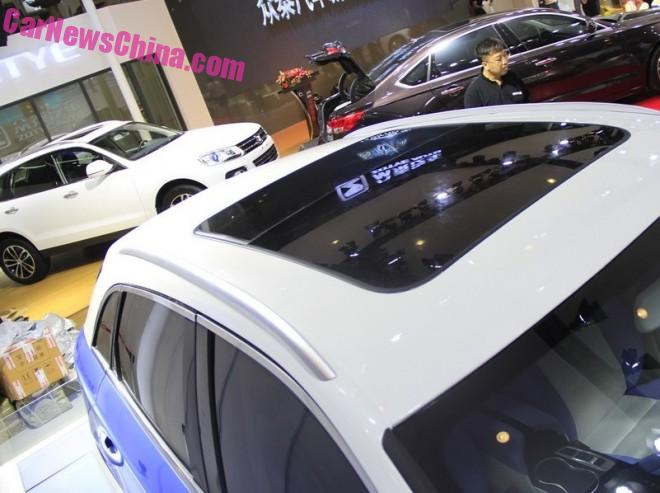 Big panoramic sunroof. Roof rails appear to be non-functional and fashion-only, which is a bad thing.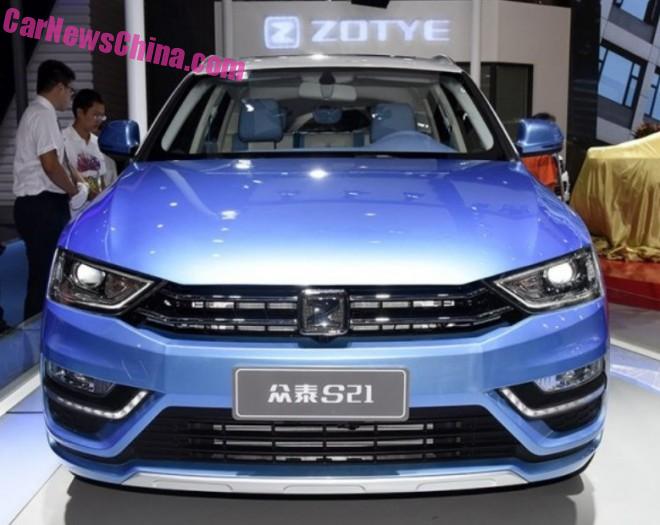 Front is the most original part of the exterior design. Big Zotye Z on the grille.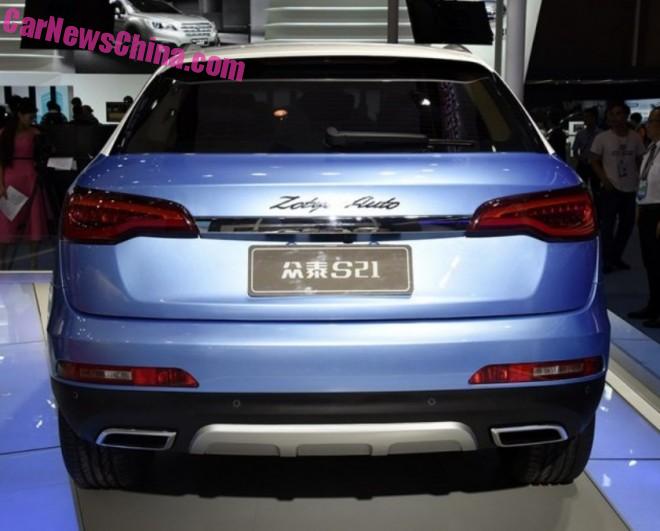 Audi, eat my ass, this S21 says.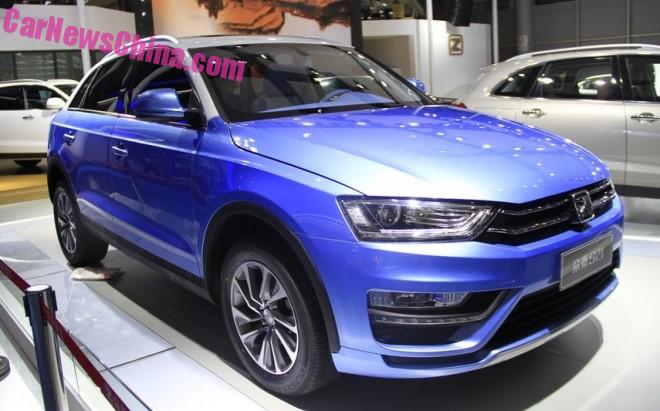 Purple blue mirrors should have been cream white.