The massive Hongqi CA7600J is a mighty popular parade car in China, but sadly only for the government and a tad too big to play with anyway. No worry! A entrepreneurial Chinese toy maker has developed an electric variant for the children, complete with the famous grille and flags on the fenders.
There is also a red one for the girls. There is no known CA7600J in red, but red Hongqi's are not completely unheard of. The vehicle is manufactured by a company called Qunxing (shop), and its designation is QX-7733.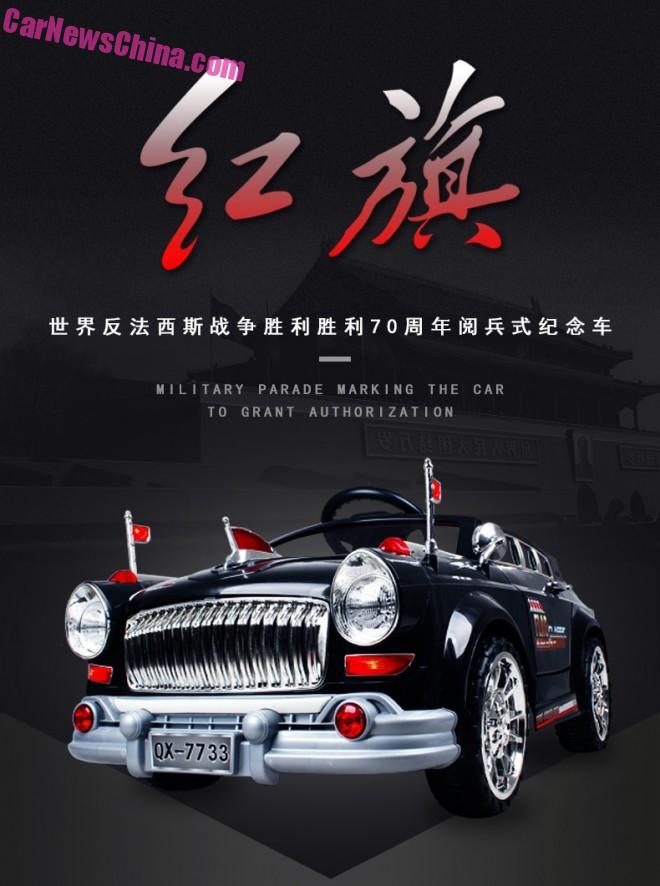 Company advertisement making good use of the military parade, which has the CA7600J. But in a way, the toy is closer to the Belarus H5 parade car.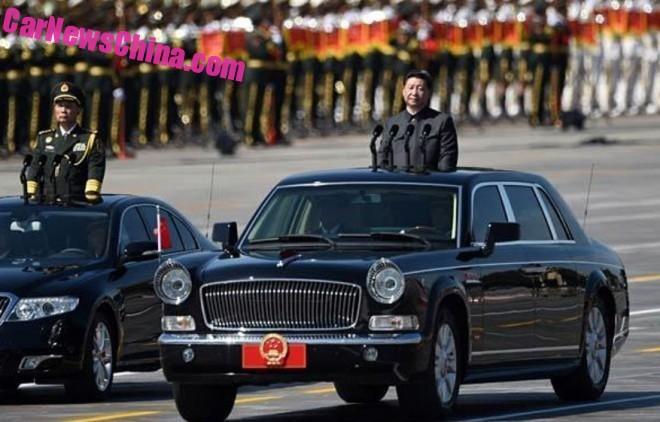 Here is the real thing, with president Xi Jinping inspecting the troops. He got four microphones to shout his commands around, but the Qunxing QX-7733 has not.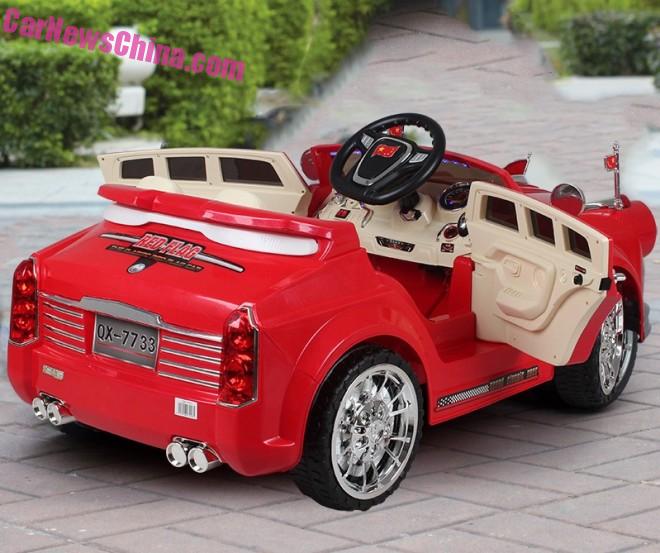 And that is kinda strange because it does have a sound system with speakers and MP3 connectivity. Adding a bunch of cheap microphones would have been easy. But happily the QX-7733 does have a lot of other nice thingies: a 6V7A-1000MA electric motor and battery, a 3 kilometer per hour top speed, an endurance of 2 hours, and a charging time of 12 hours. Size is 115/56/54, and weight is a hefty 19.6 kilo. For children from 3 to 7 years, but we bet it will hold an adult as well, at least for a little while.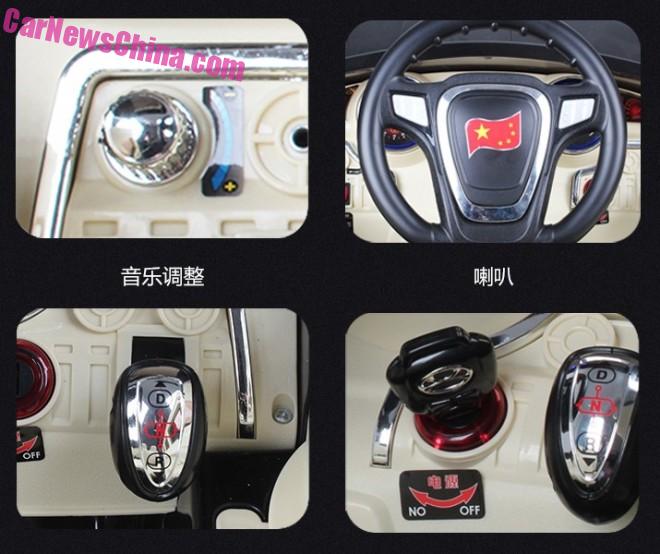 Shiny knob for the audio, an odd looking Chinese flag on the steering wheel, with a chrome rim!, a chromed drive selector, and a real key. The QX-7733 can also be remote controlled to a max distance of 30 meter. This sort of electric children cars are very popular in China.
I live in Beijing in a compound with a shitload of children, including some of my own. In the weekends the parents take their babies out, many with these cars, and it is always daddy in control with the remote. The remote, and don't tell this to the children, has a parent-special overrule function, so whatever the kid does won't make the car move. Daddy does that. My kids are a bit too young yet, but for next year I am planning a serious buying spree, and this Hongqi is on top of my list.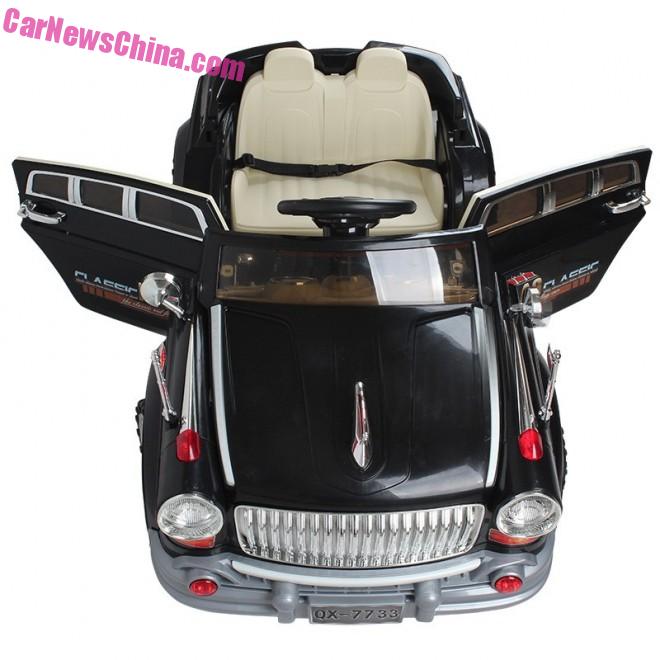 Darkened windows very cool. Red Flag ornament on the bonnet well done. Stickers on the doors are stupid and need to be removed. Shiny grille a masterpiece. Price for all this pretty: about 900 yuan all included, that's 141 USD. Not too much for a sorta real Hongqi!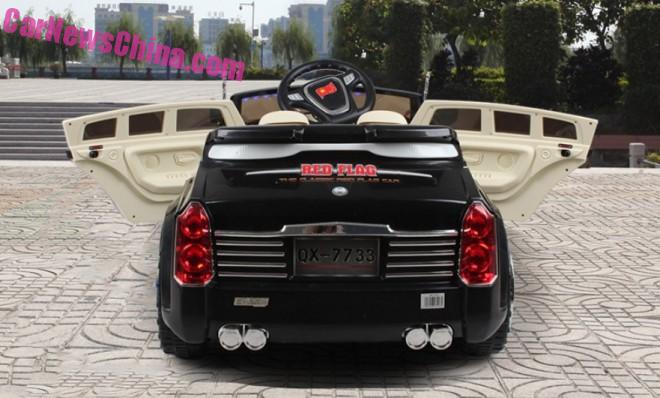 The DX-7733. With twin exhaust pipes.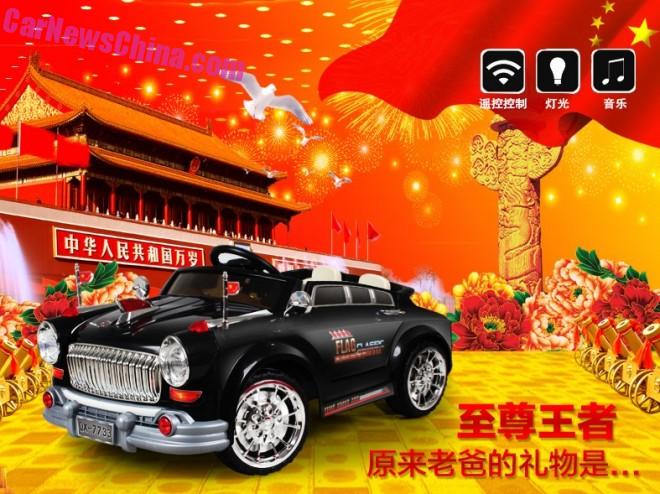 On a festive Tiananmen.