A very cherry Hongqi Century Star stretched limousine, Spotted in China in east Chaoyang in Beijing. The limousine is based on the base Hongqi Century Star sedan, which is based on the Audi 100 which was made in China by the FAW-Volkswagen joint venture. FAW (First Auto Works) is also the owner of the famous Hongi Red Flag brand. The red color makes it a very special car as 99% of these limousines came in black. Earlier on we met an equally rare white example.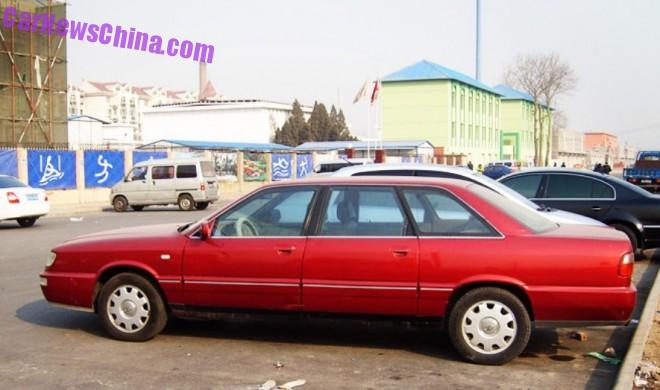 The Century Star limousine is unique among the stretched Hongqi's because it was extended behind the C-pillar, instead of the B-pillar. The unusual design made for the extra space to center in the back of the car, and not in the middle. The limousine was extended by a full 30 centimeters, total length was 5206 mm and wheelbase 3003 mm. The Century Star was powered not by an Audi or Volkswagen engine, but by a Nissan-sourced VG20 2.0 liter V6 with 125hp. Hongqi choose for the Nissan unit because it was cheaper than the German stuff.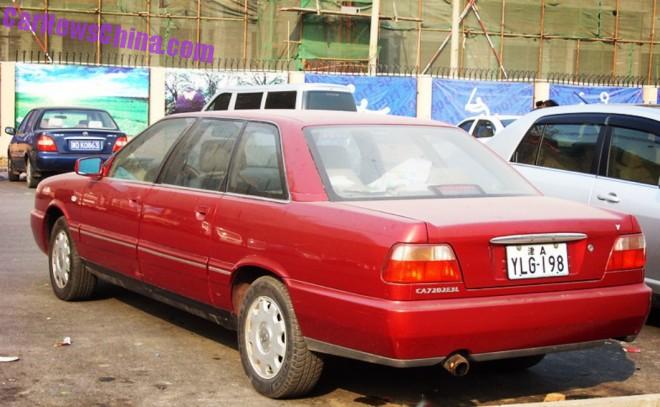 The limousine variant was designated 'CA7203E3L', and that was badged in whole on the back of the car. Note odd white license plate, a rare reminder of an experiment in the early 2000's where citizens were given the freedom to make up their own license plate character combinations. The experiment was killed quickly after the murky Beijingneese came up with 'SEX', 'FBI', 'SHT', and whatnot more. This one has YLG which is likely short for the first owner's name.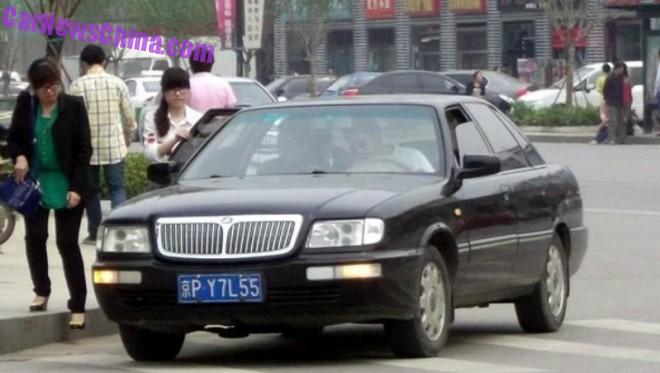 The base Century Star sedan, in black of course.