The somewhat new Chery Arrizo M7 MPV has been launched on the Chinese car market. Price starts at at 79.900 yuan and ends at 107.900 yuan. The M7 is the first MPV under the Arrizo brand, and it is a rather odd and old car.
First of all, it is more like a wagon than an MPV.
History is bloody: the Arrizo M7 is basically a facelfited version of the 2011 Chery Rely V5. We saw the first spy shots in 2013, it was then called the Chery V5 because the Rely sub-brand was killed and gone. Nothing happened until 2014 when it suddenly popped up as the Fullwin 8, and all got silent again until March when it was reborn as the Chery Arrizo M7.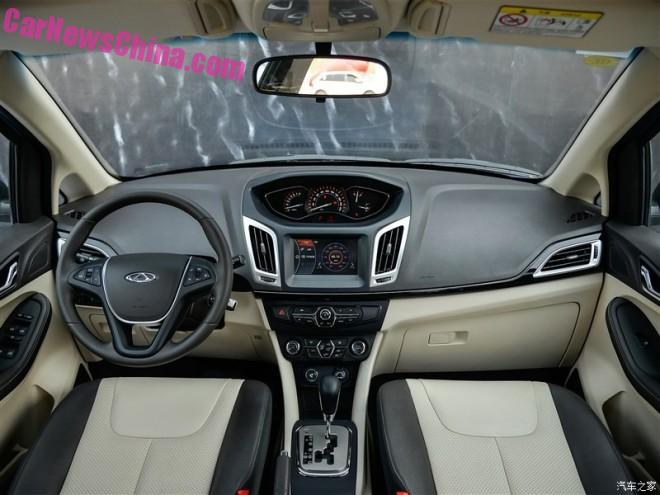 A central instrument pod with analogue gauges is very 1998, but the touch  screen looks just modern enough. Black over beige with a piano black lower-center console. Two tone seats are a trend these days, and Chery joins the party. The seats are positioned very far to the front in this particular demo car, likely to create the illusion of space in the back:

And things get a little weird here. Chery says the M7 is a seven-seater with a 2+2+3 configuration. The above photo is from the official Chery press release for the market-launch.  It shows two seats in the front row, two in the middle row, and three in the back row. That indeed is 2+2+3.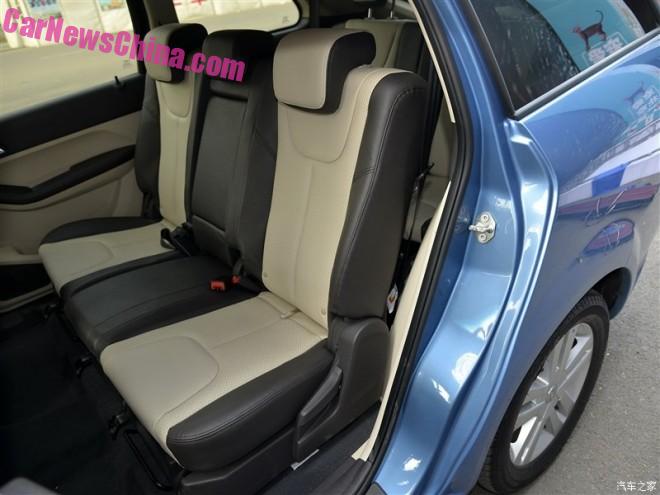 But the reality turns out to be very different. This is the second row with three seats, not two.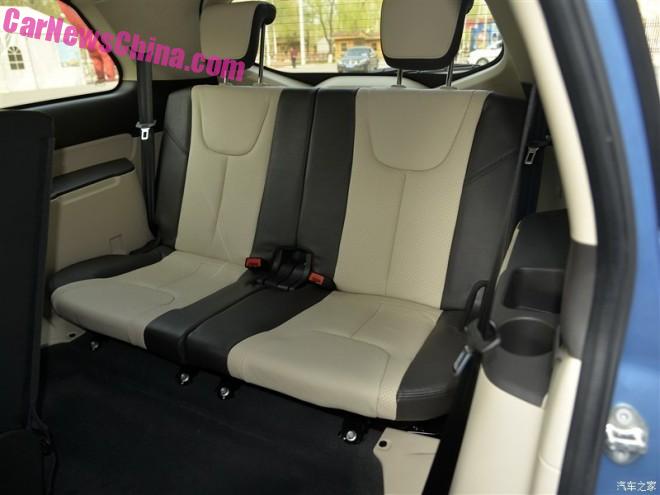 And this is the third row, with two seats, not three. That makes 2+3+2, not 2+2+3. Still seven but very odd. Does Chery not know what they are selling? Probably not. No kidding here. Companies like Chery and Geely, and the smaller ones even more, are usually a complete mess without much organization, with departments and various brands and sub-brands, and sometimes complete factories, doing whatever they like. Mistakes like mixing up a seat-configuration are thus relatively common and relatively innocent….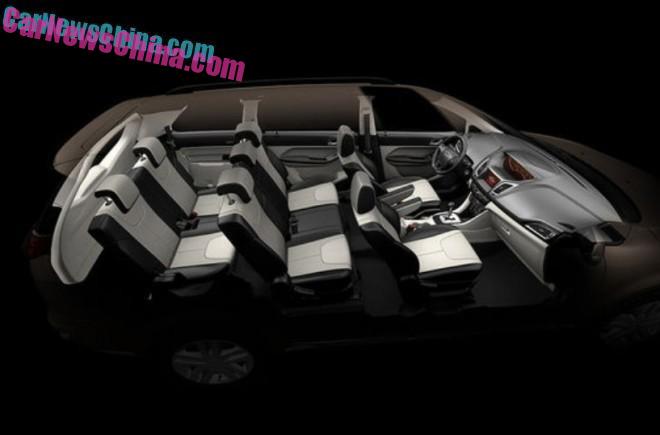 This rendering came with the first press release in March, where the Arrizo M7 was announced. And guess what?! 2+3+2. Like it is.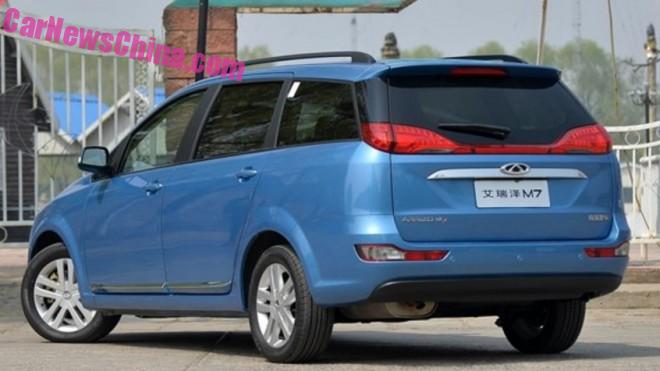 Muffler alarm! Big alarm this time, we can see the bloody thing from a mile, hanging out under the bumper almost completely.
The engines are fuzzy too; both very old and very similar in output: a 1.8 with 132hp and 172nm, and a 2.0 with 139hp and 182nm. That's a difference of seven horsepower and ten newton meter. The 1.8 is mated to a hardcore five-speed manual, and the 2.0 to a CVT. Power goes to the front wheels.
Size: 4730/1823/1590mm, and wheelbase is 2800.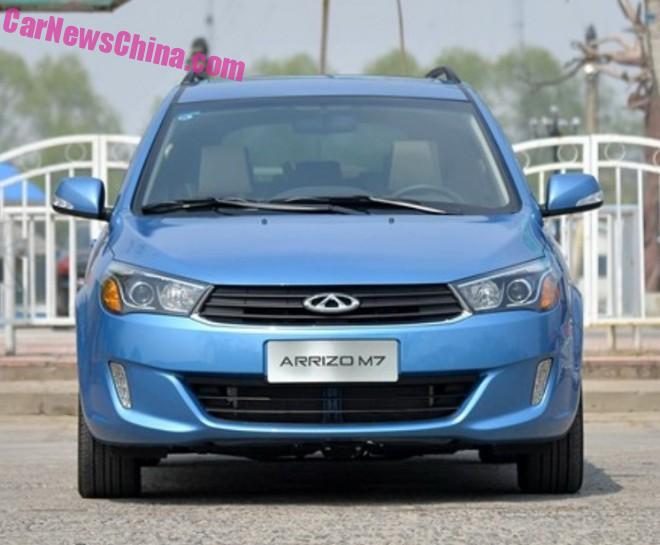 The roof rails appear to be usable, and that at least is a good thing.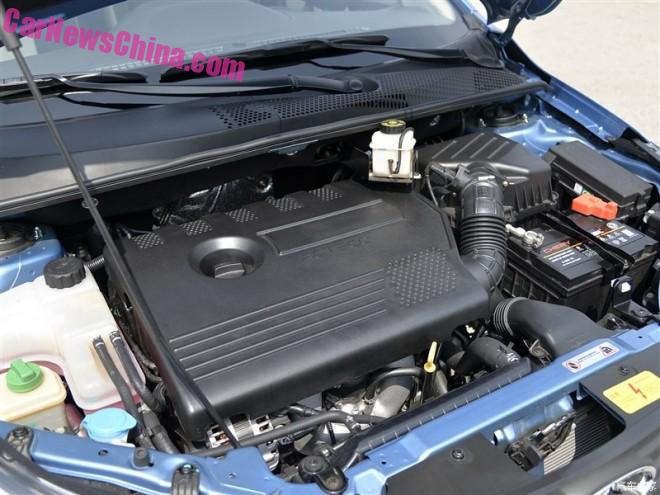 The 2.0.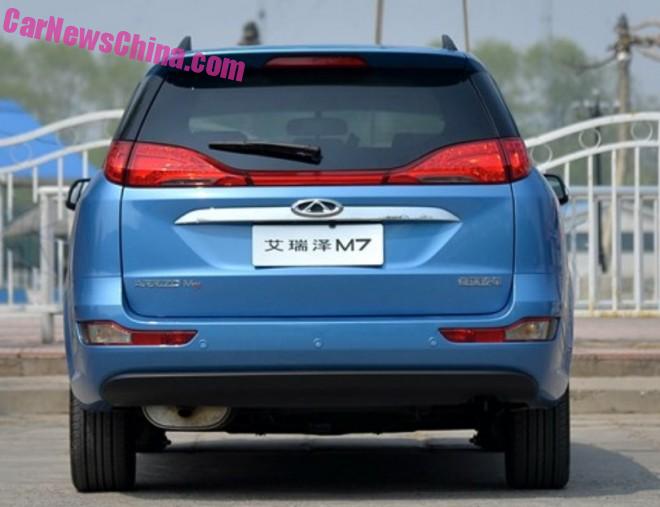 Rear lights make rear window very small. Chrome bar on the rear door mismatches with everything. And we have to sound another muffler alarm: giant muffler in sight! Run.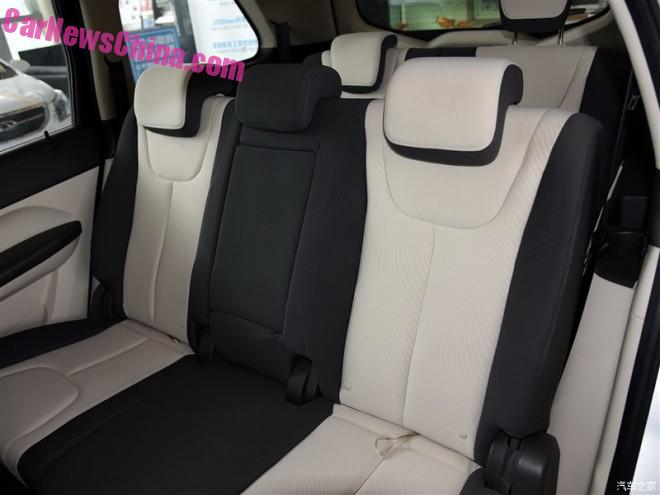 Just to make sure I checked a set of another car. And yes, that is 3+2 again.