Two beautiful blue right-hand drive Nissan Skyline GT-R supercars, seen on a blue-sky day on the Car Meeting of Beijing tuning show on the Golden Port race track. To the left a R33 Skyline GT-R with a Japanese license plate with the numbers 33 30 and 31! To the right a R34 Skyline GT-R.
We will get back to the old Cruiser on the left in a later post.
The R33 was in perfect condition, smooth as silk and maintained to the max. It had arrived from Japan four years ago. It is not road legal in China but a nearby-hanging person who knew the owner told me it is driven daily. That is very cool but police will coolly impound it if they catch him!
The R33 Skyline was manufactured from 1995 until 1998. Power came from a 2.6 liter twin-turbocharged six-in-line with an output of 276hp, the engine was mated to a five-speed manual sending horses to all wheels.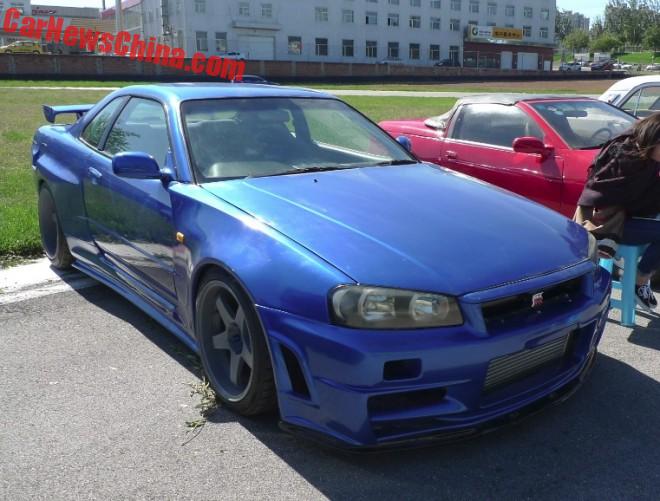 This monster is a rare R34 Skyline GT-R V·spec, powered by an ultra strong 330hp 2.6 liter twin-turbo six-in-line. The block is basically the same as in the R33, but much improved and much more powerful.
The R34 was made from 1999 until 2002. The V·spec was the extra sporty variant, it came with an enhanced aero kit, racy suspension, and an enlarged intercooler in the bumper. Wheels and alloys are non-original. This car too was driven regularly on the road.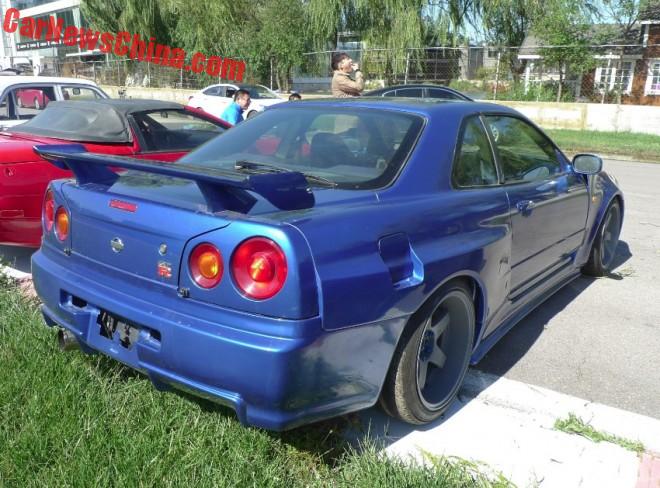 Tires are slick-like. Center part of the bumper is missing. Check how the fuel door is 'hiding' inside the wide wild bodywork!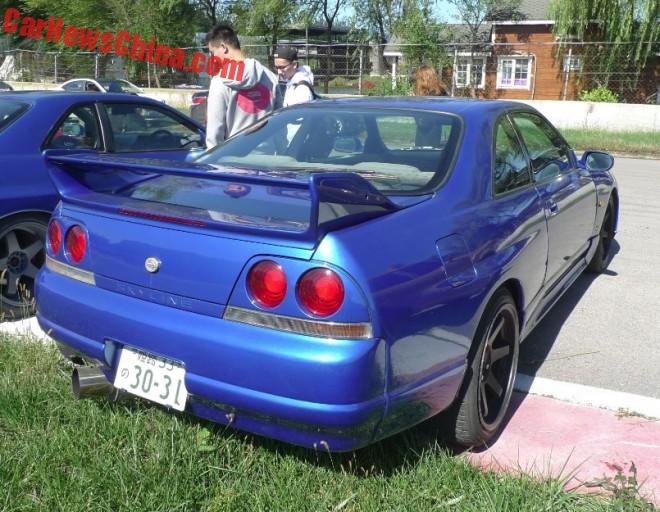 Huge pipe on the left side.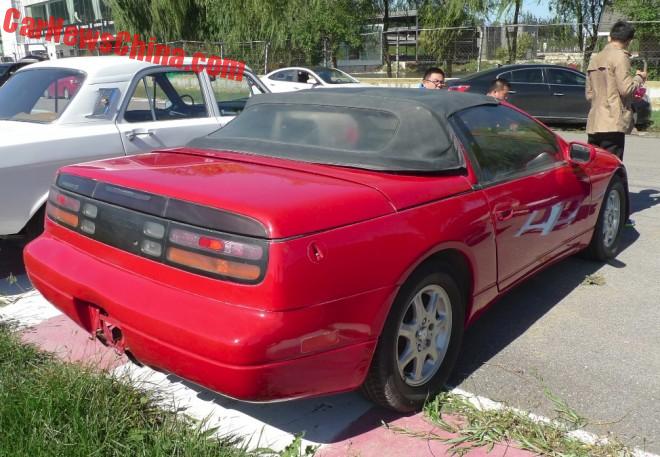 And I also found this red little lady there, a Z32 Nissan 300ZX convertible, powered by a 222hp 3.0 V6 engine. The Z32 was made from 1989 until 2000. It was never officially sold in China and this is the first drop top I have ever seen in country. The car was in reasonable shape but the top looked old and loose.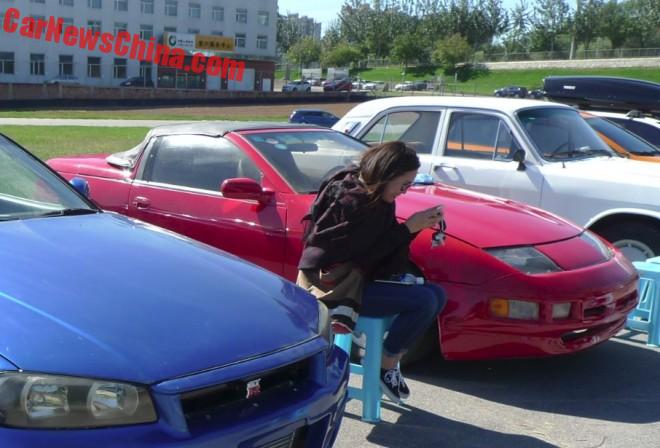 Just when I got near her on the other side she drove off, so this is the best pic I have of the front, with a pretty girl ignoring me.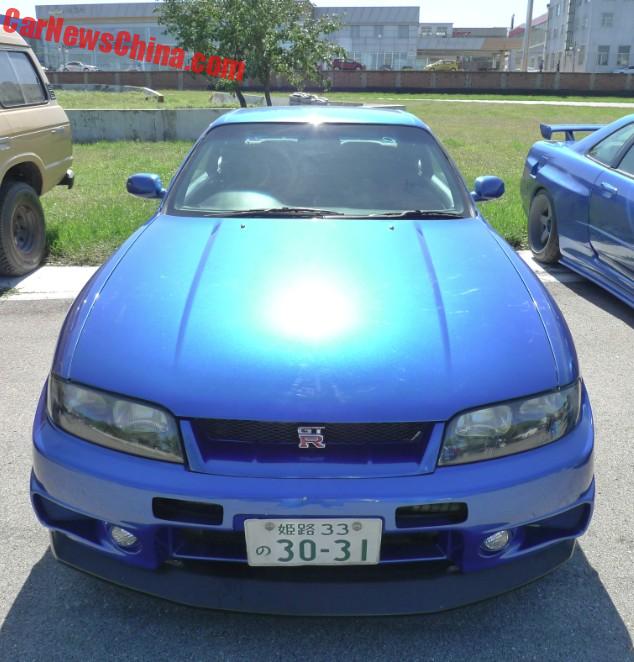 The R33, massive in blue.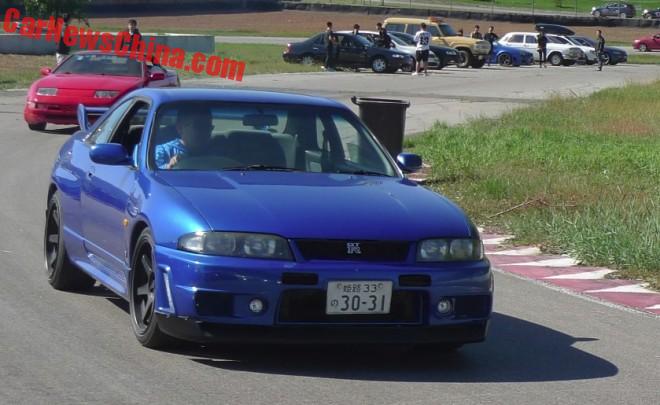 On the move followed by the 300ZX cabrio.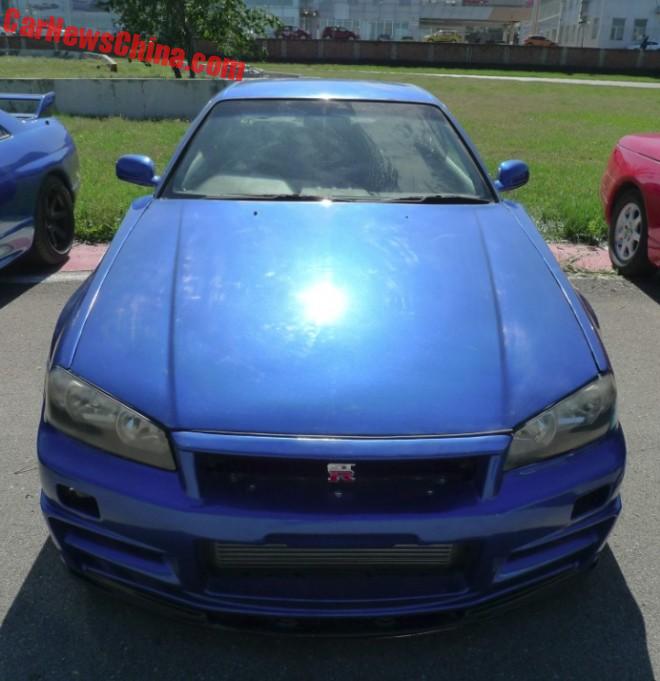 The R34, massive in blue too.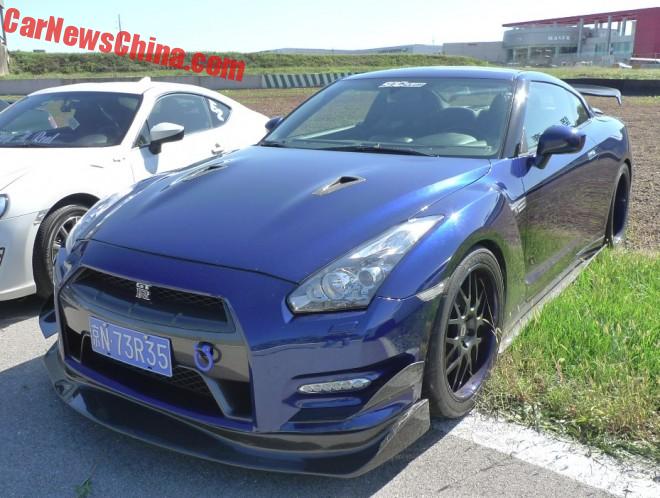 And nearby was this dark blue present day GT-R with R35 on the license plate. Fitted with an extra low front spoiler and a huge wing on the back. More Nissan, more speed!