A wondrous white Chevrolet Caprice Classic sedan, Spotted in China on the Beijing Tuning Street. The big American sled was in sorry shape, dusty and dirty and clearly neglected for a very long time. But!, we have seen many a car in even worse condition in the area, and most were eventually restored, so there is still hope for this old white Chevy in China.
She still got the hood ornament!
The fourth generation Chevrolet Caprice was made from 1991 until 1996 in sedan and wagon form. There were two trim levels, 'Caprice' and 'Caprice Classic'. The Caprice stood on the same platform as, among others, the Buick Roadmaster. Over the years the Caprice was available with 4.0, 5.0, and 5.7 liter V8 engines. The most powerful variant had 260hp and 447nm. Lone box was a four-speed automatic sending horses to the rear wheels.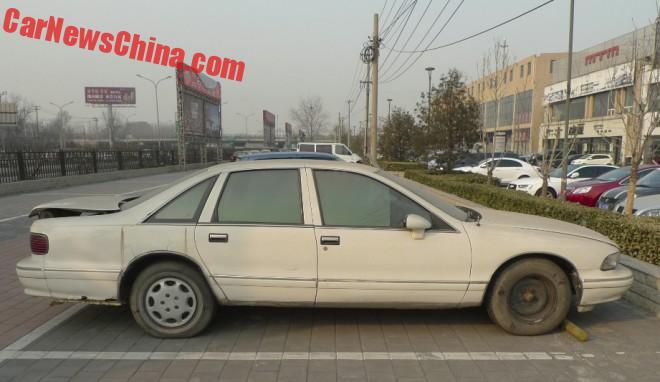 Left-rear wheel is not original, but the other wheels are. Streamlined mirrors on a whale of car.
Big the Caprice was, but beautiful. My dad almost bought one back home in Holland in the nineties. Our fine little family had almost finished the lease on our dark blue Volvo 240 GL estate, so dad was looking for something new. I, sixteen years old at the time, suggested the Chevrolet Caprice. It was officially sold in Holland but only in very little numbers because the fuel consumption was ridiculous compared to European cars.
This of course didn't bother me. I just noticed it was much bigger than said Europeans, had a huge V8, and was actually rather cheap. What not to to like, dad..? He gave it a serious look and we even went to a Chevrolet dealer, for which we had to go to Amsterdam, about an hour from where we lived. There weren't that many Chevy dealers in little Holland, and today they have even less.
My dad was impressed with the vastness of the car, but worried about the price of running it, with that thirsty V8 under the bonnet. In the end and anyway he bought another Volvo, a 240 GL sedan this time, and again in dark blue.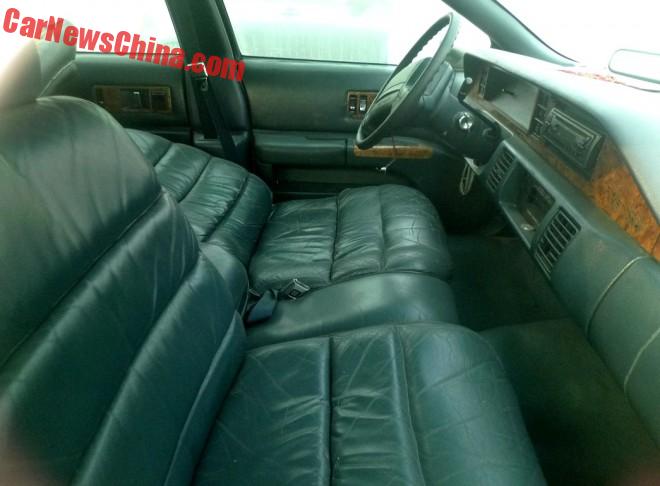 Maybe I can buy this one after it is fixed. The interior is all right for the years, the leather can be cleaned up and the fake wood just needs some water. The CD player is a later addition an needs to be replaced with the original cassette player.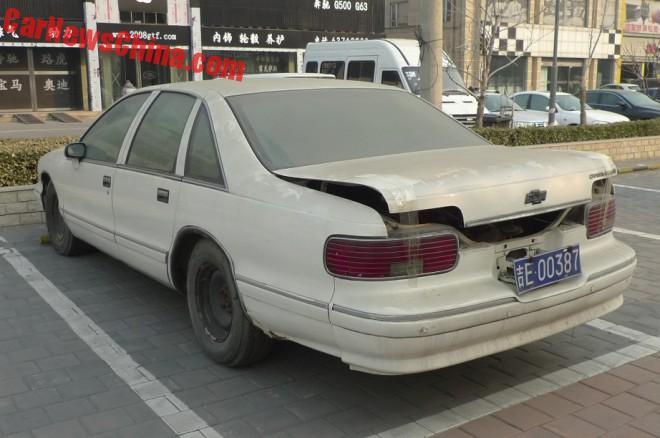 The rear was stuffed full with strange looking parts, and the boot lid was kept down with duct tape. Brilliant red lights one of the high lights of the Caprice's design!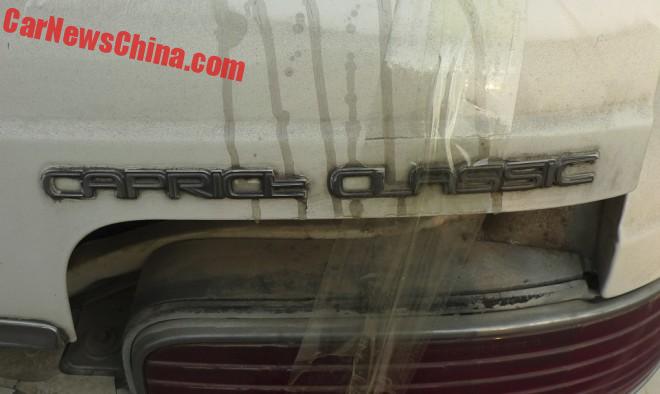 A future classic in China.