JAC has released the first official photos of their new JAC SC5 concept car that will debut on the Beijing Auto Show later this month. The concept previews a new mid-sized SUV that will be launched on the Chinese car market in late 2017. The shape of the grille is part of a new design language for JAC, the upcoming JAC a new design mark for JAC, the upcoming Refine S1 crossover will get the same grille.
The overall design is very nice. Sharp and sporty. If the production version looks just a little bit like this it will be the best looking JAC ever, by far.
The concept will be powered by a hybrid drive train but specs are yet unknown. The production version will likely get 1.5 turbo and 2.0 turbo petrol engines, ranging from 150 to 200 hp. Price of a car of this size usually starts somewhere around the 150.000 yuan mark, positioning it amidst one of the most competitive SUV segments in China.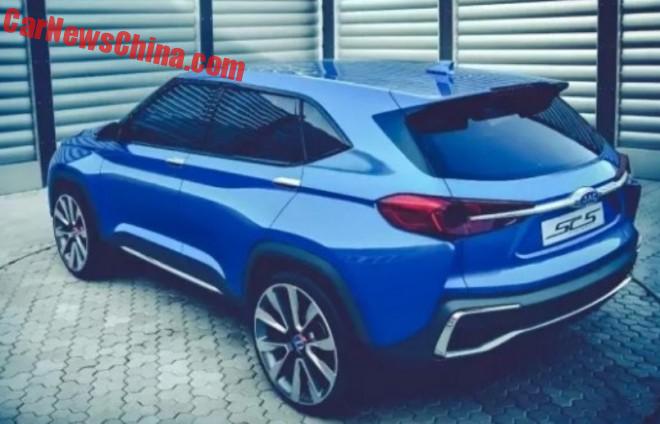 Oddly shaped chrome bars on bumpers are a new design fashion in China, especially on SUV's and crossovers. The SC5 joins the party. Chrome strips connecting the rear lights are already in fashion for a while, and JAC goes along with that too. However, large rear lights are slowly, and happily, going out of fashion, and here JAC goes against the tide, with huge units that almost reach the middle of the rear.
It seems wider at the rear than at the front. Look at the tires. Wuzzy. We will have a good look at this, and the rest of the car, on Monday when the Beijing Auto Show kicks off.