Change is moving into the booming mini pickup truck market with the single cab Furuida K21 and the double cab Furuida K22. They cost next to nothing. Price starts at 36.900 yuan and ends at 40.900 yuan. Power comes from a tiny 1.2 liter four-cylinder petrol engine. Output is 88hp and 112nm.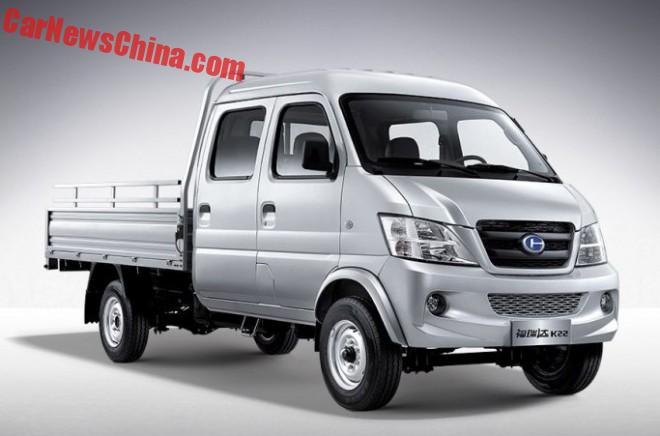 The K22, double cap with a slightly higher roof.
Gearbox is a five-speed manual, sending horses to the rear wheels. Claimed top speed is 90 kilometer per our for both versions. Interestingly, the extra two doors make the K22 only 96 kilo heavier than the K21. Curb weight for the K21 is 1200 kilo and the K22 weights 1296 kilo.
Fuel consumption of the K21 is 8.3 liter per 100 km, and the K22 drinks a tad more with 8.6.
Size K21: 5280/1760/2065, and wheelbase is 3190.
Size K22: 5450/1760/2120, and wheelbase is 3400.
The most important parameter for pickup trucks is the size of the bed.
Size K21: 3200/1560/360.
Size K22: 2550/1560/360.
The K22 wins the extra doors, wins overall length, but looses lots of bed length.
Sadly Changhe has not released a number for the maximum load, which is odd in one way, because it is important, but not odd in another way, because nobody will care. Comparable pickup trucks have a mx load of 450-600 kilo.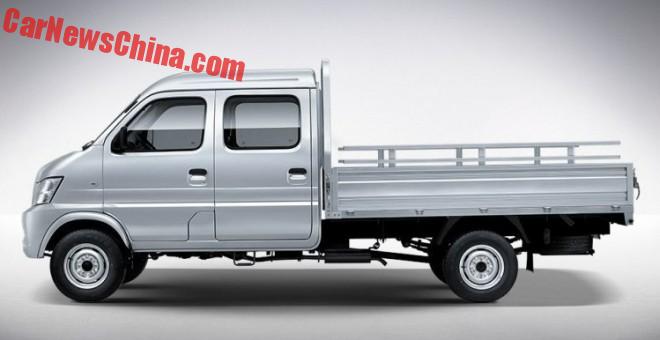 This kind of vehicles are rather simple, but that is for a reason. They have to be cheap to run, cheap to maintain, cheap to repair, cheap to crash, and every village mechanic has to be able to fix the engine. Above that all they have to be strong because every buyer will overload it whenever he can, and rush it over the worst roads at top speed.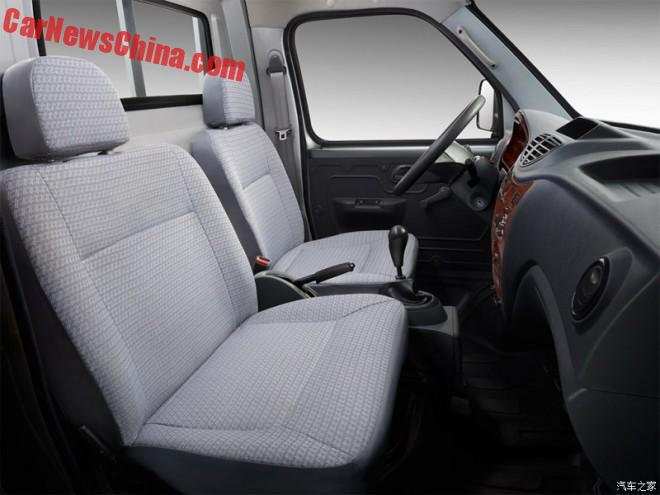 The interior is simple too but not bad for the segment. The hand brake lever looks a bit flimsy. The center console is dressed up with a fake wood panel.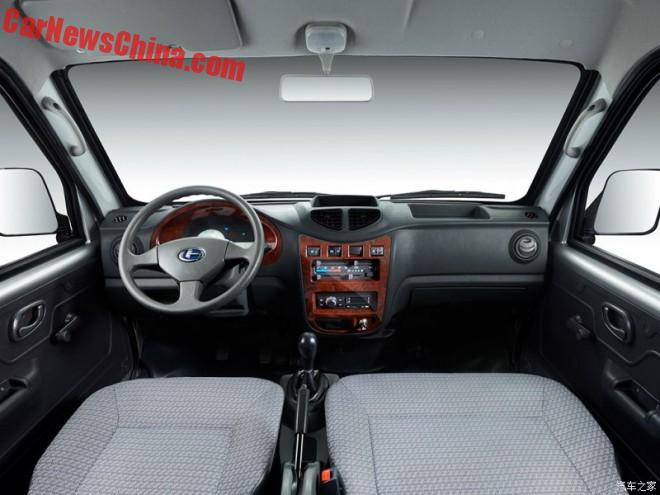 More wood around the instrument binnacle. There is a heater and a fan. There is a radio with an aux port. And, very important for the target audience, a clearly marked cigarette lighter. Note how the center console is located off-center, almost entirely in front of the passenger seat, which is…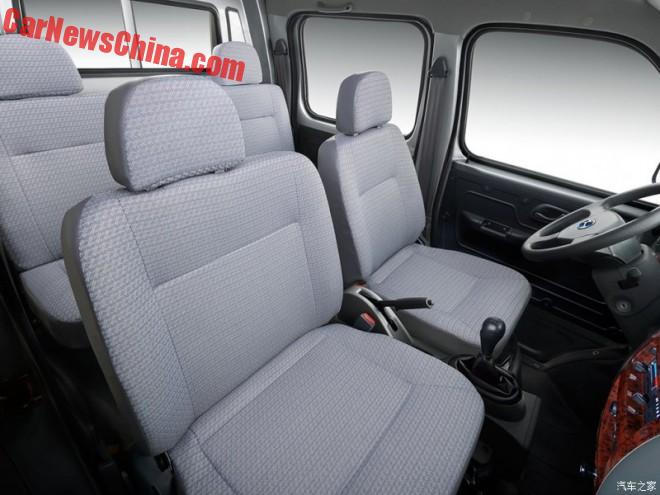 … extra wide. The K22 is classified as a five-seater, presumably with two up front and three on the rear bench. The front-passenger seat however seems large enough to seat two. And in reality, that is what it will do. It is not uncommon to see these vehicles with up to eight people in the cabin, all smoking.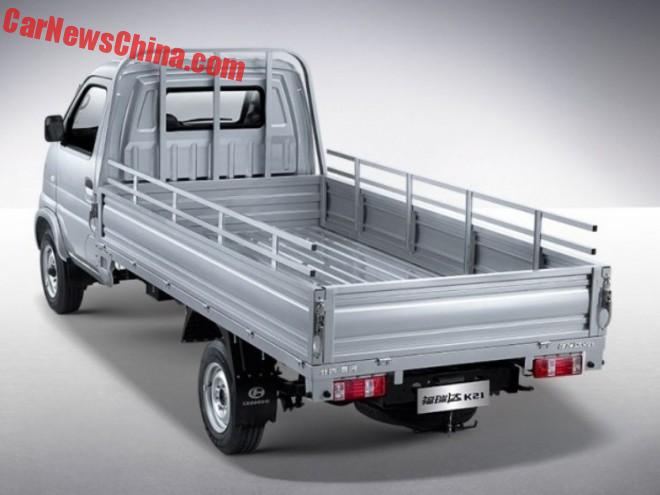 Tiny wheels and the simplest of simple lights. And check this: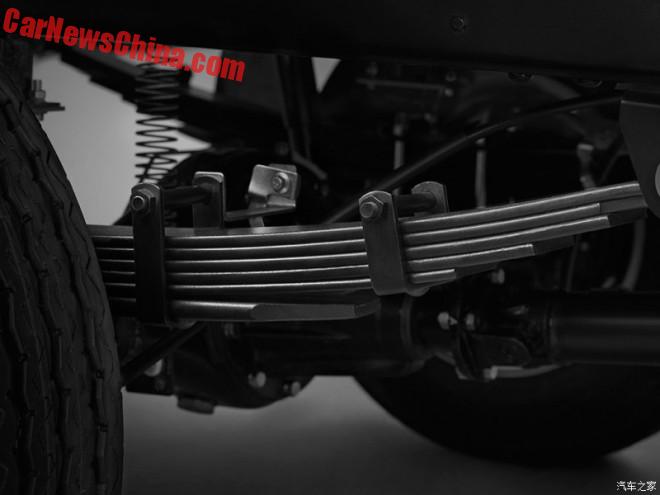 Spring leafs! On a new car. Well, it doesn't need to be comfortable, and that village mechanic will know how to work with it.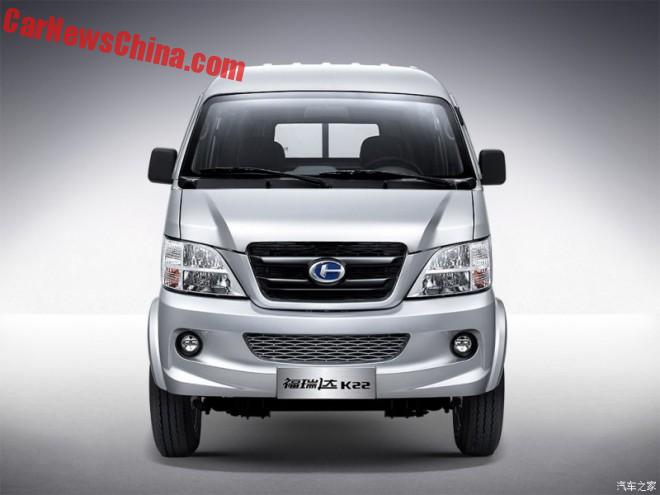 Changhe badge in blue.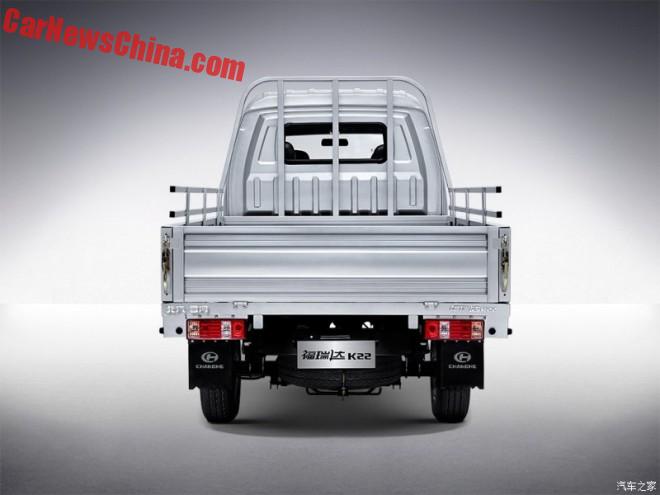 It has mud flaps.
A truck so basic it is almost beautiful, and there is a large market to sell it to. However, the segment is getting a bit crowded with over twenty vehicles of various brands available. Next week I will drive to the far east of the capital Beijing to visit a cluster of mini-pickup truck dealers for an article on Forbes.