A very pretty BMW z4 sporty car, Spotted in China in the capital Beijing by Reader Lao Wei, thank you for the pictures! The good Bimmer is wrapped in an eye smoothing shiny Pink wrap, and further sexed up with darkened rear lights, a Pink-white BMW badge, and shiny exhaust pipes. Best of all is the license plate reading N·541Z4.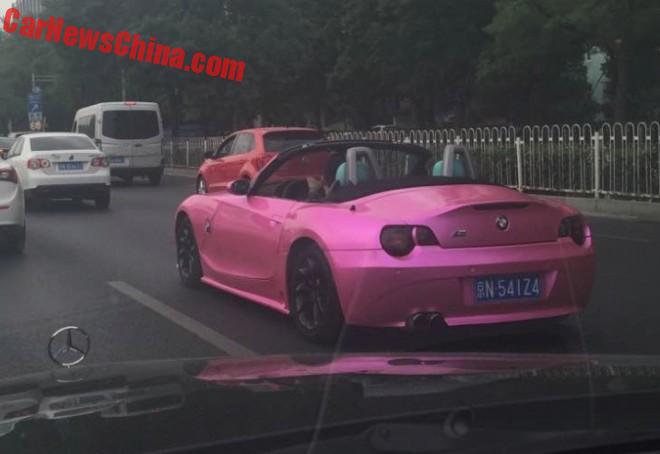 The alloys are black with a touch of pink. It appears that they used to be pink and were painted over with black. Why would somebody do that?! Anyway. The wrap is of good quality and neatly covers the bumpers, door handles and mirrors; the holy trinity of a proper wrap.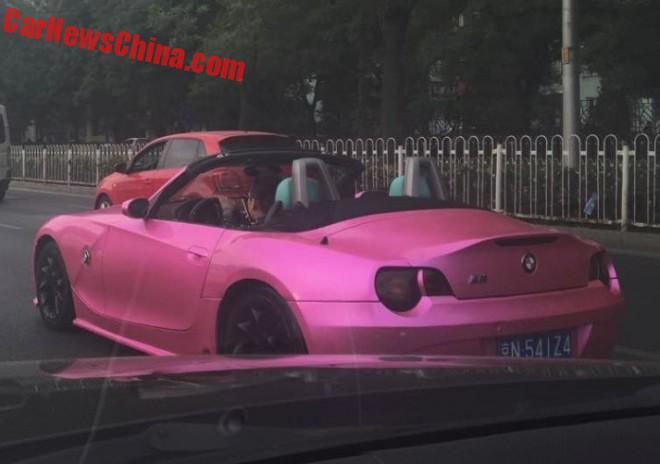 The headrests are in green, matching nicely with pink body.
he Z4 is very popular in China, price starts at 583.000 and ends at 909.000 yuan. Time now for our Famous China-BMW Z4 Collection™: matte black & white, gold, shiny Pink, baby Smurf blue, matte black, licensed low rider,  license, shiny red, matte Pink, license (004Z4), matte pink red, matte brown, very Pink, zebra, matte urple with yellow, leopard, pink with babe on bonnet, matte black & pink, matte-lime green, matte black, gray&matte black, bling, crystals & police, pink & babe, lime green & matte black.