A stunningly speedy BMW Z4, Spotted in China on a car market in Beijing by Reader & Serial Spotter Navigator 84, thank you for the pictures! The good Bimmer is painted in virgin white and partly wrapped in matte black and racing stripes in BMW colors.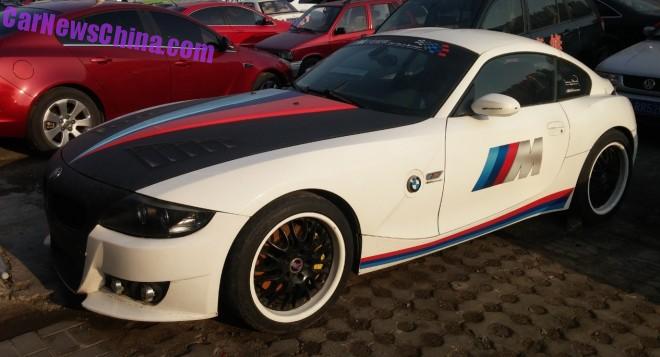 The Zed is further sexed up by air vents in the bonnet, a fatass body kit including an extra low front bumper, an all-black grille, shiploads of 'M Powered by BMW Motorsport' stickers and badges, giant M stickers on the doors, darkened windows, and extra large wheels with black multispoke alloys with a white rim.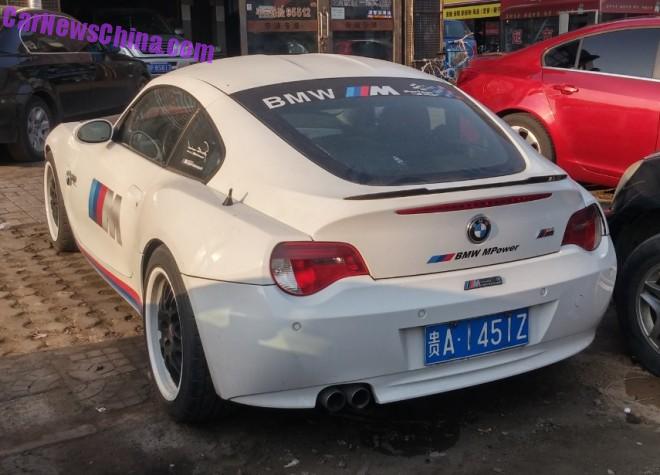 Simple exhaust pipes rather tame compared to the rest of the vehicle. License plates are of Guizou Province, more than 2000 kilometers away in the southwest of China. Must have been a wild ride!
The Z4 is very popular in China, price starts at 583.000 and ends at 909.000 yuan ($94.000 – 147.000). Time now, for our Famous China-BMW Z4 Collection™: gold, shiny Pink, baby Smurf blue, matte black, licensed low rider,  license, shiny red, matte Pink, license (004Z4), matte pink red, matte brown, very Pink, zebra, matte urple with yellow, leopard, pink with babe on bonnet, matte black & pink, matte-lime green, matte black, gray&matte black, bling, crystals & police, pink & babe, lime green & matte black.