More bad news for Tesla in China. Earlier today we heard that they cannot get enough Model X into the country, and now we have a serious crash with a Tesla Model S that had the Autopilot on.
The crash happened on a highway near Beijing. The accident was filmed by the dash cam on board the Tesla, and we have the movie:
The Tesla was cruising on the left lane on Autopilot, following an Audi Q5. The Audi then suddenly moves to the middle lane, and an emergency warning triangle comes into sight, with a stranded Volkswagen Santana about 30 meters in front of the triangle.
The Autopilot does not respond to the triangle. The driver grabs the wheel and steers fast to the right, but he is too late to prevent a collision;  the left-front fender of the Tesla Model S hits the right-rear bumper of the Santana. Damage is very small and nobody got hurt. But it was close.
The Santana has damage on the bumper and on the light. The driver of the Model X has setup his own emergency triangle. Happily, there wasn't an other Autopilot-enabled Tesla nearby.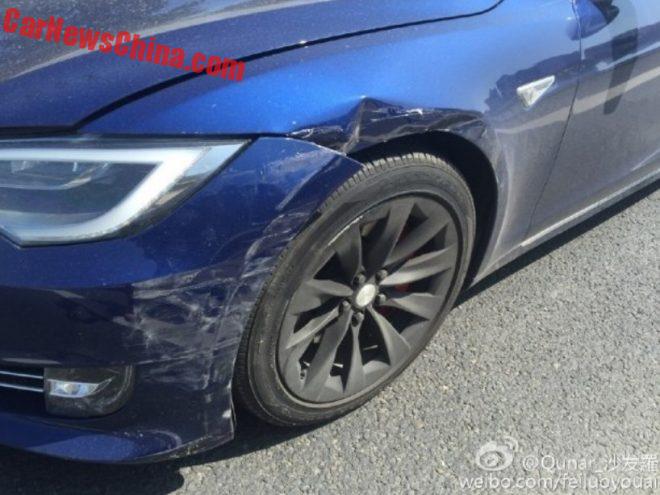 The damage to the Model S was more serious. The front fender and bumper likely need to be replaced.
Tesla China has responded to the accident. Unusually quick. Probably because their HQ is in Beijing. They still haven't commented on the Model X crash in rural Hunan.
The statement (last paragraph), via Google Translate and edited:
Tesla Autopilot is designed to give the driver a greater self-confidence, improve traffic safety and increase highway-driving pleasure. Tesla Autopilot represents the most advanced technology, but that does not mean it has achieved automatic driving, or is able to fully substitute the role and responsibility of the driver. Since the release of the Autopilot upgrade, we have introduced our customers to the new function, but also constantly remind them that the driver should stay alert when the Autopilot is enabled,  and be ready at any time to take over the vehicle when necessary.
End of statement.
It is pretty much the same stuff as the statements Tesla released in response to Autopilot accidents in the United States. But there is one interesting difference. Tesla China seems to say the system is designed only for use on the highway. Does that mean the Autopilot can not or may not be enabled on other roads? We will ask Tesla for a clarification and update this story when we get a reply.