This is the DearCC EV10, a new electric car from China. It looks very hip with sharp lines and dual tone paint. A red roof is a great idea. DearCC is a brand under SouEast Motors. It will make a range of affordable electric cars for young car buyers and the EV10 is their first child. The DearCC brand will officially debut later this month on the Guangzhou Auto Show.
C-pillar looks really nice. I love the wing on the roof. Line from the front fenders to the rear lights a great touch, especially the hook on the right end.
DearCC is a somewhat strange name. Dear stands for "dear Mr Wang" but we don't know where CC stands for. The EV10 has an electric motor and thus no CC's.
The Chinese name is even stranger: 电咖. That is Dianka. Dian means electricity, from diandongche, electric car. Ka is the fist character of the Chinese word for coffee; 咖啡, kafei. There isn't any other use for 咖. So we have Electric Coffee. I guess the name is a marketing thingy, thought up to appeal to those young buyers the brand wants to reach.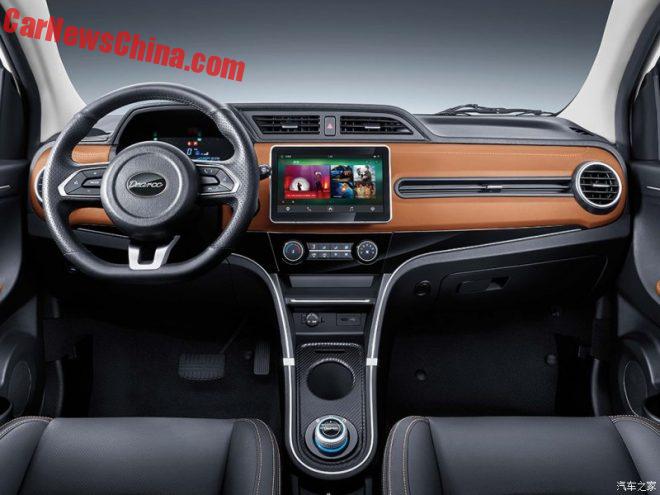 The interior is trendy enough. Digital instrument panel, an orange dashboard, a touch screen, round air vents, and a sleek center tunnel with a blue drive selector knob. There is just one cup holder for the coffee.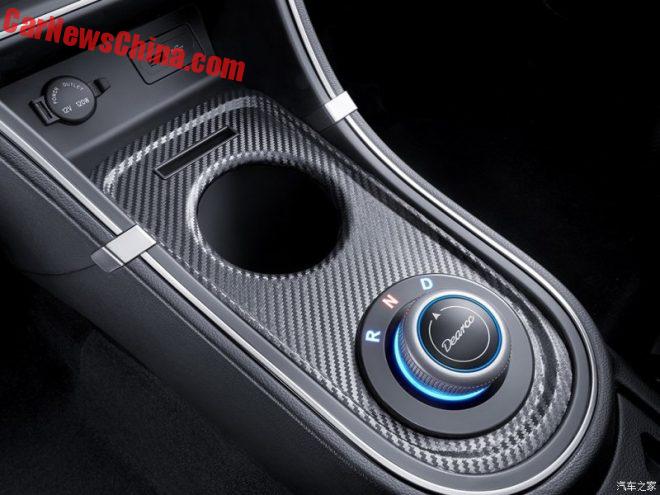 Cup holder and knob sit in a plastic-carbon fiber panel.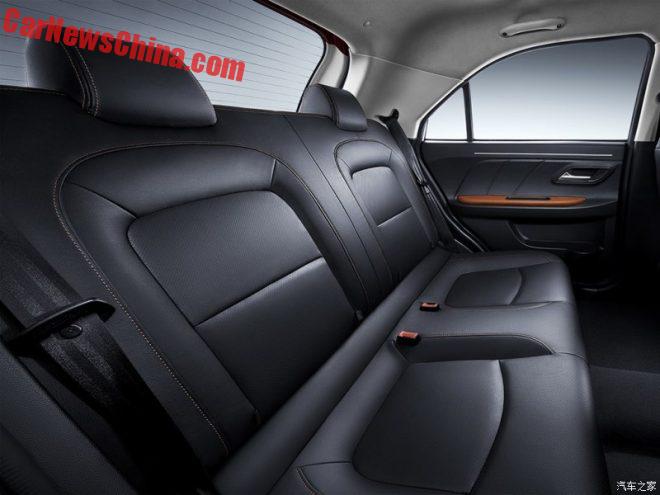 Rear bench is nice too, but it all seems a tad too gray. A lot of Chinese automakers are experimenting with red or orange seats. That would have been nice here.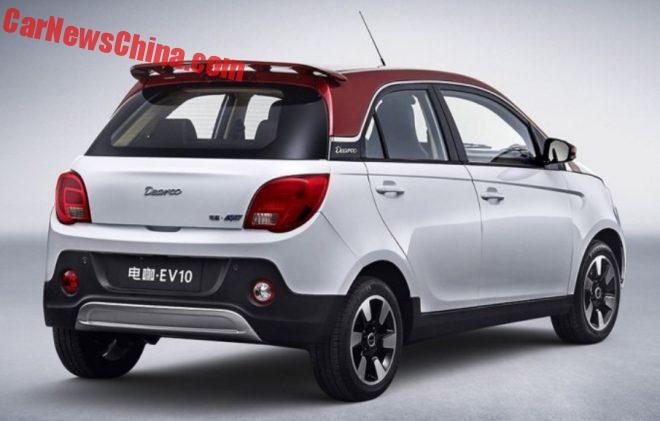 The DearCC EV10 is powered by an electric motor with a 57 hp and 150nm. Range is 150 kilometer and charging on a fast charger takes 48 minutes for 80% battery. Top speed is 100 kilometer per hour. Size: 3692/1650/1532, and wheelbase is 2400. No other specs available at the moment.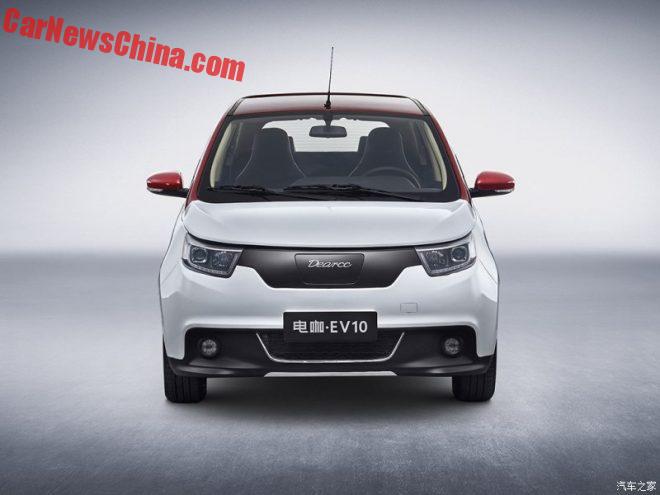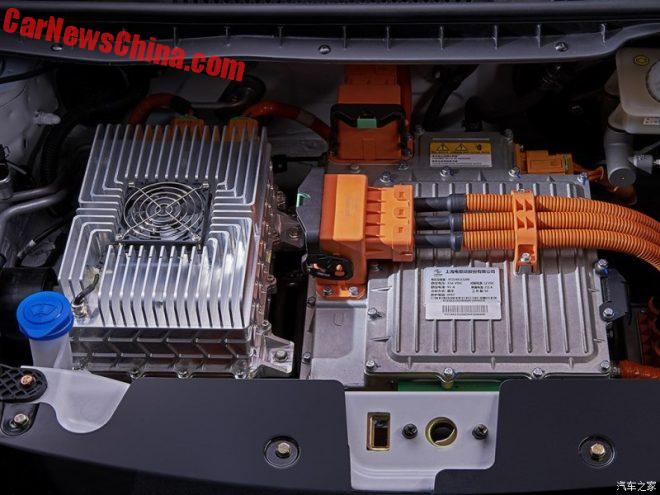 The motor is made by the Shanghai Edrive Corporation. Happily, we know the engine's factory designation: TZ200XS03Z.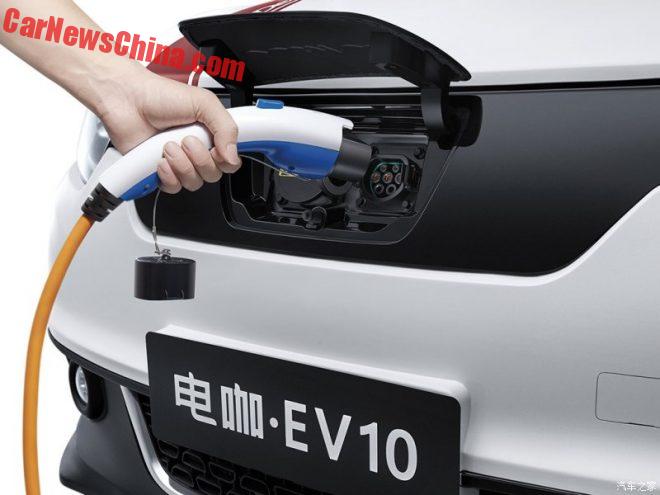 Filling her up.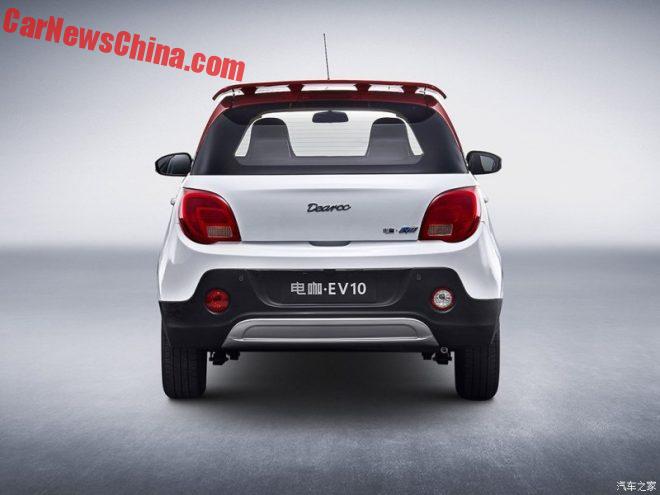 Wing is by far the best of the car.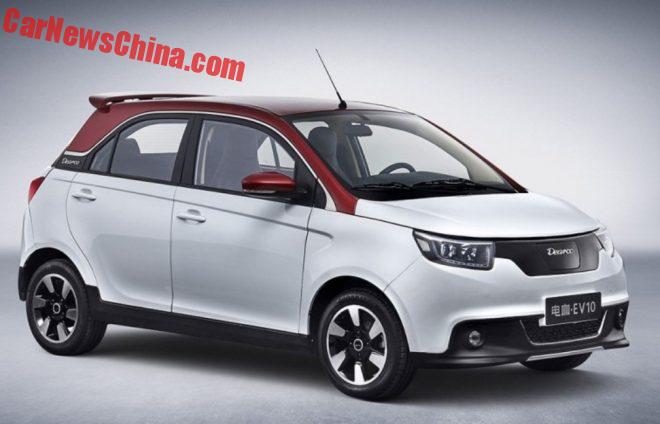 A good looking little thing. We will make sure to check it out in Guangzhou.