New photos again of the Baojun E100, a new electric city car for China. It seems finally ready. The E100 was expected for debut in September, then for November, but so far it hasn't been launched yet. The latest news says it will finally hit the market in January, just before Chinese New Year.
Baojun is a brand name under the SAIC-GM-Wuling joint venture in which GM has a 43% stake. The other partners are SAIC (aka Shanghai Auto) and Wuling Automobile.
SAIC and GM are also tied up in the giant Shanghai-GM joint venture that makes Buick, Chevrolet, and Cadillac cars for the Chinese market.
The E100 is the first of a range of new electric vehicles under the Baojun brand. They are also working on another one with a BMW i-syndrome.
One E100 was on display in what seems to be a canteen or company restaurant. It is painted in white orange, is has orange accents on the bumpers and wheels and mirrors, and it has fuzzy stickers on the doors and bonnet.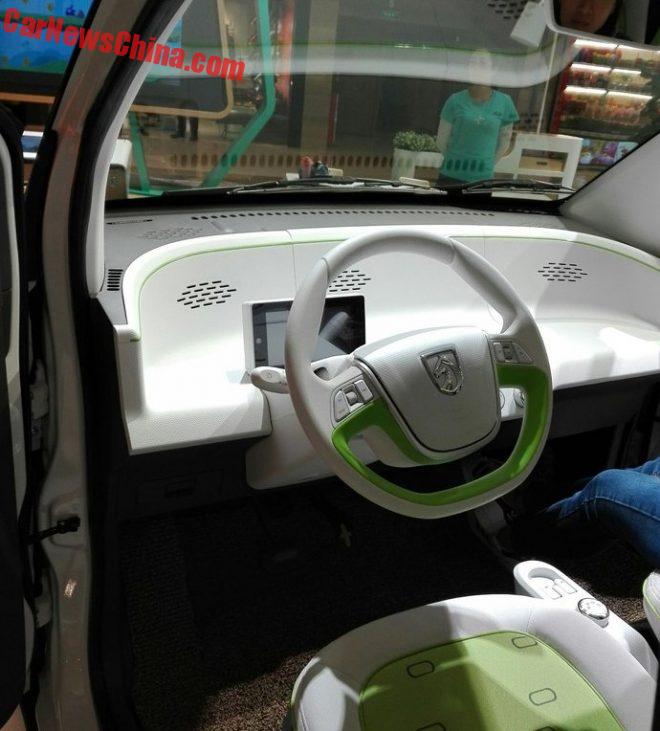 The interior is properly cool. We got worried for a moment when we saw a less pretty interior in a test car, but that was likely a pre-production vehicle. The steering wheel and seats are partly green. The wheel has a flat bottom for that racy EV feeling. The 'instrument panel' is a screen smaller than my iPhone's. The air vents are fully integrated in the dash.
Very nice. General Motors should put a Chevrolet badge on it and sell it in the United States and a cheaper alternative for the Bolt. Californians and New Yorkers will love the hip out of it.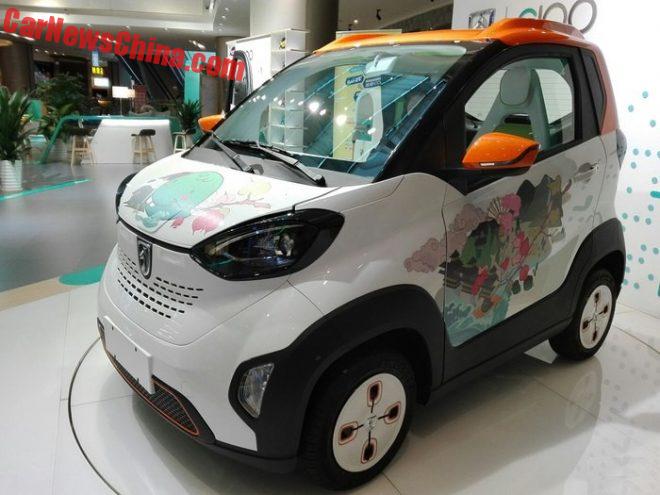 It has an electric motor with 20hp, peak power stands at 29hp. Top speed is 100 km/h and range is 100 kilometer, hence the e100 name. But with an average speed of 60 km/h, city traffic, it will do 160 kilometer. It has a 115V/130aH lithium ion battery. Size: 2488/1506/1620, and wheelbase is 1600. It seats two people.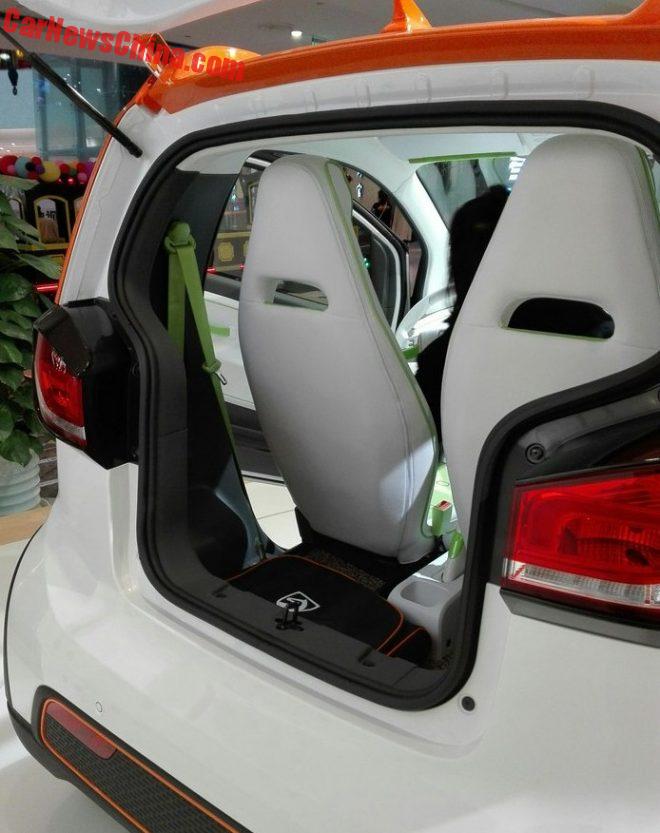 And that happy duo shouldn't take too many bags because there is no space for that. Black bag with orange lining holds the charging cable, taking up one third of the available space. Seat belts are green and that is seriously eco. Price for all this pretty will end up around 60.000 yuan including subsidies. The E100 will compete with cars like the Zotye Zhima E30 and the Zhi Dao D2.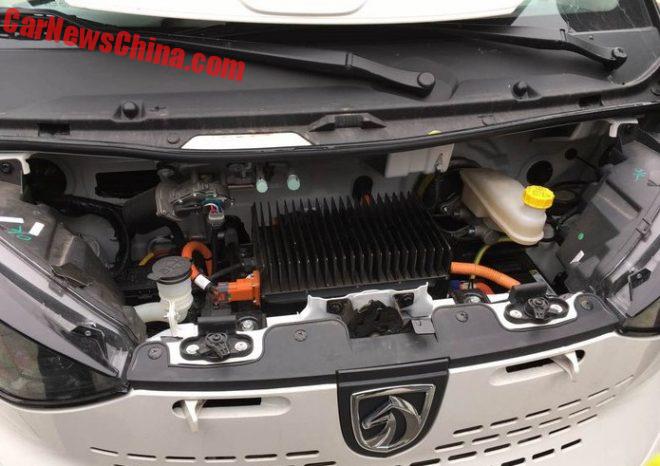 The motor. Baojun means 'treasure horse', and the badge is thus a horse's head.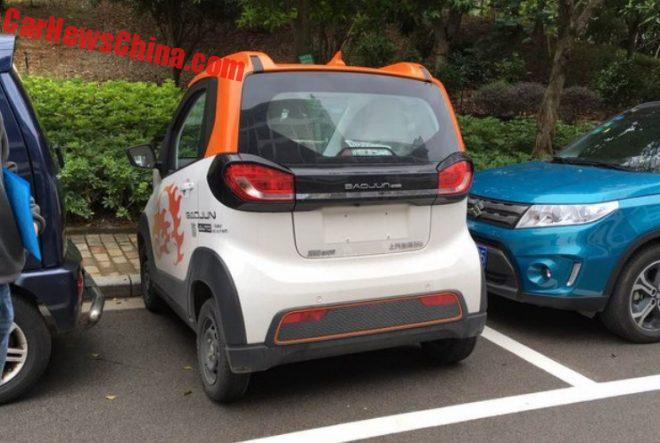 Another one seen outside, parked like a boss. Note steel wheels and fiery stickers.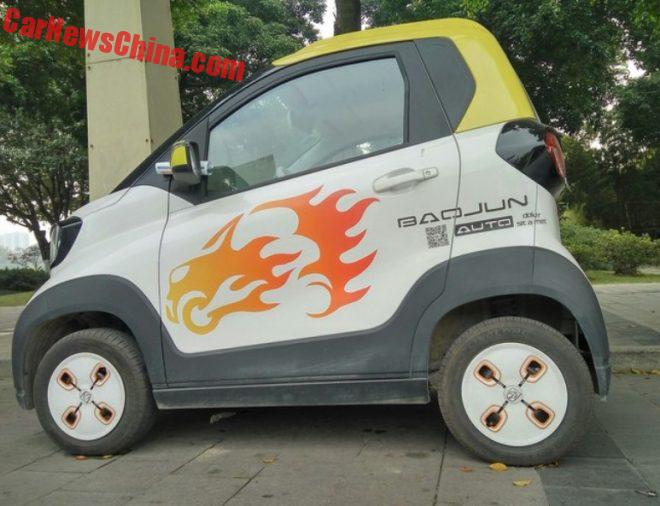 With a yellow roof and the same fiery stickers. Are these stickers going to be factory..? The sticker depicts the front of a car, you can see the front wheel, the light, and the A-pillar. It looks a bit like a Smart but I guess it is art.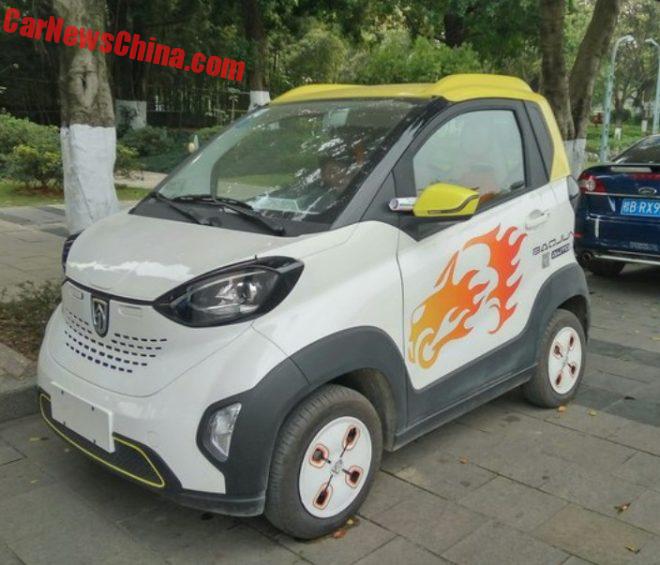 Orange seats.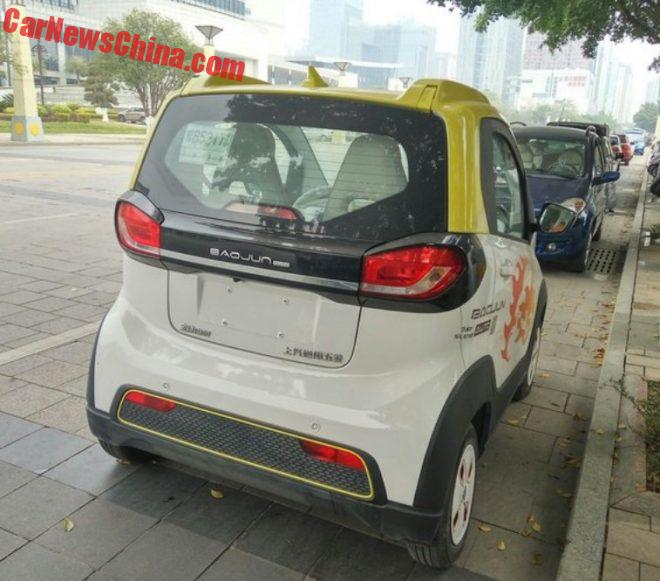 Shiny strip between the lights topped by the word Baojun.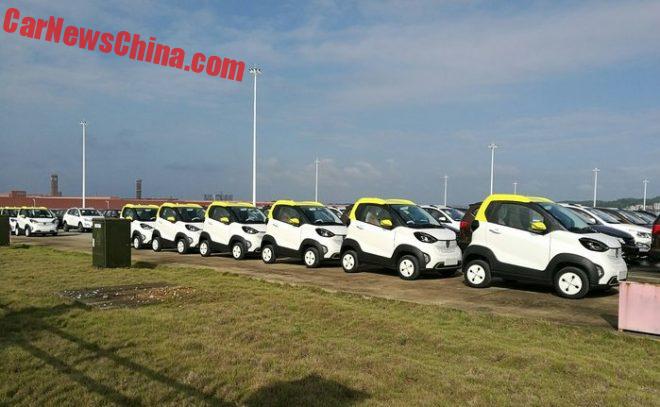 And they are coming with a lot. Seen outside the factory in Liuzhou.