The great city of Yichun in Jiangxi Province in China has banned all  electric tricycle taxi's from the city center. And not just that, they impounded them as well, a total of 934 (nine hundred thirty four) units. No parking lot in town was big enough for that so they dumped them in the Central Park stadium.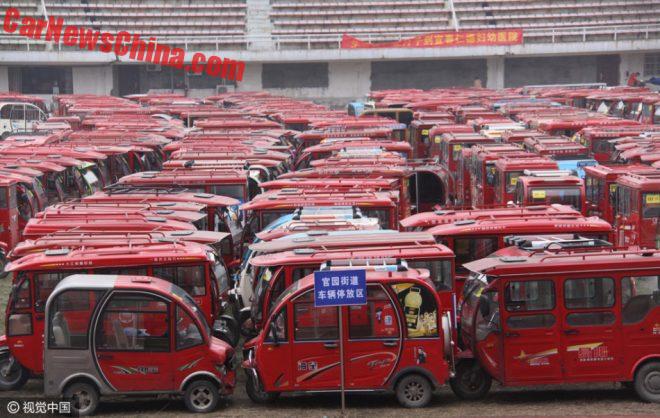 Note four-wheel electric taxi on the left-front. How did it get in there?
The official reasons for the ban are public safety and the "standardization" of the market order (official notice here in Chinese). These vehicles are indeed very unsafe and there are no market regulations at all. But normally nobody cares at all about any of this, and the official reason is likely bogus. Considering the timing of the ban we suspect that the upcoming Chinese New Year (Year of the Rooster) has more to do with it. In the Chinese New Year holidays local city governments want their cities to look at their best; and they always impose all sorts of bans on things that could be considered ugly or 'backwards', like open-air barbecues, loud music in shopping streets, and such and so.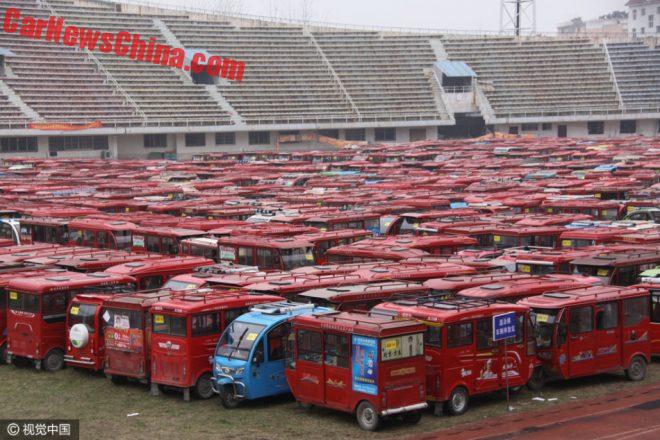 Furthermore, the vehicles were not shipped off to the crusher but carefully parked in a stadium, which will not be used during the holiday. And the owners can actually get their vehicles back if they produce a set of stamped papers, which I bet they will only be able to get after the holiday. And lastly, most drivers of these taxis are from the countryside, and they will go back home during the holiday; they won't be driving anyway. The holiday starts this year at January 27. So, nobody gets hurt, except the poor passengers who got to take real taxi's now.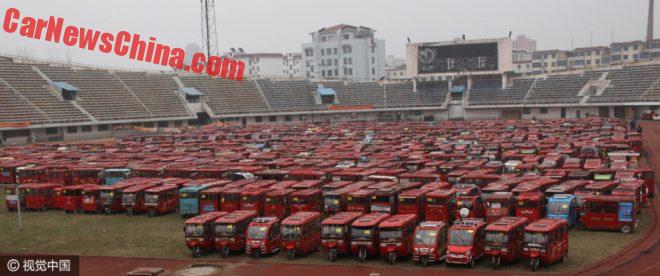 Note four-wheel vehicle front-row third from left. Another intruder!
These great taxi's are so called low-speed electric vehicles (LSEVs). They are widely used as taxis in second and third tier cities, but also in the suburbs of mega cities like Beijing. There are no rules regulating this market, it is a free-for-all. They are very handy and they even have semi-official routes. There is a large wholesale market about two kilometers from my compound. A bunch of drivers with large five-seat variants is running that route every day, pay five yuan for one way, and there is a similar route to a nearby shopping mall.

The electric motor of this kind of car delivers anything between 1 and 5 horsepower, depending on configuration. Let's assume they all have the badass five hp motor; that's 4670 horses on that field!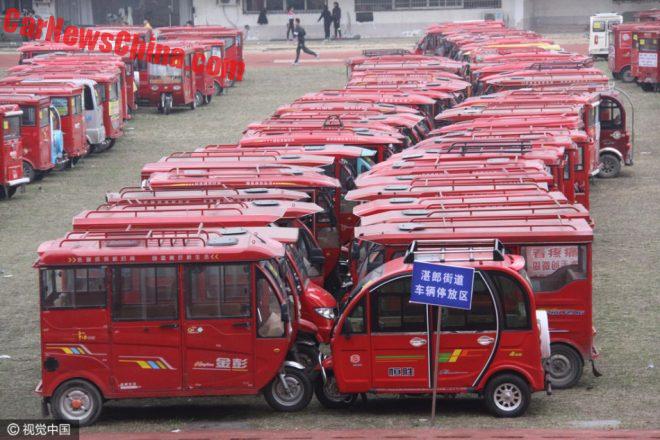 Waiting for the New Year.
The vehicle on the left is five-seat. It has a single seat for the driver and two benched facing each other in the back. With a bit of pushing it can take the kids as well.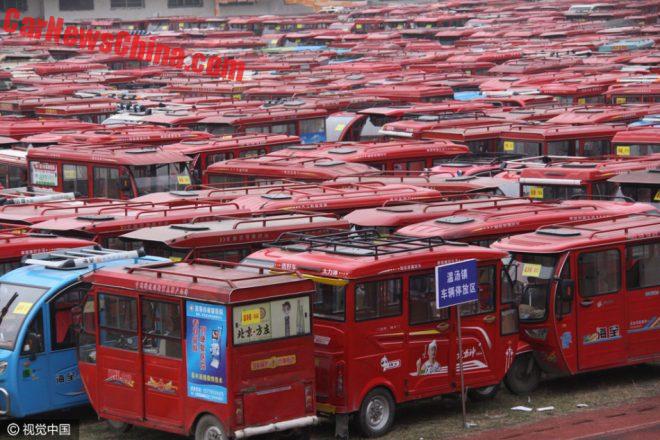 Walking over the roofs to the other side.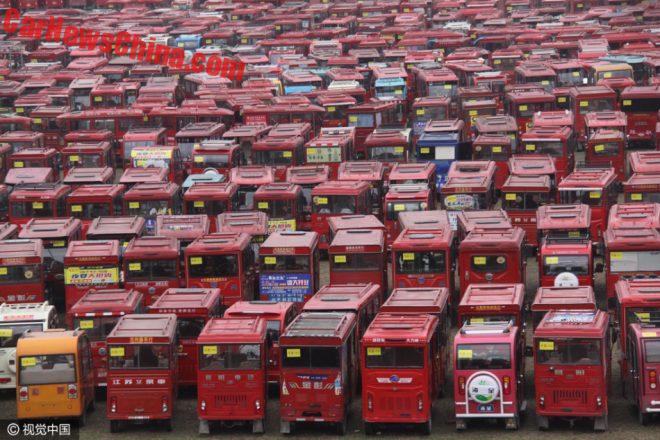 Which one is yours..?