The Zotye SR9 is a complete clone of the Porsche Macan. But with Zotye badges on it people might still think you are poor. That problem has now been solved thanks to innovative Chinese entrpeneurs selling their wares on Alibaba's Taobao, a Chinese e-commerce website that combines eBay and Amazon.
They sell full sets of Porsche Macan badges for the SR9, the sets are so popular that even Zotye dealers are putting them on, a seen on the first photo. The same thing happened with the Landwind X7.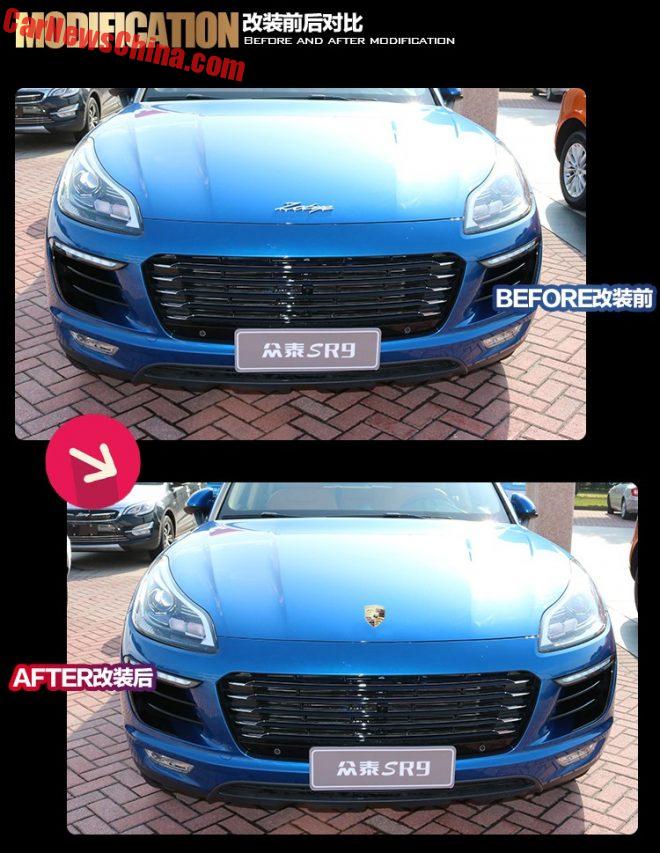 It is really easy; take the Zotye badge off and put the Porsche badge on. A full set of badges costs around 200 yuan ($29), depending on quality.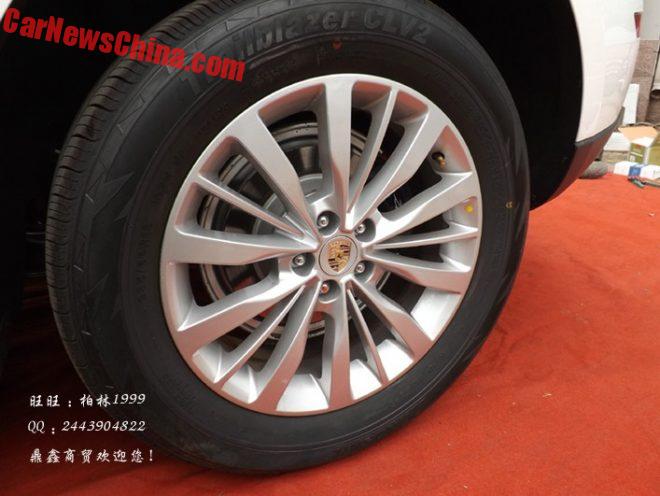 Porsche badges on the wheels.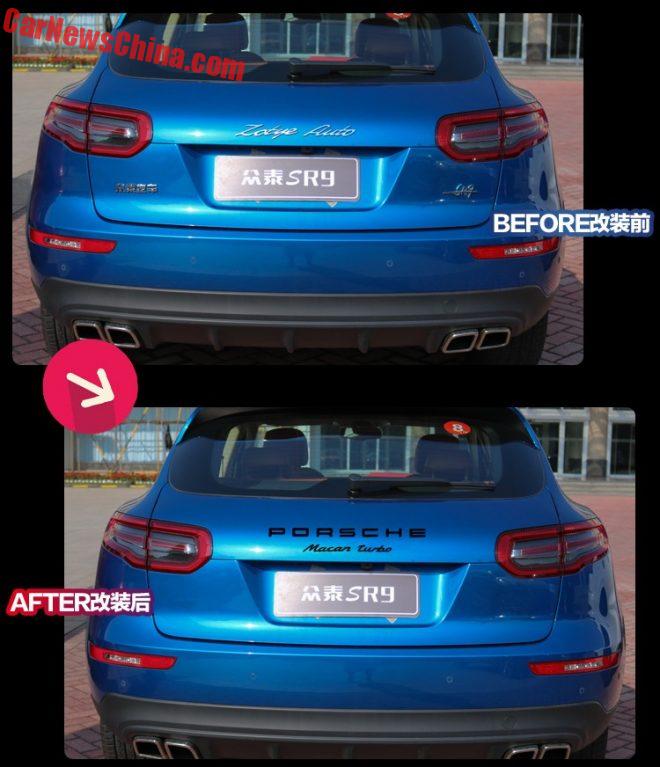 Porsche Macan Turbo on the back.
Price of the SR9 starts at 108.800 yuan and ends at 161.800 yuan ($15.780 – 23.470), but I have been at a dealer where I was offered one for just 100.000 yuan. There is only one engine; a Mitsubishi-sourced 2.0 turbo with 190hp and 250nm, mated to a five-speed manual of six-speed DCT.
The Porsche Macan Turbo is a tad more expensive at 998.000 yuan or $144.000. You can thus have almost ten (10) units of the cheapest SR9 for the price of one Macan Turbo. Naturally, the Porsche comes with a juicy 3.6 liter V6 with 400hp, which is exactly twice as much as the SR9 delivers.
Size wise they are basically the same:
Zotye SR9: 4744/1929/1647, and wheelbase is 2850.
Porsche Macan: 4681/1923/1624, and wheelbase is 2807.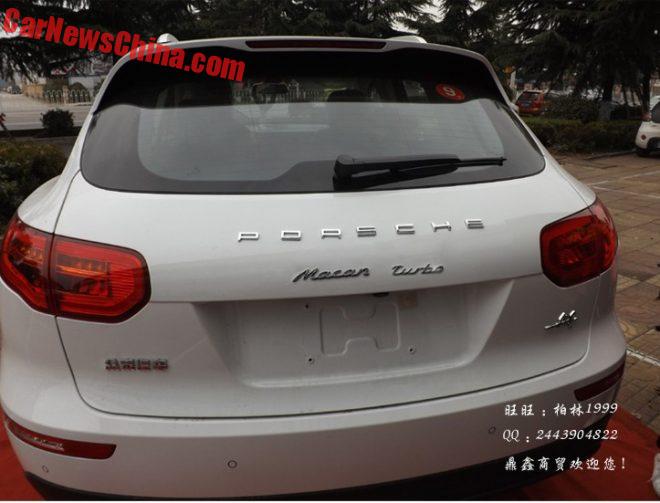 Alignment of PORSCHE is a big mess, and the Zotye Auto and SR9 badges are still on the car as well!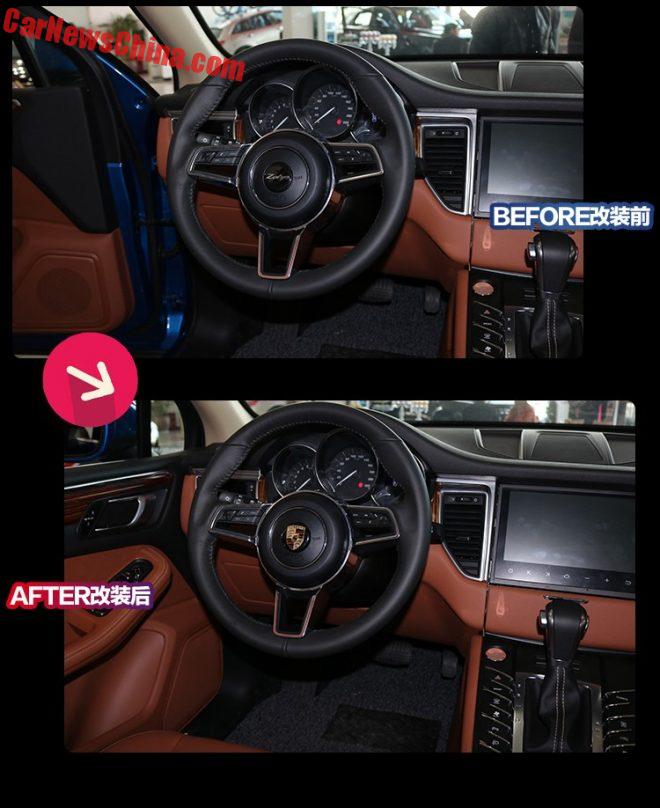 The interior.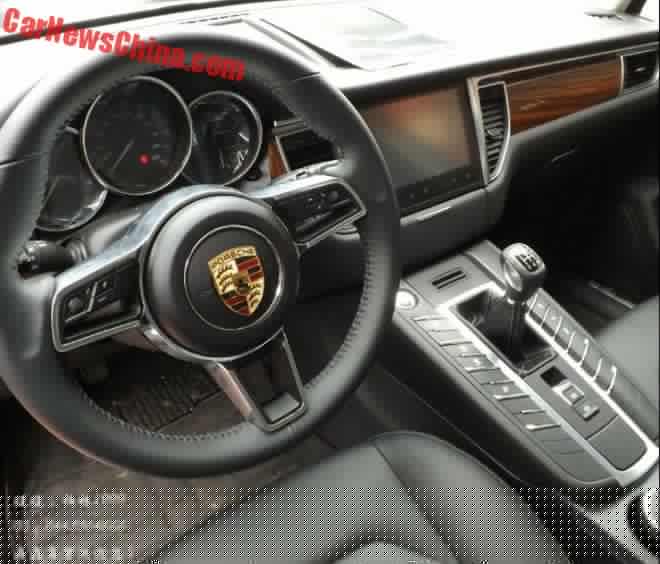 A bit primitive. The Porsche badge is simply fitted over the Zotye badge. It looks rather ugly. Note center tunnel, yes Zotye copied that too.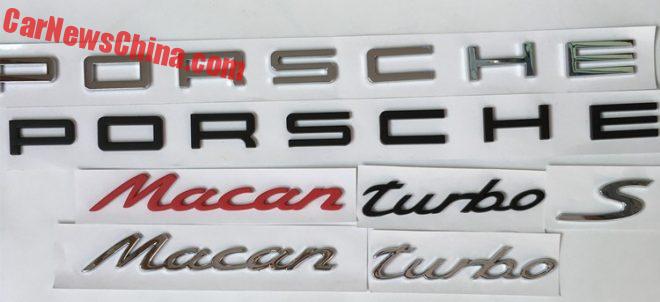 Badges in every color.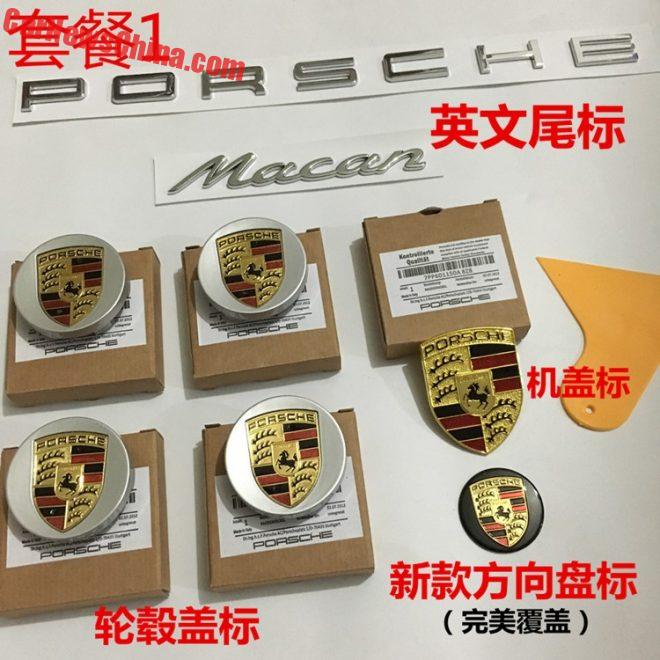 They come in real-looking Porsche boxes.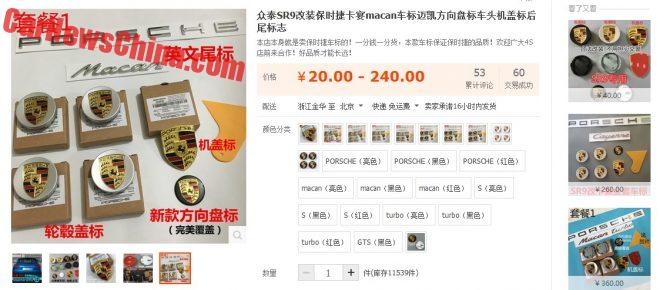 The add on Taobao.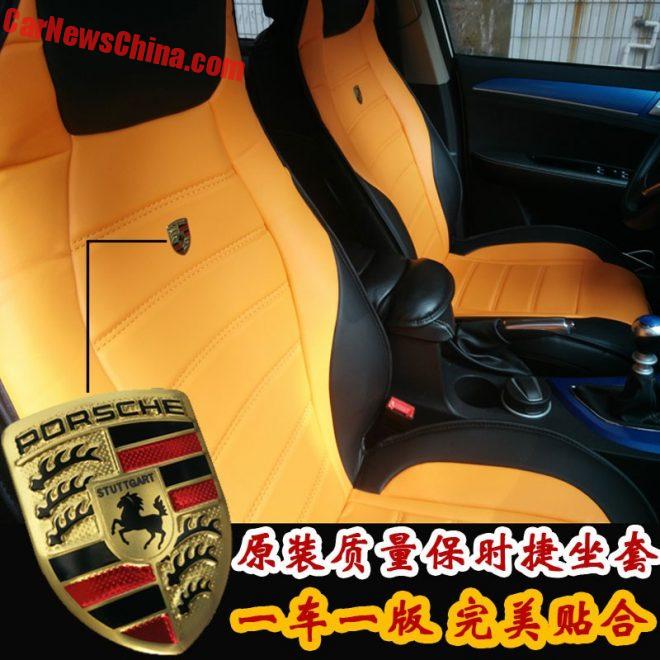 There are also some other nice accessories available that don't have a direct link with the Macan, such as these sporty seat covers with Porsche badges.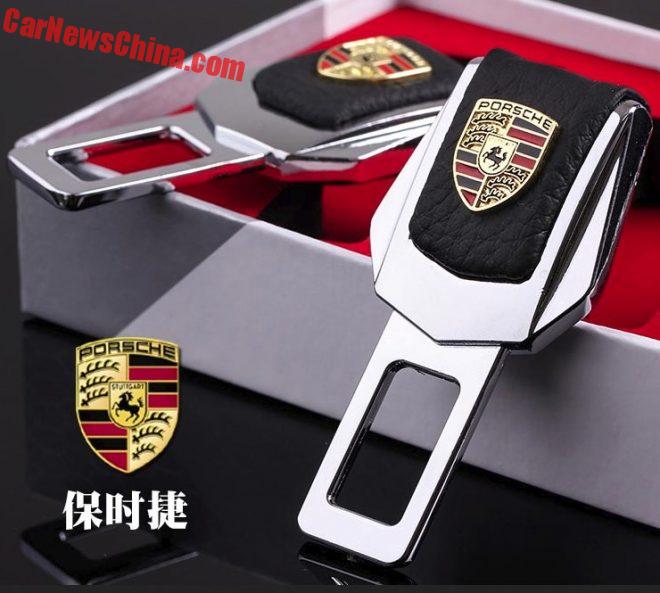 Or these brilliant seat-belt beeping warning system fooling belt heads with Porsche badges.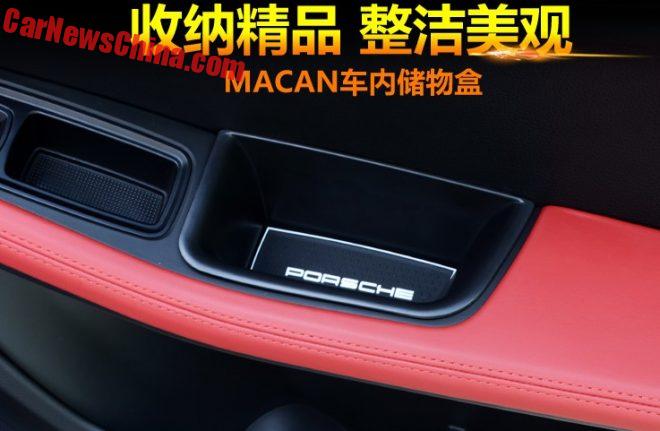 The SR9 has those handy storage spaces in the arm rests in the doors, for coins and condoms and such. Normally the bottom of these spaces is black, but that ain't very Porsche, so for 65 yuan you can take care of that.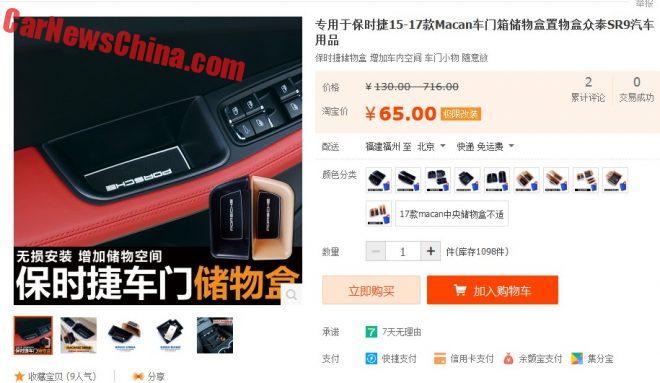 Set of four!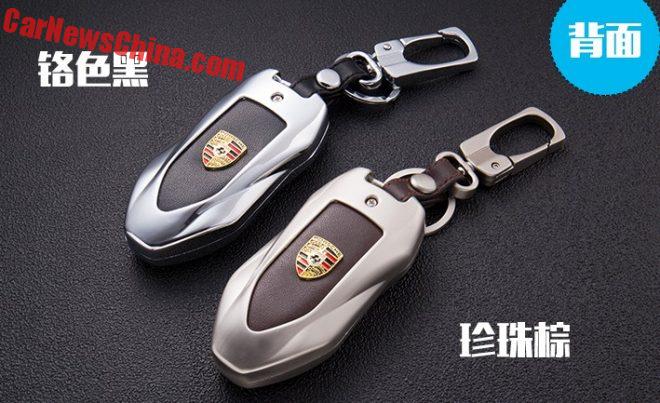 Porsche badges for on the SR9 key.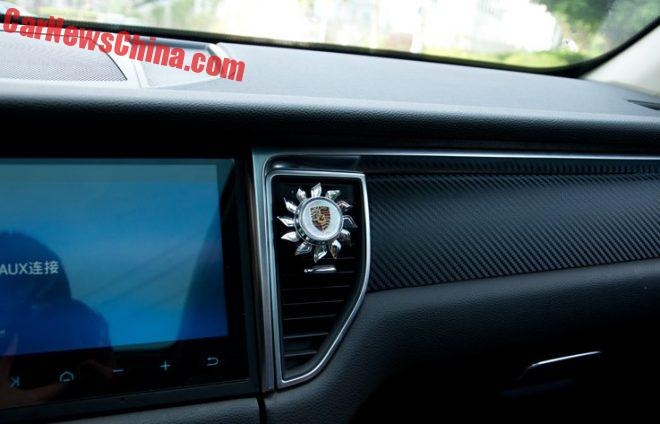 This is called a "mini air refreshener", with a Porsche badge on it. It is fitted onto the air vent and when the vents are on the beams of the 'sun' will start spinning. It has a tiny reservoir of water inside, which will spread through the interior in a fine mist. Rather ingenious.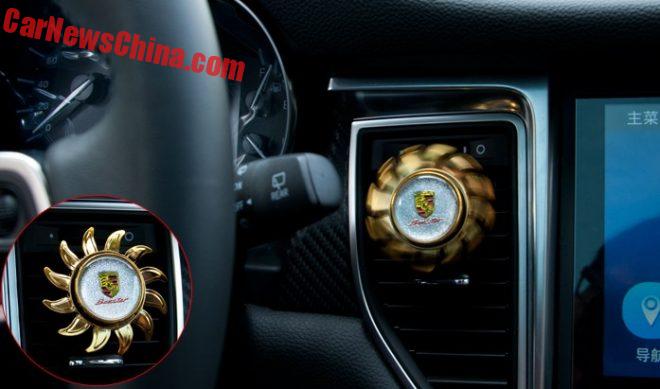 This one has the Boxter name on it! Only 32 yuan. Surely works.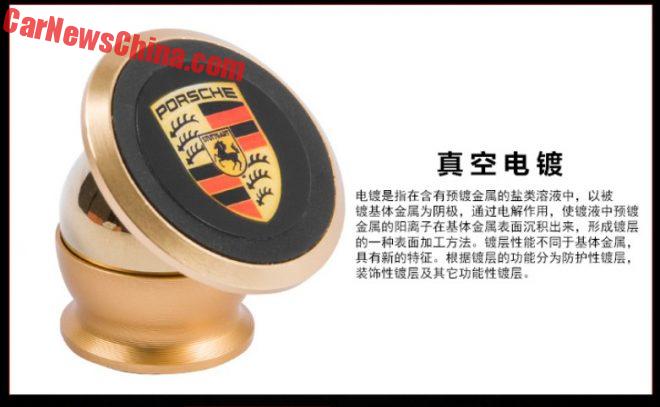 A handy electro-magnetic device to stick your phone onto. In gold with a Porsche badge.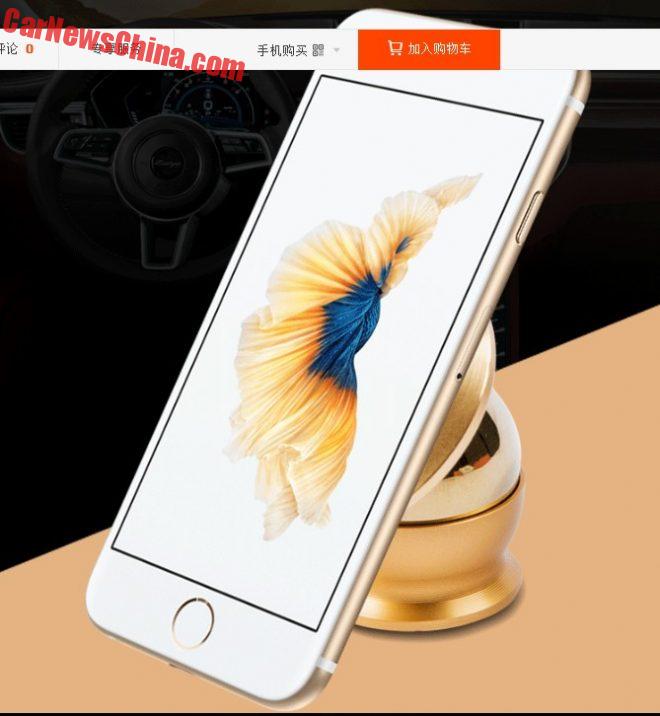 The device can turn 360 degrees.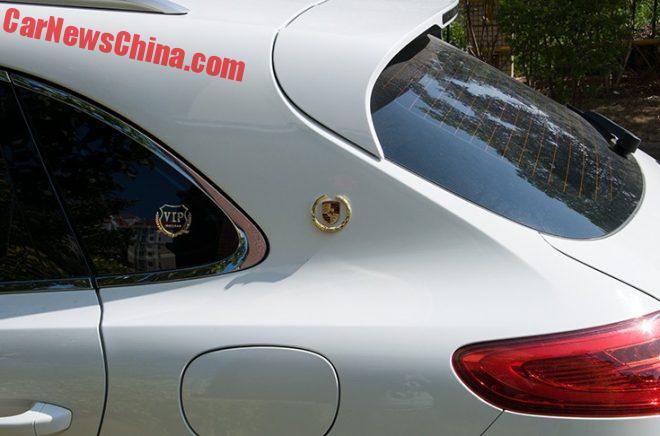 Porsche badge on the D-pillar, and a VIP badge on the window. In China you can have it all.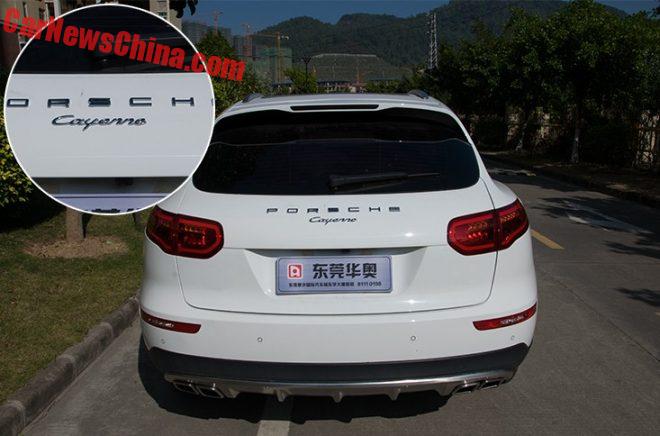 Another seller who didn't really get it. Cayenne..?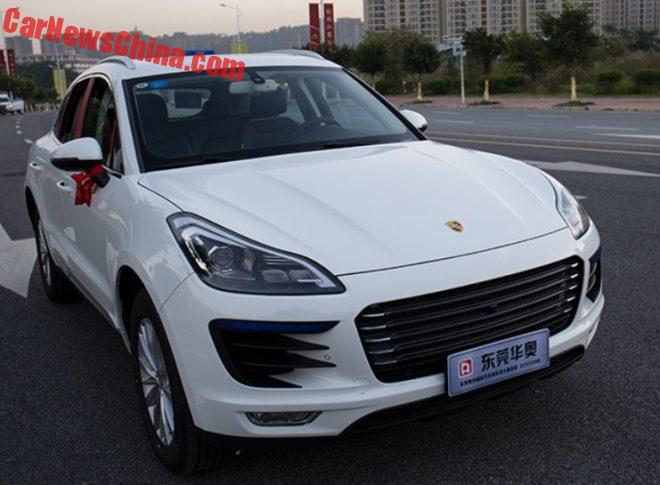 Anyway; totally Porsche'd!