This is the new Borgward BX7 TS SUV, a sporty variant of the Borgward BX7. It will be launched on the Chinese car market in Q3. The TS comes with a kinda-honeycomb grille, matte gray paint, darkened front lights, and a more aggressive front bumper. Strangely the wheels are extremely tiny, no matter how shiny they are. Wheels on sporty cars should be big and wide, but the wheels on the TS actually seem smaller than on…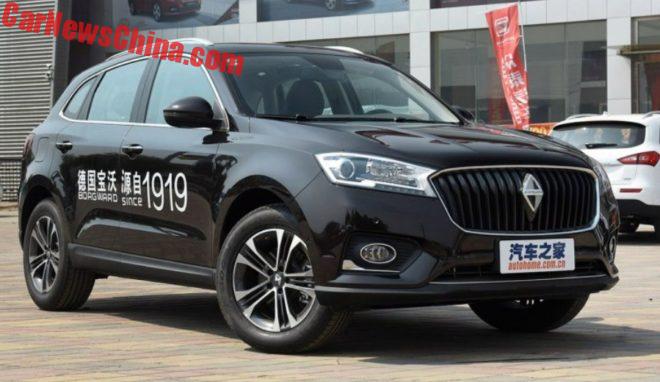 … the standard BX7.
Price starts at 169.800 yuan and ends at 242.800 yuan. Lone engine is a 224hp 2.0 turbo.
The brand makes a lot of its history. This black dealer car has a bilingual sticker on saying "Borgward since 1919". There are two problems with the sticker: Borgward was founded in 1929, and it went bankrupt in 1961. It came back only in 2015, fully owned by Foton, which in turn is owned by the Beijing Auto Industry Corporation (BAIC). Borgward of course is not the only company that is creative with history, but that sticker is just a tad too stupid.
But the Euro-cred seems to help Borgward nevertheless. The BX7 has become a modest success, selling around 4000 units a month, outselling cars like the Changan CS95, Haval H7, and Renault Koleos. However, sales in May went suddenly down to 2900 units. No numbers on June yet. Will the new TS be able to push sales back up again..?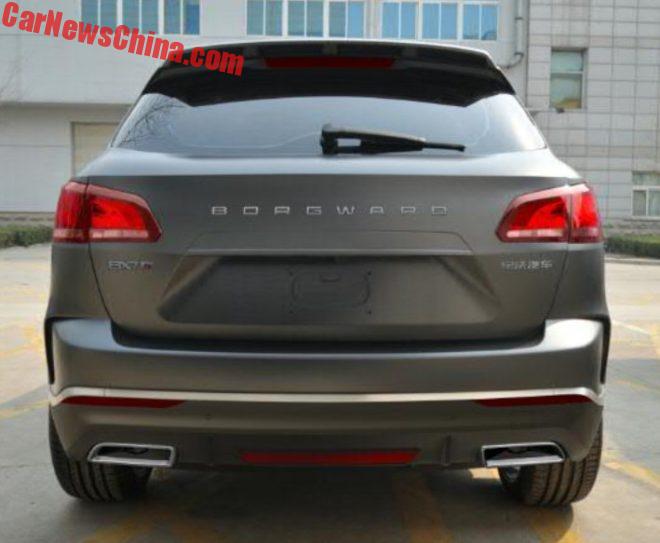 It certainly looks racy with its flat oval pipes and red TS badge. Sadly, just like 'sporty' models of the competition everything is for the eye only. The engine is exactly the same as in the base car; no extra horses here! Happily, it doesn't have to carry too much extra body work around or else it would be slower than the base car. Unhappily, it does have to carry the weight of all that history on its poor shoulders, which, like the wheels, aren't all that wide.