Zotye Auto, famous for their SR9 Porsche Macan clone, is launching a new car brand in China. The brand is called Traum, which is German and means dream. It is the second automaker in a short time to go for a German name after Weltmeister. What is that all about..? The Chinese name has nothing with dreams of Germany; Junma (君马) is best translated as Supreme Horse. The English slogan is Driven by Dreams. The Chinese slogan, translated, Dream for a Horse.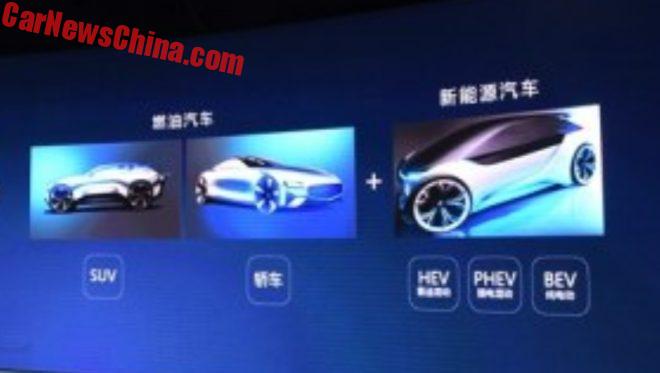 How poetic! The Traum brand will be aimed at young car buyers, like so many other new brands. The young got it great in China. Traum is naturally very ambitious. They plan for a range of crossover SUVs, a sedan, and a range of new-energy vehicles (NEVs), the latter including HEVs, PHEVs, and BEVs.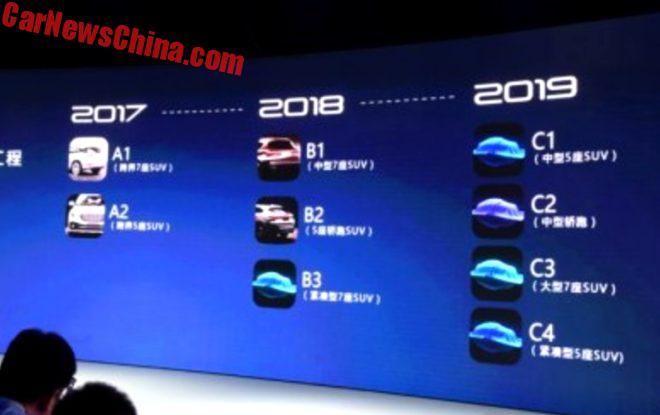 However, the primary focus is on gasoline powered crossover SUVs. They will launch eight of them until 2019 (the C2 is a sedan) in various sized and kinds. This year will see the launch of the A1 seven seat SUV and the A2 five-seat SUV. Both are expected for debut on the Chengdu Auto Show in September and launch on the Chinese car market in November.
Zotye has developed three engines that will power all these cars: a 150hp/230nm 1.2 turbo, a 177hp/260nm 1.5 turbo, and a 245hp/350nm 2.0 turbo. That sure sounds promising and these engines are indeed new, they are not used in any of Zotye's current offerings.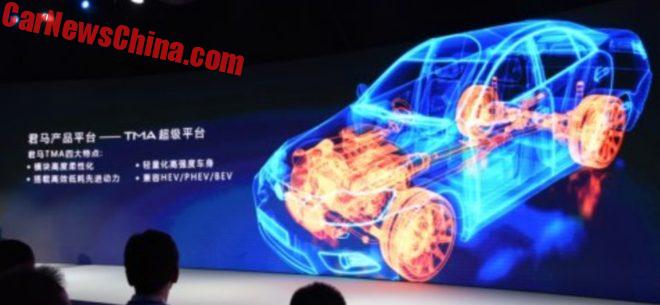 The NEVs will be based on a new dedicated NEV-platform called TMA. This platform is apparently able to support HEV, PHEV, and BEV. Traum says the plug-in hybrid consume 2 liter per 100 kilometers and will have an electric-only range of 100 kilometers.  The full electric will have range of 550 kilometers. That too sounds promising.
Launching a new brand aimed at the young is not a bad idea. However, Zotye already has two brands and a sub-brand: Damai, Zotye, and Zotye SR. The latter is also aimed at the young. The various offerings all overlap in price and size and engine wise. In some cities all of these cars are sold in single dealers, in other cities they use different dealers for each brand, and in other cities again they do both.
No kidding there! In Beijing they have an SR dealer, a dealer that sells SR and Damai, and a separate dealer that sells Zotye. And now they are going to add an all new brand to all that mess.
But it might as well work. They sure have the platforms and the money, and the new engines are a good sign. The company also says they have hired an American chief designer called "Benedek" who used to work for Mercedes-Benz, without saying more.They only matching name I can find is Benedek Toth. I have dropped him a line and will update when he replies.