Welcome to Random Spots Of Cars And Some Other Things Episode 2. Starting with a Bodo electric tricycle with a BMW grille and a bicycle lock securing the front wheel. Bull bar is factory standard! The stickers on the doors say Gool Living Trend. There was another sticker saying VIP the super Bicycle.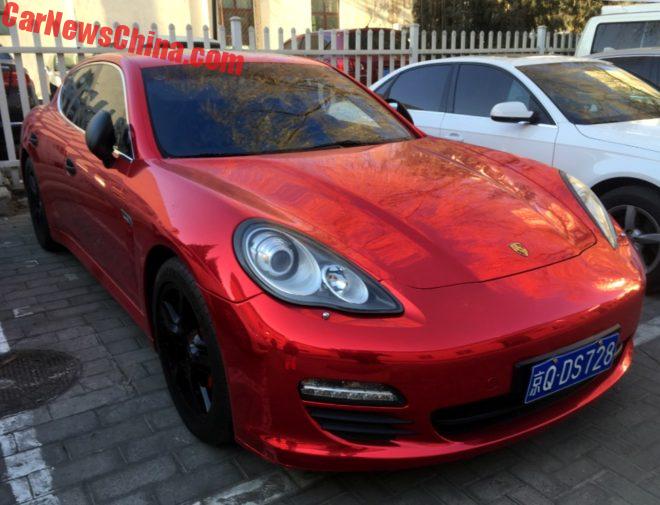 A fatass Porsche Panamera with a shiny red wrap, black windows, black wheels, black mirrors, and black door handles. The wrapping rage is somewhat over in China, and sadly so, but some brave souls are still holding out!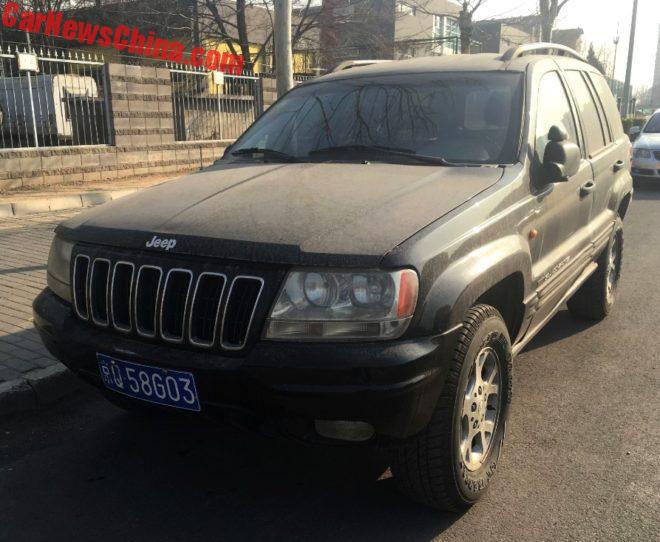 A dusty but otherwise very clean Beijing-Jeep Grand Cherokee V8.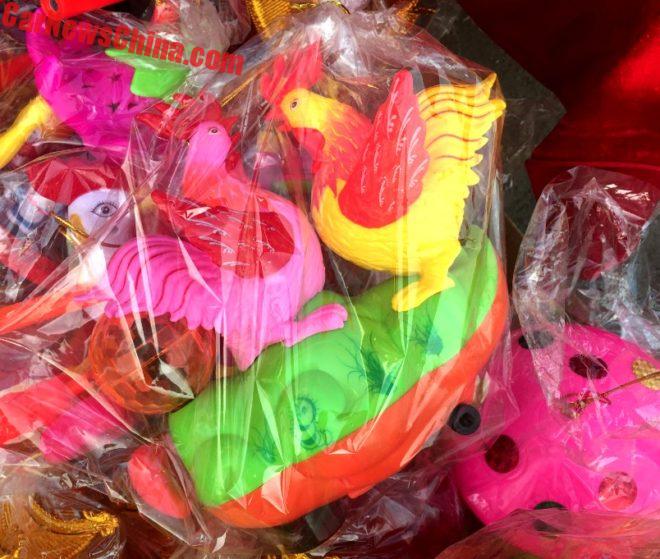 Battery-powered Year-of-the-Rooster toys. The rooster year will be over soon so the poor toys are being dumped on the street markets now. This beauty with a pink and a yellow rooster did only 15 yuan. When switched on he wings will move, there will be light and sound effects, and the whole thing will ride around. Yes it has wheels, it is a car.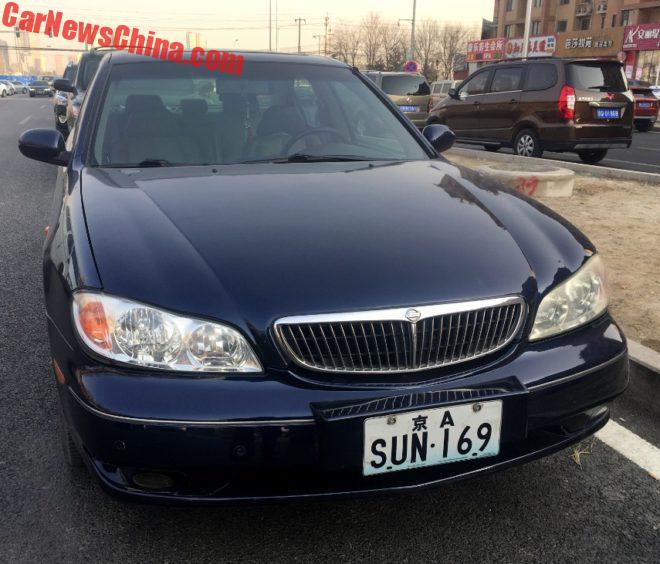 A beautiful blue Nissan Cefiro on rare white plates.
White license plates for passenger cars were only issued in 2002 and 2003 in Beijing, Hangzhou, and Shenzhen. It was an experiment were citizens were allowed to come up with their own alphabetical/numerical combinations.
The experiment was cancelled after citizens came up with far too much creativity, choosing for various combinations with 'sex', 'CIA', 'FBI', and the infamous USA-911 which appeared on a Beijing car not long after the September 11 attacks. SUN 169 seems pretty innocent…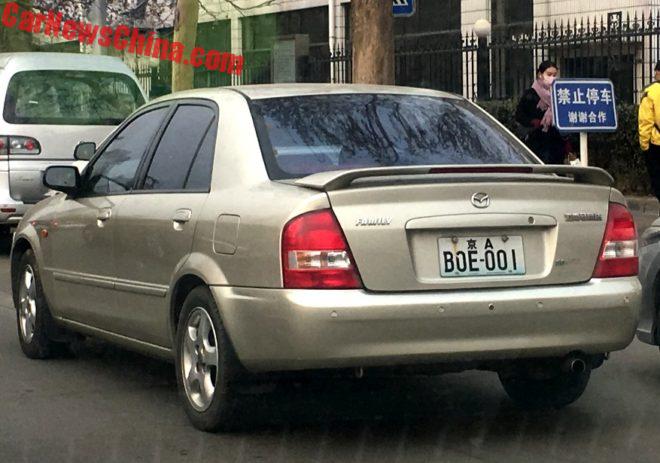 An early Haima Family sedan on whites. BOE-001. The Family was a small sedan based on the Mazda Familia/323.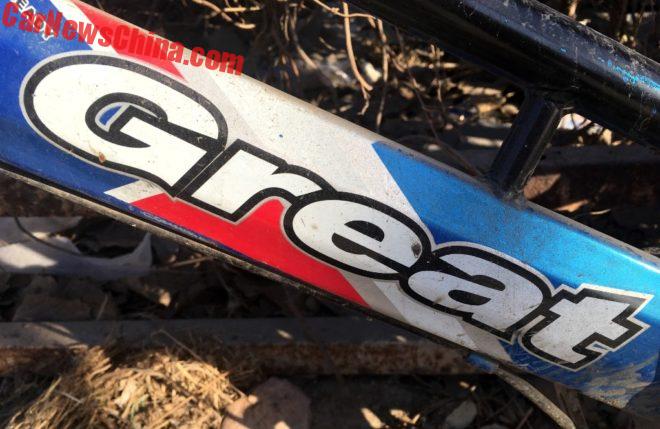 Bicycle brand. Great, not Giant. Great bicycle. Great name.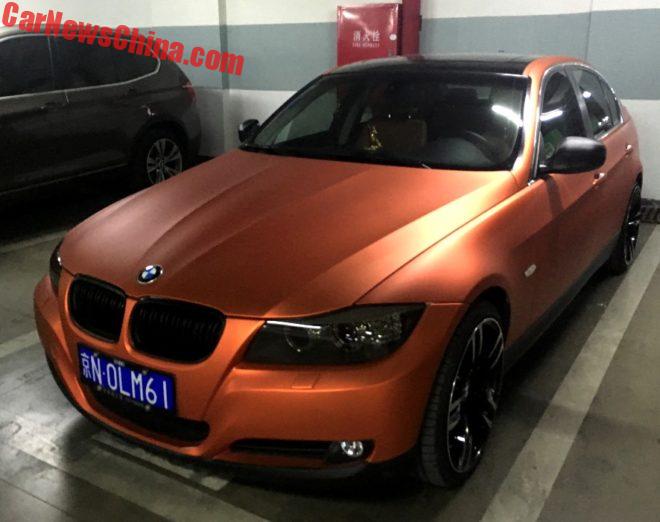 A bitchy little Bimmer with a matte orange wrap, a black grille, and darkened lights.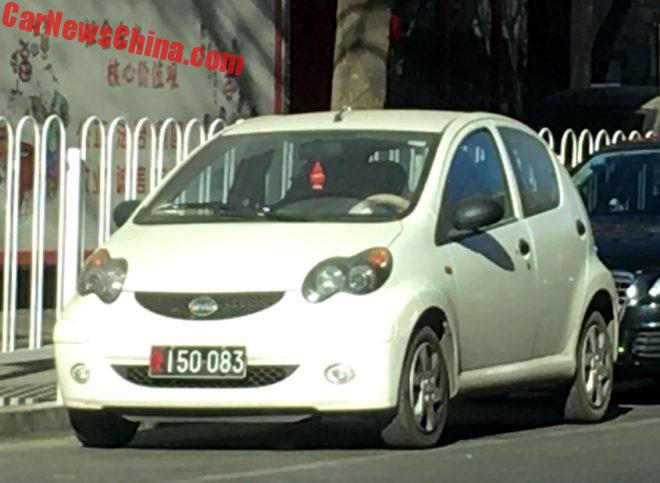 A BYD F0 with embassy license plates. Unusual, embassy cars are normally a bit more… expensive. The good BYD belongs to the Hungarian embassy in Beijing.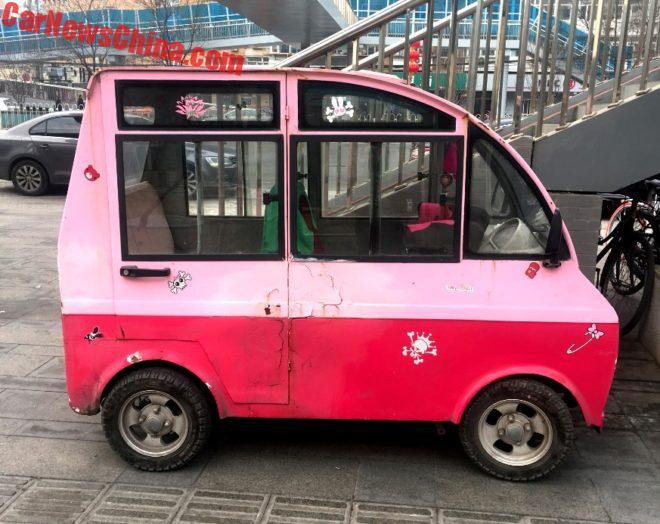 A minicar of an unknown brand. Painted in two shades of pink and fitted with sporty wheels. There is only one door, on the left-rear side! It seats three, two in the back and the driver in the middle in front. This is a petrol powered vehicle, not an electric. You can see the exhaust pipe sticking out under the body just behind the front wheel.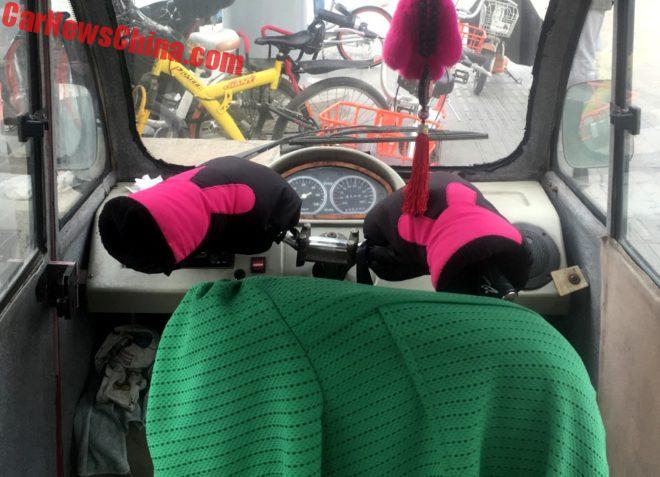 A look inside as seen through the rear window. Winter can be cold in Beijing, and the handlebar steering wheel comes with pre-fitted ultra warm gloves, in matching colors.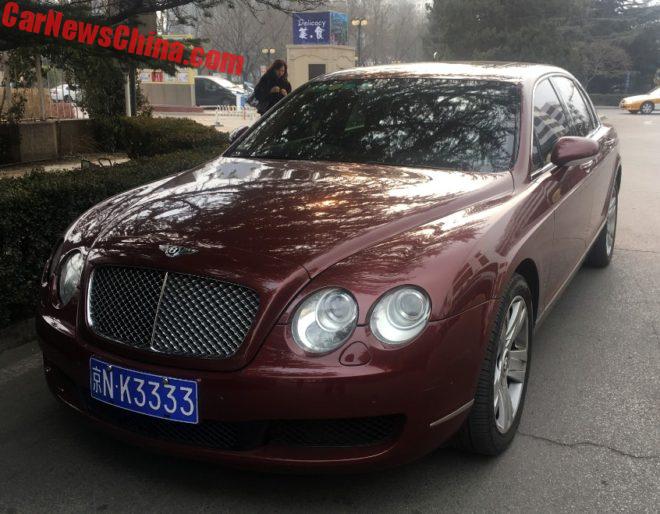 A beautiful brown Bentley Flying Spur with an unusual license plate reading K3333.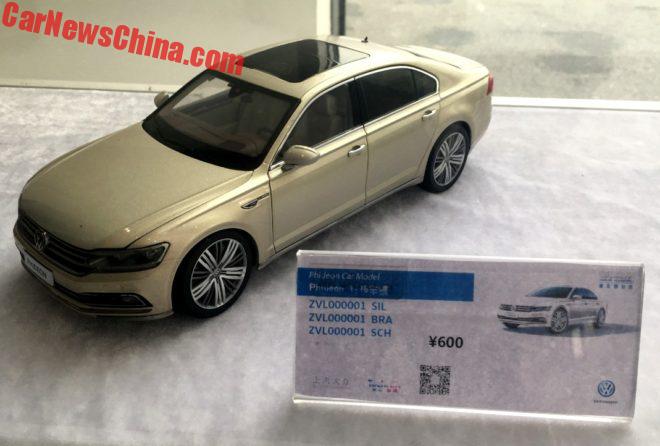 At the Shanghai-Volkswagen dealer: a 1:18 model of the Phideon for 600 yuan. The model seemed to be of very good quality and it is probably worth the money, if you are a Phideon fan.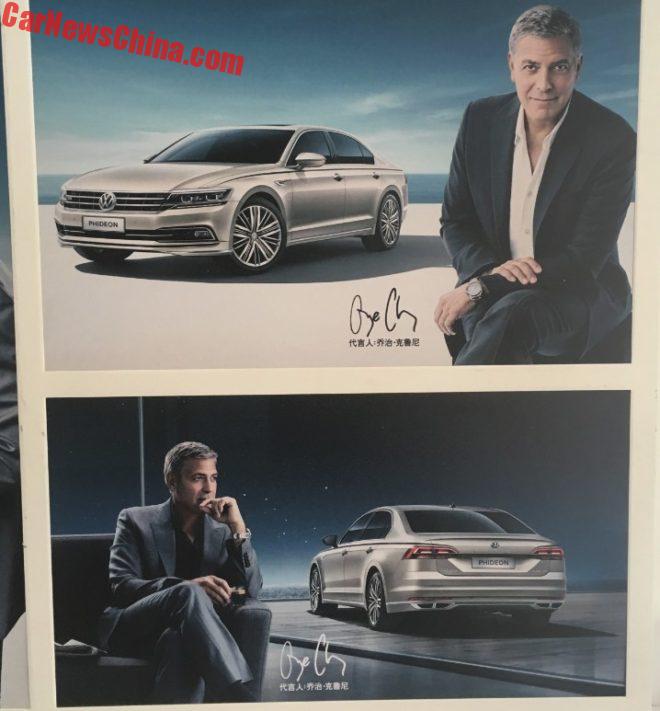 One such fan is George Clooney, seen on a backdrop at the dealer. Shanghai-Volkswagen paid Mr. Clooney about five million U.S. dollar for the right to call him "Ambassador" for the Phideon. The work included a commercial and an some photo shoots.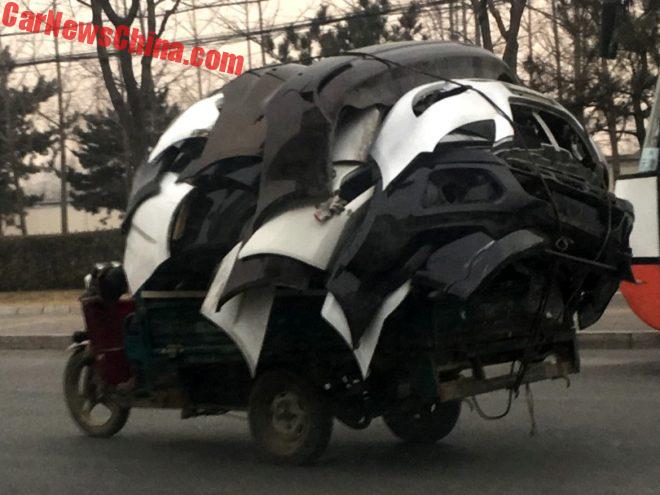 Don't bump into this guy! An electrified tricycle carrying a load of brand new front bumpers. Likely non-OEM examples heading to a car-repair market. Chinese car buyers are very typical with car repairs. The pay trillions for an imported Benz, but when a bumper (or a mirror, or a wheel, or whatever) breaks they prefer to go to the cheapest car repair place they can find to fit super cheap non-OEM parts of very dubious quality. I have seen Bentley's and Porsche's in that kind of places!
More Random Spots Of Cars And Some Other Things soon.