A few days ago, an electric version of the BMW 3 Series was spotted in China. It is quite a surprise. However, it fits BMW's strategy of having 25 electric cars by 2023 and converting old ICE cars into EVs. According to BMW's naming conventions, it should be called i3, but BMW's 2013 first EV has this badge. So Chinese media speculate the new car's name will be BMW i3L. Let's use it as a code name for now.
Even through heavy camouflage, we can tell it will feature BMW's front kidney grille. As EV's doesn't have a combustion engine to cool, it is obviously only a matter of brand recognition. The grill is, of course, closed-off. Otherwise, it would make no sense in terms of aerodynamics.
Some analysts say BMW was too early to EV race as they launched the fully electric i3 in 2013. Since then, we didn't see much effort from the Munich-based automaker. It changed recently as BMW started an EV offensive and introduced fully electric SUVs iX3, iX, and later sedan i4. The i3L would be its fifth EV.
Interestingly, BMW  seems to outsource a significant part of its electrification efforts to its Chinese joint venture with state-owned automaker Brilliance. For example, its first fully electric SUV – BMW iX3 – was introduced at Beijing Auto Show in 2018 and started mass production in China in 2020. This Chinese-made iX3 was then exported to Europe and North American market in 2021.
According to spy photos, the new EV will be based on BMW 3, thus not being a purpose-built electric car, but only an EV build on a platform dedicated to an internal combustion engine (ICE) vehicle.  It is expected the BMW i3L will share the same powertrain setup as iX3. In this case, it would be rear-drive with a maximum power of 210kW and peak torque 400Nm and battery 74kWh providing range up to 500km. It will be unveiled in Q1 2022 and start mass production in summer 2022.
The spy photos don't show much, but we can see that the interior will feature a large LCD screen. Also, the rear exhausts are missing, which we are happy to see as more Chinese automakers seem to enjoy this bad habit and keep exhausts on fully electric cars. On the side of the car, we can also see the sign Electric Test Vehicle.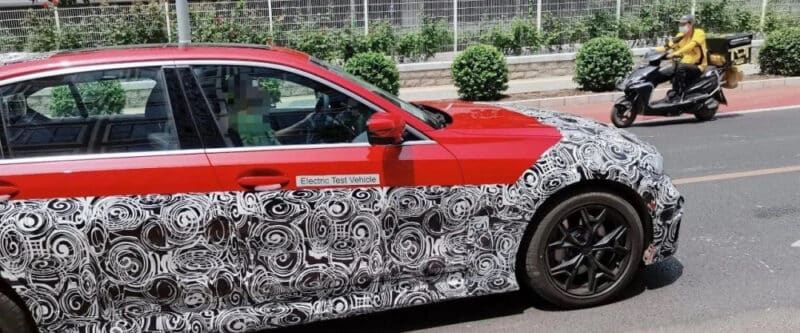 As BMW didn't yet confirm this car's existence, it is hard to guess if it will be available outside China as the previous iX3. Still, following the BMW EV strategy, it is highly probable, and we will definitely keep an eye on that.