On September 15th, Xiaopeng Motors launched its compact EV sedan, the P5. It is Xpeng's third car. Also, it is the world's first mass-produced EV equipped with lidar.
The car features a grill-less front face and extending headlights with LEDs designed to look hidden in the black trim. The Xiaopeng P5 makes a bold statement in terms of visual attractiveness. The front bonnet has a smooth, slightly curving design that beautifully complements the vehicle's simplicity; it also has an active air intake flap to allow airflow when heat dissipation is required and shuts off when not needed to reduce air resistance. At the rear, the taillights similarly follow the same extending pattern as the headlights, and with daylights running on both sides, the P5 grasps a wide visual look.
The P5's side follows a smooth and simple design with a black bottom trim starting from the front, gaining height as it approaches the rear, where it boldly covers the bumper. The door handles slide into the door to increase aerodynamic efficiency and provide a sense of technology. In terms of size, the Xiaopeng P5 has a wheelbase of 2768mm, 4808 mm length, 1840mm width, and 1530mm height.
As for the interior, the P5 looks similar to the Tesla Model S with its fairly simple yet advanced vertical touch screen and second screen for the instrument gauge. The Xiaopeng P5 offers a gorgeous interior color scheme with quality stitching and materials. Talking about technology, the P5 is integrated with the latest XPILOT 3.5 ADAS (automatic driving assistance system) and twin LIDAR system for an enhanced autonomous driving experience and increased safety.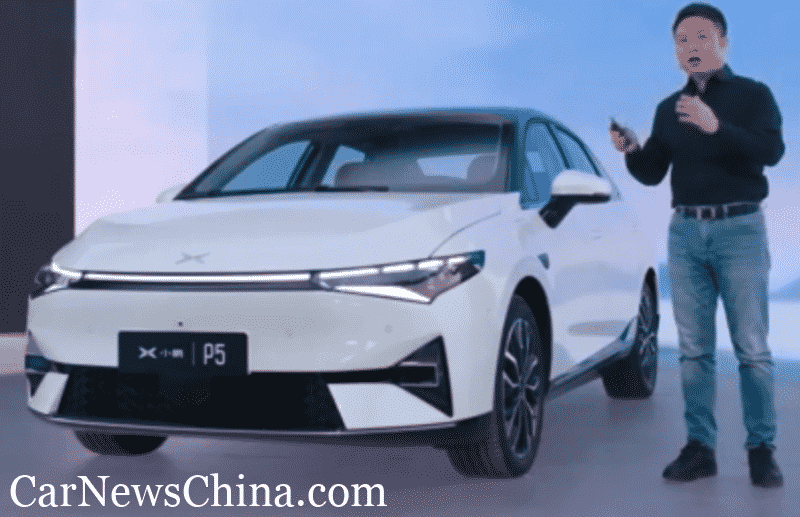 About variants, the P5 will have a top-of-the-line one with XPILOT 3.5, followed by an E-series with XPILOT 3.0, and the base G-series variant without ADAS. The top variant Xpeng showcased had 2 LIDARs, 4 surround-view cameras, 5 wave radars, and 12 ultrasonic radars.
There are six variants of P5 priced from 157 900 yuan ($24 900) to 223 900 yuan ($34 800). Only the two highest variants (600P and 550P) are equipped with lidar. The number means the range in kilometers. The letter shows the level of driving assistance systems. P has the latest XPILOT 3.5, E-series has the XPILOT 3.0, and G-series is without any ADAS. So, for example, Xpeng P5 550P has two lidars, XPILOT 3.5 and 550km range. Xpeng P5 550G has no lidar, no ADAS, and 550km range.
Xpeng P5 600P 223,900 yuan ($34 000)
Xpeng P5 550P 199,900 yuan ($31 000)
Xpeng P5 550E 192,900 yuan ($29 990)
Xpeng P5 460E 177,900 yuan ($27 600)
Xpeng P5 550G 172,900 yuan ($26 900)
Xpeng P5 460G 157,900 yuan ($24 900)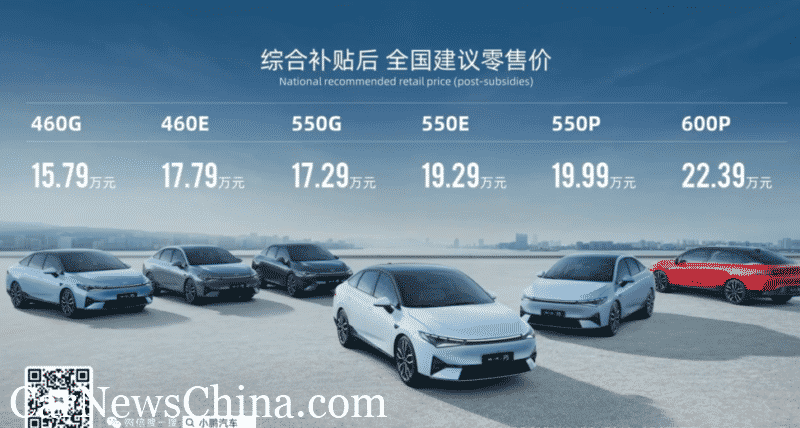 For context – the cheapest Tesla Model 3 costs 251 000 yuan ($38 960), Li-One from Li Auto 300 000 yuan ($46 000), and the cheapest model of NIO ES6 costs 358 000 yuan ($55 600).
All variants have the power of 155kW with 310Nm of maximum torque. It will be available in three power packs of 71.4kWh, 66.2kWh, and 55.9kWh; the largest 71.4kWh battery pack is dedicated only for the most expensive variant, 600P.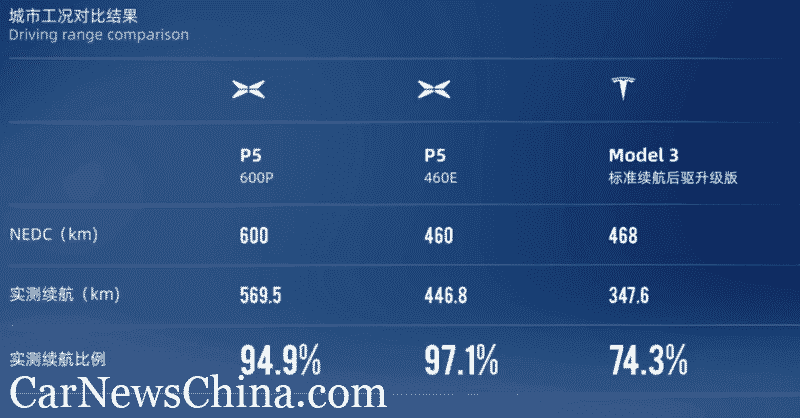 Xpeng will start deliveries of P5 in late October. As automotive veteran Lei Xing mentioned, this car can easily sell 10k/month. I agree it has the potential to sell like hotcakes. So if there are no major quality issues or some kind of XPilotGate, the only question that remains is how long it will take for Xpeng to double its current monthly sales (7200 cars/month).
Source: Xpeng press conference