In the past few days, a Nio owner broke the news that his vehicle and the car navigation interface had pop-up advertisements, and blocked more than half of the navigation screen, so he could not use the navigation map.
The advertisement displayed in the pop-up window is the brand-new fashion, and environmental protection brand BLUE SKYLAB under NIO Life, first launched in Shanghai Fashion Week.
The content posted by the Nio owner on Weibo (one of China's most prominent social platforms) sparked discussion among Chinese netizens.
On October 13, Nio responded to the Economic Review (Economic View is a financial media sponsored by China News Agency): Nio's business notification push. Nio will not use the car screen for the advertising business.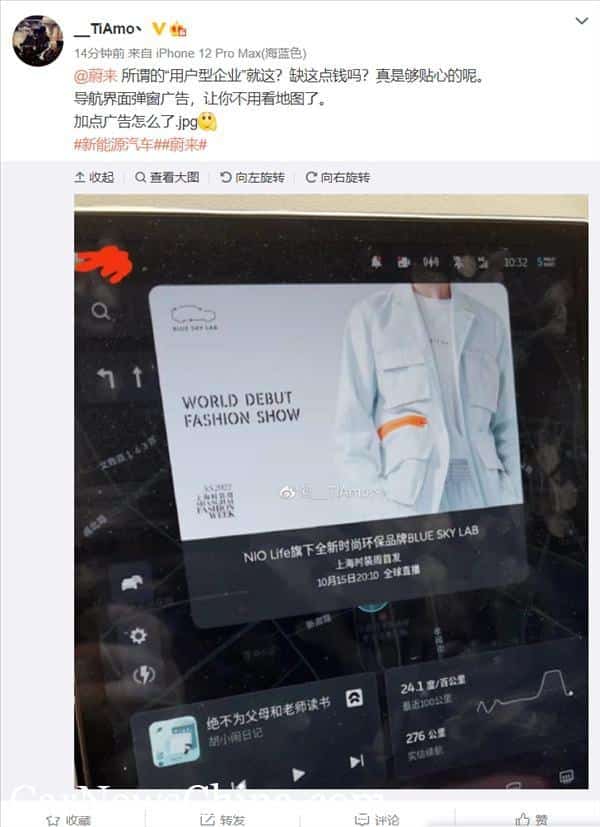 According to the Economic View report, the netizen has edited his Weibo and said, "Correct it: it is not a pop-up advertisement. It is a push advertisement clicked on by the notification bar. (If I misled everyone, I apologize to you.)".In the comment section at 14:52, the netizen said that to share the latest news, Nio has withdrawn the "advertisement."
This matter seems to have been resolved under the reports of the Chinese media, but it has also triggered a bigger controversy, that is: can new energy vehicle manufacturers use their system permissions to push any form of commercial advertising on users?
According to the Economic View report, some Chinese netizens believe that this is not a mandatory advertisement and requires users to click to display it manually; some netizens ask why the cars I buy have promotions? Will advertising revenue be shared with car owners?
Whether new energy vehicle manufacturers can use car screens to recommend advertisements for their users is still a topic. Carnewschina welcomes you to leave your views in the comment area.