NIO has announced its performance for April, and the Chinese carmaker had a busy month with a significant production milestone.
Chinese carmaker, NIO, produced the 200,000th car in its history on the 26th of April. The car rolled off the production line at the Hefei plant. It took the company approximately four years to reach the milestone. However, total delivery stood at 197,912 units.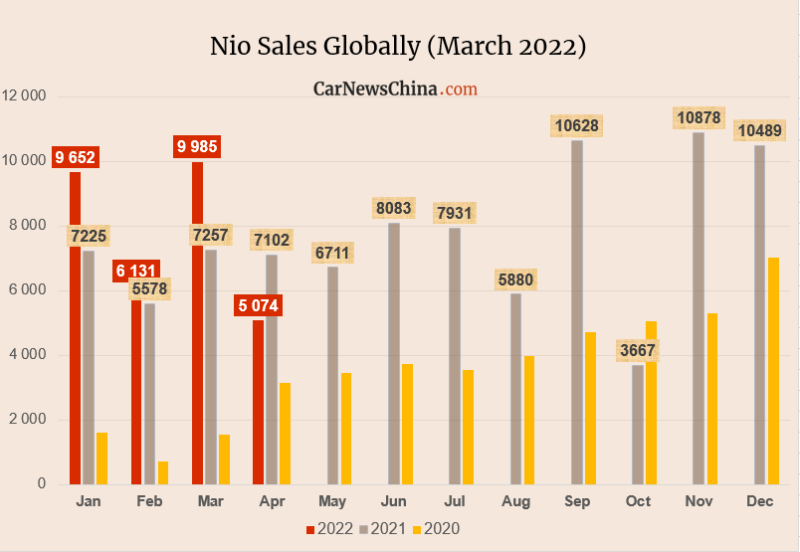 During the month, NIO delivered 5,074 EVs, with 693 being the flagship ET7 sedan. The total was less than for the same period last year, but NIO was affected by the recent spike in Covid-19 cases and supply chain challenges. Near the end of the month, NIO completed the first tooling trial of its ET5, a mid-sized sedan. This coincided with the first completed car from the company's second production site.
NIO also opened its 47th NIO House in Xiamen. The company now has a House in 35 cities globally. NIO Houses are places where NIO users and fans can socialize. It has amenities to entertain both adults and children.
The Chinese brand continued expanding its battery-swapping network. It operated 915 stations in April, with 900 located in China. However, NIO also expanded its public charging network. It increased its super chargers to 4,302 and destination chargers to 3,964 at 692 stations. NIO started rolling out destination charging points in Fujian, western Shandong, northern Guangxi, Yunnan, and Tibet.
The partnership between NIO and Sinopec entered its first year last month, and the duo has built 175 stations for charging or swapping batteries. They have covered 72 cities scattered across 27 provinces, some located at existing Sinopec filling stations.
NIO also released a new in-car sound platform named NIO Immersive Sound. It promises an immersive audio experience for NIO owners, with support for 5.1 multi-channel surround sound and 7.1.4 Dolby Atmos.
The company is on the verge of releasing its new ES7 SUV.
In response to the news of downturn in production volume, NIO stock dipped on the exchange by 15 percent. However, the company plans a second secondary listing in Singapore, after listing on the Hong Kong exchange. NIO is among the list of companies that the New York Stock Exchange may expunge from its listing.
Source: Nio