The Dongfeng Warrior M18-1 and the Dongfeng Warrior M20 pickup trucks and SUVs have gone through winter tests in China. What do we know about these vehicles so far?
What is Dongfeng Warrior?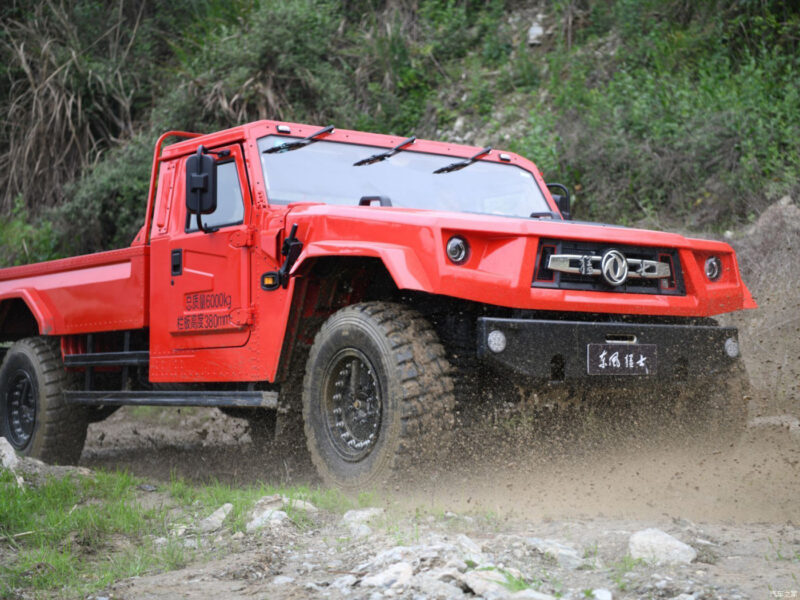 Warrior is a long running Dongfeng series. It comprises special military utility vehicles, and their civilian variant – the Dongfeng Warrior M50. The M50 is a petrol pickup truck. It is made on the same production line as the Dongfeng Warrior military vehicles.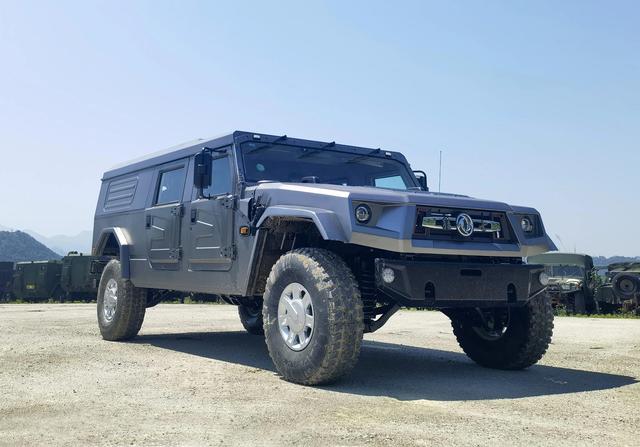 In February, we reported Dongfeng is going to launch a new brand called "M". It will comprise all-electric off-road vehicles that were inspired by the Warrior M50. We believe the "M" letter in this brand's name stands for "Mengshi" (猛士) which means "warrior" in English language. And this long-running series will become an independent brand, probably under Dongfeng Off-road. This company launched a Weibo account called "Dongfeng Warrior" in April this year. So they are clearly up to something with the "Warrior" branding.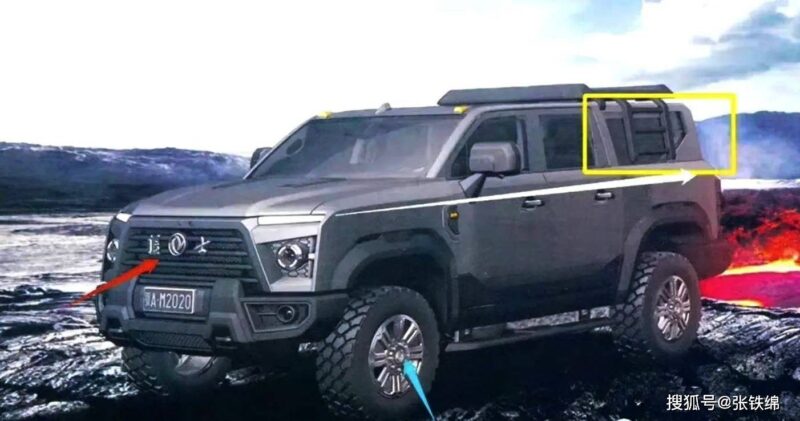 The new brand will launch three vehicles codenamed M18-1, M18-2, and M18-3. They are based on the Dongfeng MORV platform and will be available in EV and EREV (range-extender) versions. Later, information about the Dongfeng M20 leaked online. In them, it appeared to have become an SUV. Dongfeng hasn't detailed M20, but we do know some facts about the M18-1. It will be a vehicle with 5.2 meters in length, a 140-kWh battery, and an 800-kW (1070 hp) powertrain.
Winter Tests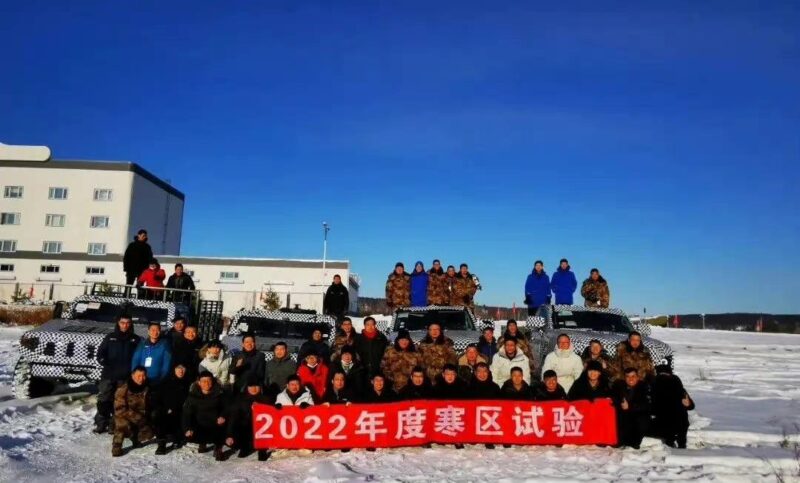 We don't know when or where exactly these tests were held. The poster in the testing team image just says "2022 cold area test" (2022年度寒区试验). We may guess these shots had been taken in the winter, and then leaked online. Perhaps, the EV Warrior series has undergone tests in Inner Mongolia, which is the coldest Chinese region. Anyway, let's get acquainted with these cars themselves.
In the team shot, we can clearly see four different vehicles. Two of them are pickup trucks, and two are SUVs. It seems like there are two models in the picture: the M18-1, and the M20. They both have pickup truck and SUV versions. The M18-1 stays in line with the design of the Dongfeng Warrior M50. It has a very hardcore military look. As for the M20, it has a more civilian look with smoother lines, and the usual side mirrors. We can see that the M18-1 is slightly wider and lower than the M20.
In the second shot, we can see Warriors M18-1 cruising on the snow. There are its pickup truck and SUV versions. As for the pickup truck, it has got two doors only, and an enormous trunk. As for an SUV, it obviously has four doors, side steps, and a huge grille. The grille is hinting at the fact the testing M18-1 SUV is an EREV. Both these vehicles have enormous wheels with off-road tires. We can also highlight these vehicles' size. They are really gigantic beasts.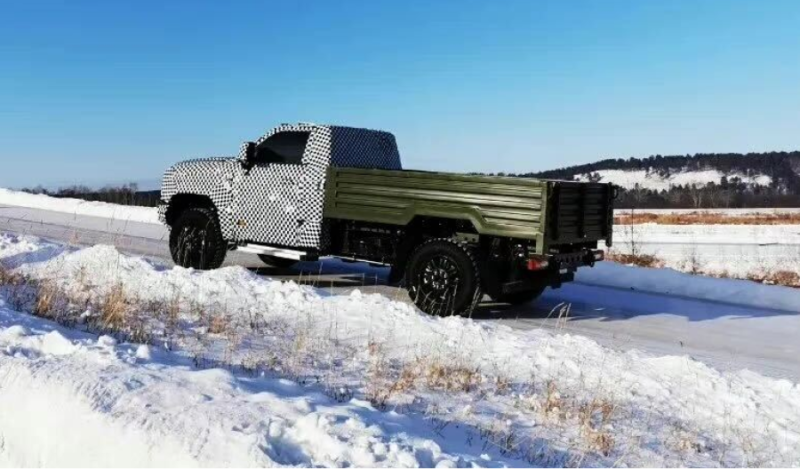 In the third shot, we can see the Warrior M20 pickup truck. We may distinguish it by side mirrors. It is clearly shorter than the M18-1. The M20 also has only two doors. We know that inside its cabin are three seats. So it looks quite utilitarian. It is unsure if the version of the M20 pickup truck with four doors will ever appear.
Dongfeng Warrior M20 Powertrain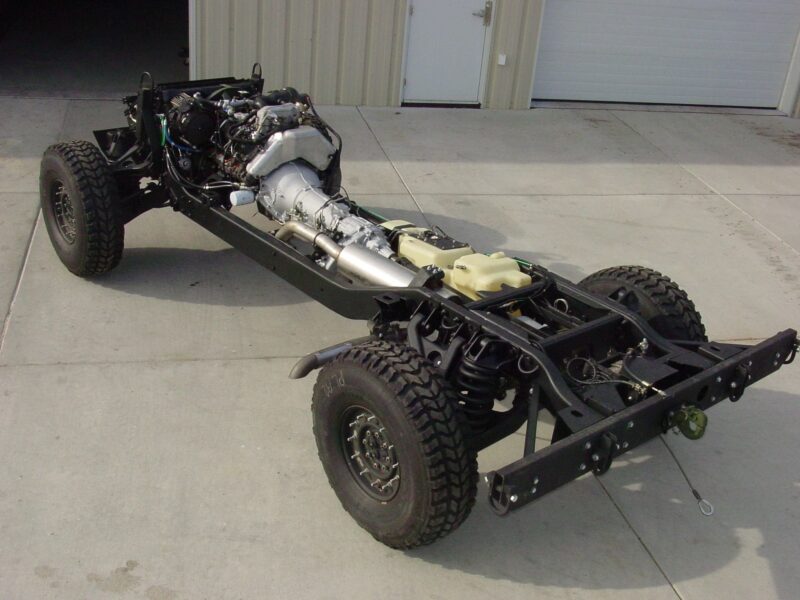 There are a lot of emerging rumors around the Warrior M20's powertrain. A lot of Chinese media suppose the M20 may be a petrol-powered car, but not an NEV. They even shared a picture of the M20's chassis with visible ICE and transmission. But we found out that this shot actually belongs to the AM General Hummer. It appeared on the Net approximately in 2017. So there is no any provable information about the M20's powertrain. But we can highlight the "M" brand is a "high-end electric off-road brand." And if the M20 belongs to it, it should be at least an NEV.
So now we see that Dongfeng dreams big and prepares some curious off-roaders for Chinese customers. We will keep an eye on the Warrior brand, so stay tuned!
Source: Weibo, Dongfeng Warrior Weibo, Grassrootsmotorsport (H1 chassis shot), 163, Rohci