So far, JAC Motor's path of development has been mostly independent. For a state-owned car factory in China that's quite rare, the industry is littered with all kinds of cross-company relations. An of course JAC itself hasn't confined itself to isolation in Anhui province. This week we look at JAC's external relations.
The old way: Anchi
First we look at an earlier acquisition. I could have mentioned it last week, among the passenger cars, but deliberately left it out, so I can return to commercial vehicles for a short while. It's the soul of JAC and deserves some attention. In part 1 of the series, I ended with the Geerfa heavy trucks. This line is still on the market, now as self-developed brand without Hyundai input. Below the Geerfa, JAC offers a range of light and medium trucks and buses, traditionally the core of the brands product line-up. However, two popular and related segments seem to be missing: minitrucks and pickups.
So, let's meet the Mengcheng Machinery Manufacturing Plant. This factory was established in 1970 by the city council of Bozhou, a city in northern Anhui. The factory specialized in agricultural equipment. The main product was seeders, the contraption you can mount on the back of your tractor to seed a freshly plowed meadow. Besides that, the factory made some other parts, like pumps. Already in 1985 the factory produces a few mini-vehicles under the Feihong brand and three years later it entered the car industry for real.
Mangcheng Machinery registered the brand name Anchi and started to make minitrucks. The cars were based on the ubiquitous Suzuki Carry technology, but it's not completely clear where Anchi got the major parts. Hafei, the Harbin-based mini-vehicle manufacturer, also making Suzuki-licensed cars, might be a good guess. Anchi made the car as minitruck (MC1010), panel van (MC5010) and minivan (MC6410). I can't find information on sales numbers.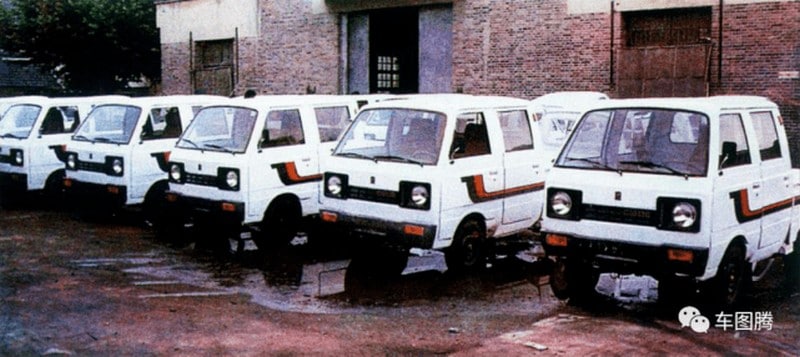 In March 1995 Mengcheng Machinery said goodbye to the agricultural products and solely focused on car production. It renamed itself Anhui Anchi Automobile and received additional funding from Hafei. The Harbin company became a shareholder, but the shareholding ratio remains a mystery to me. Anchi inherited a new product as well, a small car they called MC6330. This was in fact the Hafei Baili, which was a re-badged Daewoo Tico, which in turn was licensed copy of the Suzuki Alto. The Hafei Baili was a moderate sales success in the northern part of China, but the Anchi MC6330 didn't replicate that in Anhui. One of the reasons: at RMB 112.700 the car was the most expensive minicar in the country, twice or three times as expensive as its direct competitors.
Still, the MC6330 stayed in production alongside the minitrucks until 2001. By then, sales had dropped so low that the company was no longer viable. After a lengthy process, a local court declared bankruptcy in 2004. The first revival attempt followed less than a year later. Zhongqi Hengxing Automobile, a specialty car manufacturer from Binzhou (Shandong province) made a RMB 30 million bid for the company. The bid was denied, but read Tycho's story on ChinaCarHistory.com about the wonderful Binzhou Pride creations.
In 2007, Zhejiang Zhongneng Industrial Group revived Anchi Automobile for real. Zhongneng is a motorcycle manufacturer, marketing a large range of light motorcycles and scooters under the ZNEN brand. The motorcycle company paid RMB 35 million for the defunct car manufacturer, renamed it Anhui Anchi Automobile Industry and invested another RMB 440 million in a modern production facility in Bozhou's new economic development zone. Car production restarted with a pickup and SUV. These cars were available in two body styles, one mimicking a Chevrolet Colorado, the other more like a Toyota. The same cars were also produced by for instance Huanghai as the Plutus.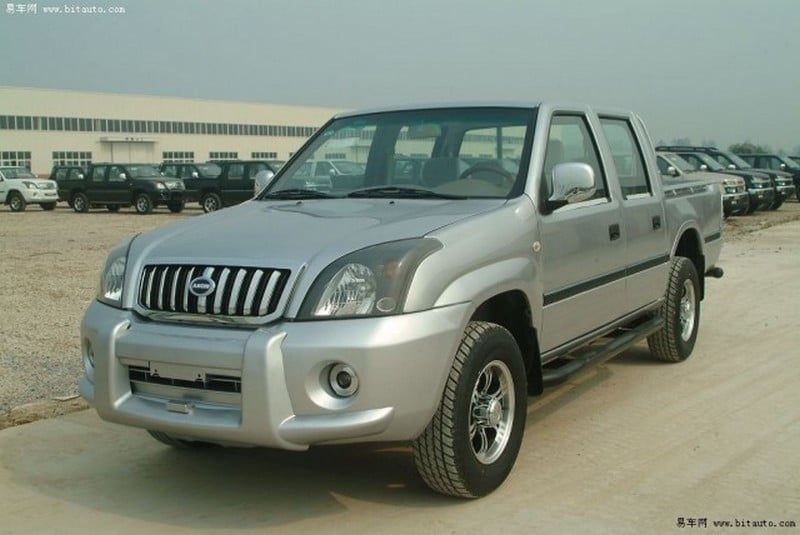 Meanwhile Zhongneng started developing a car a bit more original and a bit closer to their core competencies. This unnamed small car, we now it by its registration code MC6320, was all electric and new from the ground up. While the pickups sold in small numbers, the financial strain of the MC6320 development and the new factory construction quickly put Anchi under stress again. Zhongneng managed to hold on for just three years, but in late 2010 it sold the carmaker to JAC and stuck with motorcycles again.
For JAC it was an interesting acquisition, because it provided an entry into the pickup segment. Production of the Anchi cars continued for a while, but more and more cars left the factory (the new complex had been finished, by the way) with a JAC-logo. The Anchi pickup turned into the JAC Ruiling series, available in the same two body styles. The second generation Huanghai Plutus (which looked like a Volkswagen Amarok) became the short-lived JAC Ruichi as well.
By 2016, JAC had developed its own pickup and placed in its Shuailing commercial vehicle line-up. Alongside the Shuailing series, the Ruiling remains available until present, albeit in much updated form. The Shuailing recently spun off an up-market version called Huantu (Hunter), catering to growing 'outdoor entertainment' movement in the country. In 2016 the government withdrew Anchi's own production permit, the code starting with "MC", and that spelled the definitive end for the brand. Nowadays Anhui Anchi exists as JAC subsidiary company, but only produces JAC cars, mostly light commercial vehicles.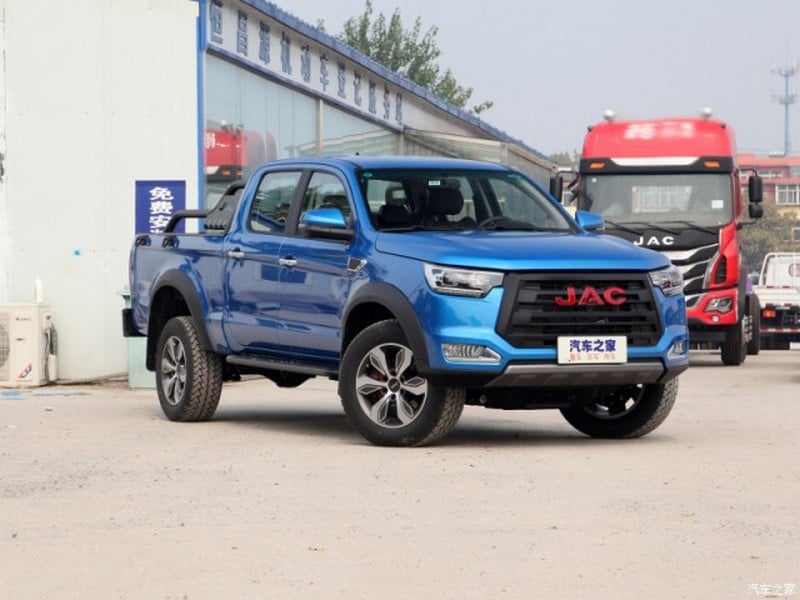 The alternative way: NIO
How quickly things can change in the Chinese car industry, is evident from JAC's next choice of partner. Also in 2016, JAC and New Energy Vehicle startup NIO sign a deal for joined car production. At the time, NIO was the hot new prospect in Chinese automotive. The 2015 Formula E champion (with Nelson Piquet Jr.) and the maker of a high-end sports car. But NIO's ambitions went beyond the high-end niche and they wanted to become a mass market brand.
The tie-up between JAC and NIO did raise some eyebrows, especially on the side of the of the NIO followers. How was NIO going to protect and pursue a high-quality, high-performance image, when it cooperated with a budget car brand? NIO was planning its own Shanghai factory, why not complete that first? Moreover, the contract manufacturing deal seemed to favor JAC. NIO not only had to pay a fee for every car built, it also had to compensate JAC for any operating losses during the first three years. Not good for margins at all, was the reaction of market analysts.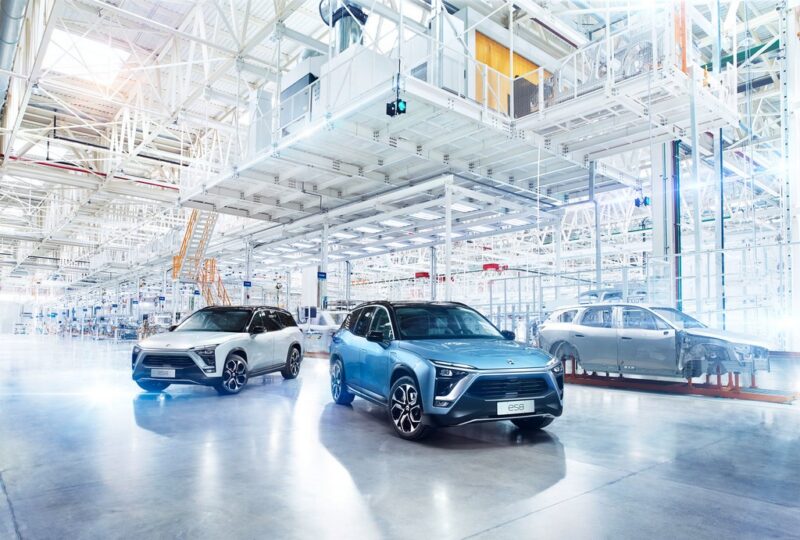 JAC was a respectable car manufacturer, but not one known for high quality products. It has had it fair share of bumps in the road. So when NIO chose JAC for its mass production, many onlookers assumed it would be a contract manufacturing deal in Apple-Foxconn kind of way. In that case, Apple controls and determines everything and Foxconn only executes. JAC however has always denied the relationship was anything like that. JAC built a shiny new factory in Hefei, that could handle all the advanced technologies NIO was planning to use, like all-aluminum chassis and heavily robotized assembly. And whenever problems occurred or improvements needed to be made, both companies engineered the solution together.
So despite the early doubts, the cooperation is now considered very successful. NIO regularly tops the car quality indexes, like the one form JD Power, and has crafted a solid image of a high-end quality brand. And I'm pretty sure the collaboration worked wonders for JAC's image too. So when financial difficulties at NIO forced the two partners even closer together, it didn't feel as punishment. In 2020 NIO's treasure chest was almost empty and it were the Hefei and Anhui authorities that came to rescue. Together, hey injected RMB 10 billion into the company, but demanded something in return: NIO should move its headquarters from Shanghai to Hefei. The company did, so now the factory has grown to an entire campus, with engineering and development departments on site. This move was part of larger plan of the local authorities, to transform Hefei into one of the leading NEV-manufacturing hubs in the country.
The initial deal between JAC and NIO needed renewal in 2021 and that went seamlessly. The two partners decided to double the capacity of the factory, from 120.000 to 240.000 vehicle per year and turned the cooperation into a joint venture. When established in March 2021, JAC owned of 51% of Jianglai Advanced Manufacturing Technology (Anhui) Co., Ltd. (Jianglai = Jianghuai + Weilai, NIO's Chinese name), but a year later NIO gained an additional 1%, making it a 50/50 partnership. It probably means that NIO has paid off all financial liabilities and profits from manufacturing will now be shared.
When the larger capacity of the factory will be realized, JAC and NIO plan to introduce a joint brand from the Jianglai joint venture, catering to more mainstream audience than NIO currently does. The new brand will fill the gap between JAC's budget cars and NIO's premium ones.
The clearest indication of the successful cooperation is that no one is asking anymore: when will NIO construct a self-owned factory?
The way forward: Volkswagen
In 2015 Dieselgate hit the world, the emissions cheating scandal surrounding the Volkswagen Group. In the US, where Dieselgate originated, Volkswagen offered diesel cars as fuel efficient alternative to gasoline cars and in Europe the diesels were the backbone of its entire line-up. The scandal had major and costly implications for Volkswagen and also send the sales of diesel cars in Europe into a steep decline. The future of the company seemed at risk.
While all the representatives of the 'old guard', the directors responsible for the scandal, tumbled one after another, Volkswagen's youngest recruit rose to power. Just before Dieselgate, Volkswagen had poached Herbert Diess from BMW, where he headed the i-program responsible for BMW's electrification strategy. When in power, Diess took a calculated risk. He went all-in on electric cars. His technical team started development of the MEB-platform.
This strategy was aimed at the US and Europe first, because in China diesel-powered passenger cars never caught on at all. Still, in the aftermath of the scandal Volkswagen announced a new Chinese joint venture, adding to the two already in existence, with FAW and SAIC. Since Volkswagen already had two joint ventures, the new one with JAC would be limited to electric cars. The JAC-VW joint venture was announced in 2016 and implemented in 2017.
A year later, Diess, An Jin (JAC) and Luca de Meo (SEAT) signed a Memorandum of Understanding for SEAT to enter the joint venture, introduce the brand in China and develop electric cars with JAC. The ceremony took place under the watchful eyes of Xi Jinping. A new factory of 100.000 cars capacity was in the amended deal as well. And then the Ministry of Transport interfered. The application for a production permit was denied, as the Ministry saw no use for another Volkswagen brand and preferred a new local brand instead.
That derailed Volkswagen's plans of course. While the directors were contemplating a different strategy, JAC-VW had to comply with the government guidelines. So JAC-VW quickly invented the Sol brand. A new joint venture owned brand, but with a single, very familiar product. The Sol E20X was nothing but a thinly disguised JAC iEV7S. The car was previewed already in 2018, but production didn't start until the final quarter of 2019. The car was produced in small quantities only twice: in the last months of 2019 and again in the same months a year later. It would prove to be the only car ever of the JAC-VW Sol brand.
Meanwhile the Volkswagen executives had put together a new plan and found money to implement it. In June 2020 Volkswagen bought 25% additional shares in the JAC joint venture, making it a 75/25 subsidiary for the German company. Not long after the company name was changed to Volkswagen (Anhui) Co., Ltd. At the same time Volkswagen announced the intention to buy into JAC itself as well. This was quite remarkable, probably a first time event in Chinese automotive. Government approval followed later in the year, so by December Volkswagen obtained a 50% share of Anhui Jianghuai Automobile Group Holding, which had been wholly state-owned up to that moment.
VW Anhui revealed an ambitious new plan. The already proposed factory will be much larger, 350.000 cars capacity instead of 100.000, and an entire campus with R&D and sales & marketing is added to the project. The campus is under construction at the moment and Volkswagen expects to start volume production in 2023. It's still unknown which vehicle will be built, but the most likely candidate is the ID.3 model to start with. The factory will only make models based on the electric MEB-platform.
So the Sol brand is no longer needed and Volkswagen 'donated' it to JAC. The Chinese name for Sol is Sihao, which JAC re-translated to Sehol. JAC is currently rejuvenating its entire passenger car line-up under the Sehol brand, as already explained in last week's article. It is clear that JAC has tight its future to Volkswagen. It wouldn't be a big surprise if JAC itself would switch to the MEB-platform for the next generation of its electric cars. Volkswagen is open to collaboration with anyone in that respect, so a company they half own, should have easy access.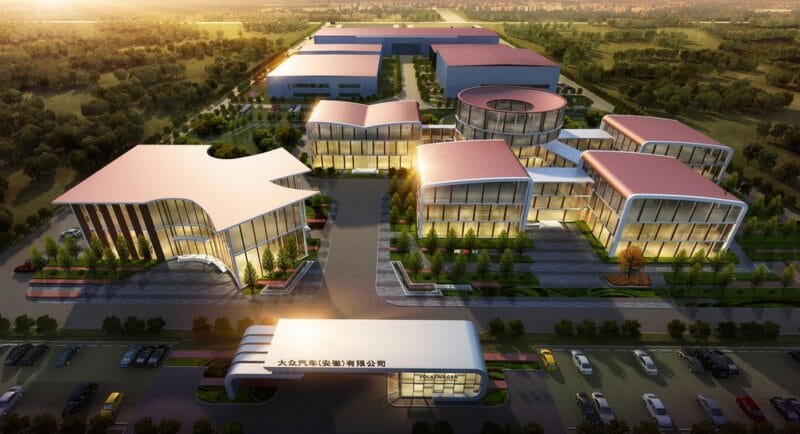 For Volkswagen there might be an ulterior motive. The Chinese operations of the company are tied up in long running contracts with both SAIC and FAW, while China is liberalizing the sector. Several foreign car makers have already taken steps to increase their influence or shareholding in their joint ventures. For Volkswagen this might be contractually difficult or very expensive to do. So a significant production capacity at JAC might be leverage to persuade SAIC and FAW into better deals in the future. Time will tell.
JAC's new era
It is a remarkable turn of events. Not too long ago JAC was a provincial auto maker, that made affordable, but unremarkable cars. Now it has teamed up with two of the most prominent car manufacturers in China. This is how quickly fortunes can change. JAC seemed on a long and slow decline with its passenger cars, but now prospects are better than ever. If only a little NIO magic rubs off on the upcoming JAC-NIO brand of mainstream EVs, then anything can happen.
Becoming part of the Volkswagen family might even be a bigger asset. The new cars under the Sehol brand are already a distinct step up from the previous generation of vehicles and better access to capital and technology can only make things better. Volkswagen probably also has its eyes on JAC's successful commercial vehicles. Contrary to Europe, where Volkswagen sells MAN and Scania trucks and VW vans, the Germans have hardly any presence in China's commercial vehicle market. A combined effort on that front could make things even better.
JAC has often operated in the shadows of its bigger domestic competitors. But today it seems all lights turned to green for a place in the spotlights. It's probably a good idea to keep an eye on this company in the upcoming years.
Read more Automakers Stories
Every week we publish one exiting article about history of famous Chinese Automakers. Check the ones you haven't read yet.