Recently, Chinese media reported that Nio is reportedly planning the U.S. plant. This report brought by Yicai was based on job ads promoting various Nio positions in California. Let's look closer at Nio's U.S. plans, if the job posting correlates with it and if we can interpret it as Nio's U.S. factory plans.
Advertised jobs
First of all, Nio has advertised jobs in San Jose, California, regularly since 2021 on LinkedIn. Currently, there are almost 130 jobs open, and none of them are factory-related; it's mostly about R&D, AV, and office jobs. LinkedIn ceased operations in China in 2021, so I'm not sure Chinese media are aware that Nio's U.S. recruiting ran at full speed for several months.
The rumor wasn't based on LinkedIn jobs but on a screenshot of a job posting on an unknown website. All we got as proof was a bilingual screenshot without any context – the only source mentioned was a Yichai reporter, who was said to take the screenshot.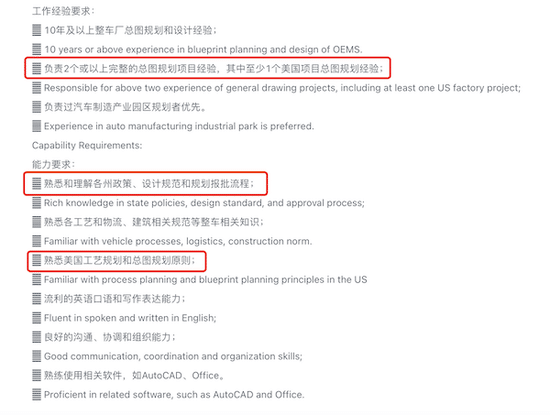 Yichai's article says the proposed job positions are "Overseas manufacturing park planning expert, Body building expert, Overseas planning and infrastructure expert and Overseas logistics project manager". However, non of these positions are mentioned in the screenshot. It only shows vague requirements for some jobs.
Moreover, the screenshot mentions car manufacturing (experience in auto manufacturing industrial park) not as a requirement, but only as a preferred skill. If you hire plant managers, you bet you want these guys to have experience in the field, not just that you like it.
Overall, when I look at the job postings, Nio wants to extend its California R&D center and is hiring people to adapt NIO vehicles for the US market. They are also setting up a team to research autonomous vehicles. Showroom building is also possible. But from both the screenshot and the job listings on Linkedin, I can't see they are currently setting up a factory.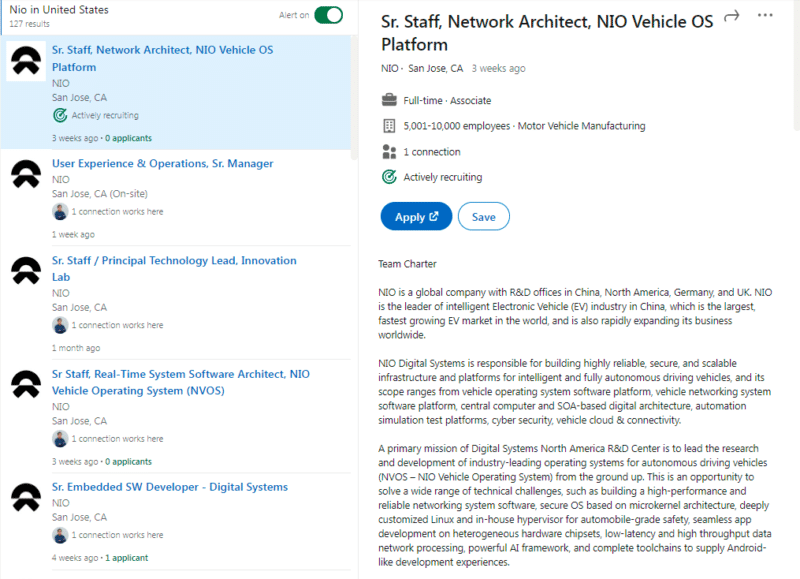 If the screenshot is actual, Nio is obviously recruiting in China for the U.S. job. They might be using some private headhunting agency. It got lots of attention in China because domestic hiring for U.S. jobs is rare.
Yicai also grounds its statement by quoting an unnamed source, saying: "It looks like Nio is planning to build a factory in the US," adding the source has experience building automotive plants in China. Usually, when you want some industry expert to comment on your news, you mention his name to give it credibility. The other option is that the source is from inside the company and wants to remain anonymous. Howerthis this industry expert is not from inside the company, according to Yicai, but remains unknown.
Previous European factory news
Previously there was news that Nio was hiring a Plant manager in Hungary or rumors about a German plant. Nio is currently not manufacturing any car by itself. It is outsourcing manufacturing to carmaker JAC. This dependence is ending as the new Neo Park facility is being finished, and Nio will make its first production non-JAC manufactured car – Nio ET5, in Q3 2022.
Also, in January 2022, Nio leased a colossal campus at Zanker Road in San Jose, California, covering almost 20,000 square meters. It's getting crowdy last few weeks as every day, Nio post several office jobs there, mainly focusing on autonomous vehicle research or preparing homologations of its vehicles for theU.S. market.
Conclusion
Nio made clear its next goal is Europe, where it wants to establish a presence in 10 countries in 2025. It's hiring plant managers in Hungary and speculating about a German plant. Nio is moving with incredible speed, but building two factories simultaneously in the U.S. (where the start of sales is still unknown) and Europe, where it sold 500 cars in Norway, seems somewhat unreal. Building a factory takes years. For sure, there will come a moment in the future when Nio will start U.S. factory plans, but there is no way it is happening now. We will keep an eye on any news related to this.