The NIO ES7 electric SUV for China was officially unveiled yesterday. It is the sixth NIO-branded car. Today we have all the information you need to know. The NIO ES7 is a five-seat electric SUV positioned between the NIO ES6 and the NIO ES8. It is manufactured in China by JAC-NIO, a joint venture between state-owned car maker JAC and NIO.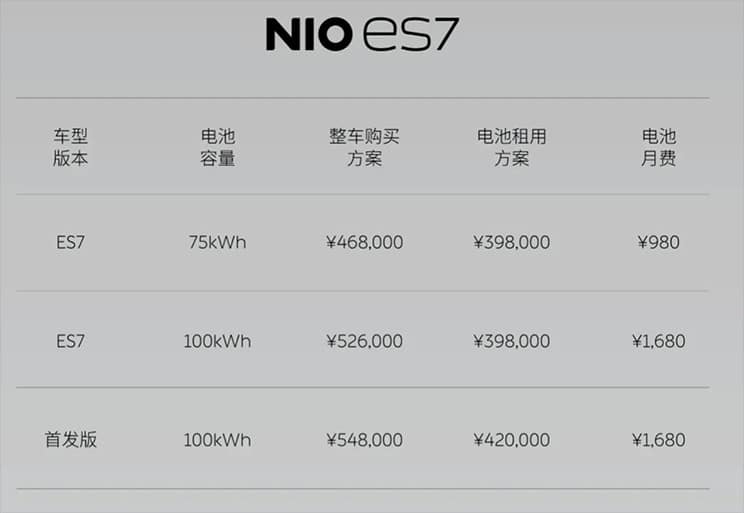 Let's start with the money. NIO offers the ES7 with two battery pack options: 75 kWh Standard Range Battery and 100 kWh Long Range Battery.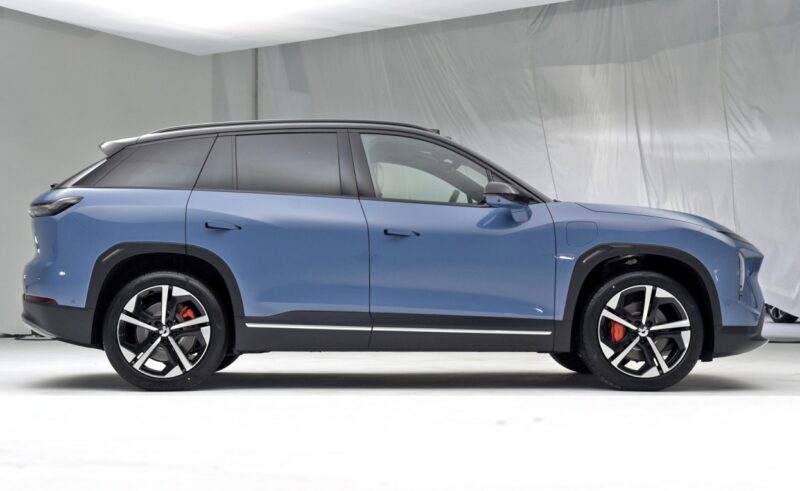 The 75kWh version costs 468.000 yuan. With NIO BaaS (Battery as a Service) it costs 398.000 yuan. The monthly lease price for the battery is 980 yuan. The 100 kWh version costs 526.000 yuan. With NIO BaaS it costs 398.000 yuan as well, but monthly battery lease price is 1680 yuan. Finally, there is a special 100 kWh Launch Edition, fully loaded with all options, which sells for 548.000 yuan, or 420.000 yuan plus 1680 yuan per month with BaaS. The 'Airspace Blue' car on the photos is the 100 kWh version. The batteries are chargeable and swappable.
The CLTC range of the NIO ES7 is 485 kilometers with the 75kWh battery pack and 620 kilometers with the 100kWh battery pack. Later on, NIO will add a 150kWh Ultra Long Range Battery version to the lineup. This car will have a range of 930 kilometers. The ES7 has a slippery body with a 0.263cd drag coefficient.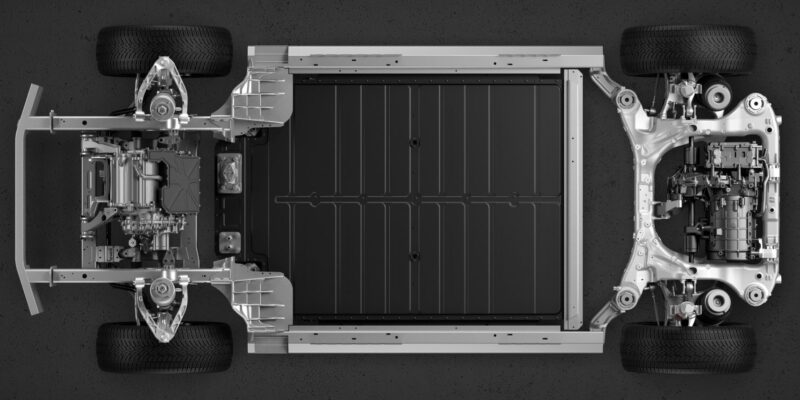 It is based on NIO's NT2.0 second-generation technology platform with a 50:50 weight distribution. The NIO ES7 uses a dual-motor four-wheel drive layout. At the front, it has a 180kW permanent magnet motor and at the rear a 300kW permanent magnet motor.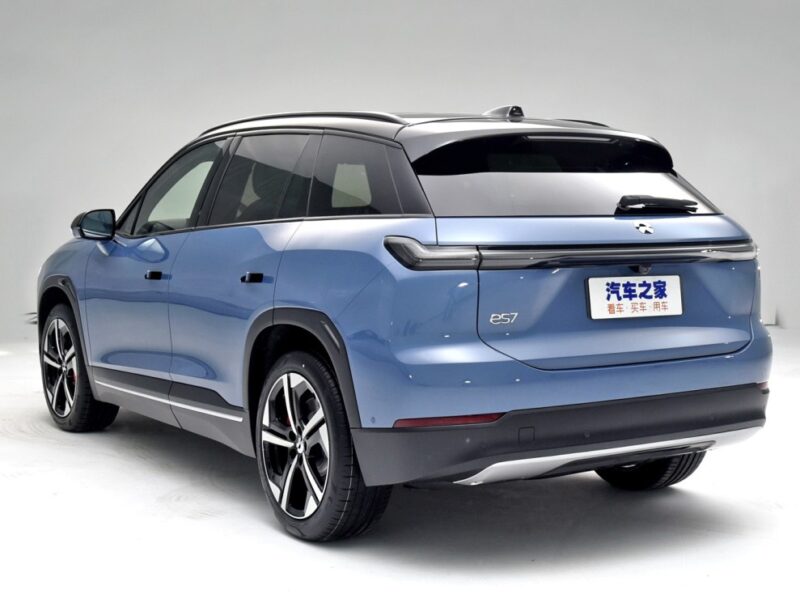 Combined power is 480kW (653 HP) and 850Nm. NIO claims a 200 km/h top speed and a 0-100 in 3.0 seconds. NIO seems very proud about the front brake calipers. These are sourced from Brembo and fitted with four pistons, enabling the ES7 to brake from 100 km/h to a stop in 33.9 meters. NIO did not disclose any information on the brakes at the rear. The ES7 has air suspension as standard. It is not a light car. The 75 kWh version comes in at a curb weight of 2361 kilo, and the 100 kWh version at 2381 kilo. That seems a small difference in weight compared to the difference in battery. Energy consumption for the 75 kWh version is 17.6 kWh per 100 kilometers, for the 100 kWh version it is 19.1 kWh per 100 km.
Size comparison:
NIO ES6: 4850/1965/1758, 2900.
NIO ES7: 4912/1987/1720, 2960.
NIO ES8: 5022/1963/1756, 5022.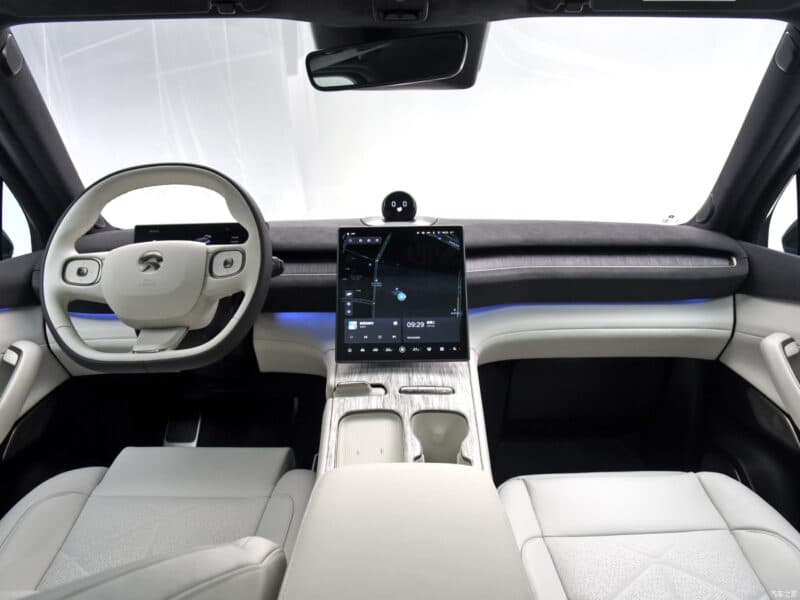 The interior looks very clean, almost too much so. The flat-bottomed steering wheel seems large for the car. The digital instrument panel measures 9.8 inch in diameter. The 'floating' main touch screen has a 12.8 inch diameter. In addition, the ES7 is equipped with a 260.000-color HUD.
The screen situation is slightly underwhelming for a new Chinese electric car in 2022. The screens are comparatively small and far apart. There is no screen in front of the passenger, like most other new Chinese EVs offer. NIO also didn't go for a rotating main screen, like BYD does, for example.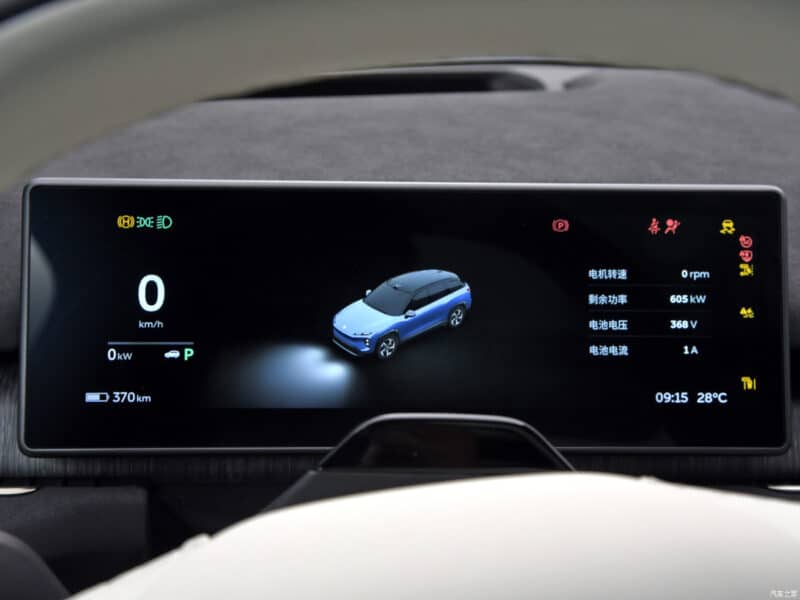 The NIO ET7 is loaded to the rooftop with fancy systems with even fancier names. The most important ones are:
NIO Digital System for Evolving Smart Technology. This is the main system for the NT2 platform, combining hardware, software, and the operating system.
Banyan. This is the 'smart operating system' on the NT2 platform.
NIO Autonomous Driving (NAD). The main driver-assistance system.
NIO Aquila super-sensing. The sensor suite for the driver-assistance system.
NIO Adam super-computing platform, basically the calculating unit behind Aquila and NAD.
PanoCinema. An entertainment system that uses the HUD as a screen. Interestingly, NIO also says they have developed AR glasses with NReal, for use inside the vehicle. I assume this only works when the car isn't moving. Details of PanoCinema are yet unknown. The new NIO ET5 will get it too. We will post a separate post about it if we know more.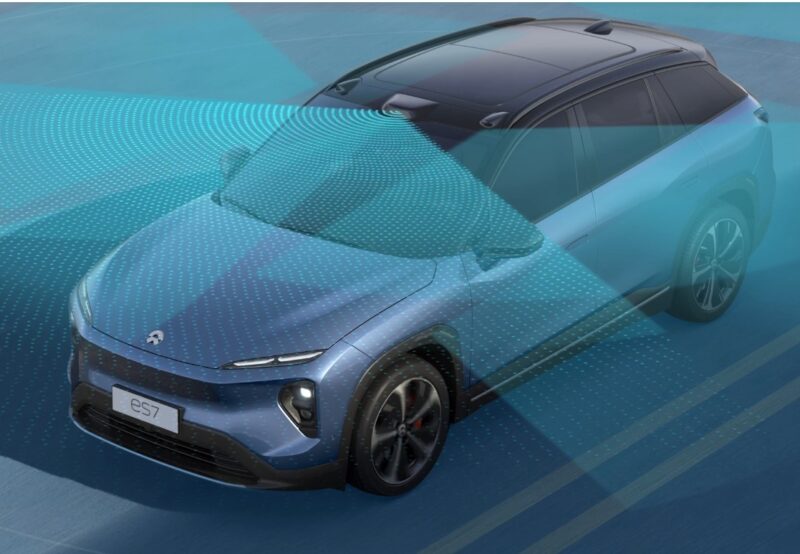 Aquila in action. It has, get ready, … "33 high-performance sensing units, including an ultralong-range high-resolution LiDAR, seven 8MP high-resolution cameras, four 3MP light-sensitive cameras, and one ADMS (Advanced Driver Monitoring System), five millimeter-wave radars, 12 ultrasonic sensors, GPS, IMU, and V2X."
However, as impressive as that may sound and look, NIO doesn't specify a level for autonomous driving at all. In its press release, NIO only says that NAD "will gradually achieve a safe, reassuring, point-to-point autonomous driving experience in scenarios such as highways, urban areas, parking, and battery swapping." That is a bit… underwhelming for a car with so much abbreviations.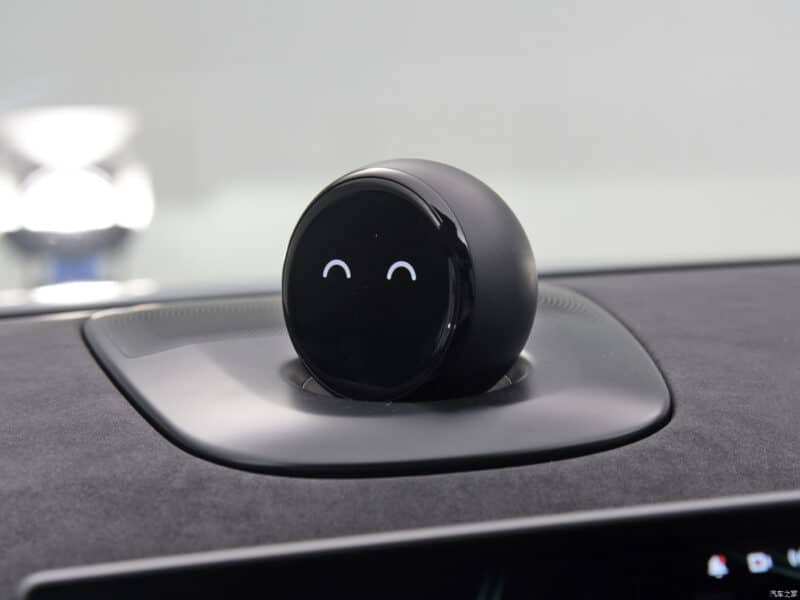 This little black pod is NIO's digital assistant NOMI. NIO calls NOMI an "AI companion" and claims it can be activated by just looking at it, which must mean it is actually looking at you all the time. NIO also says the AI allows for "a free-flow conversation". It is a nice looking fellow but way less cool then FAW's holographic digital assistant.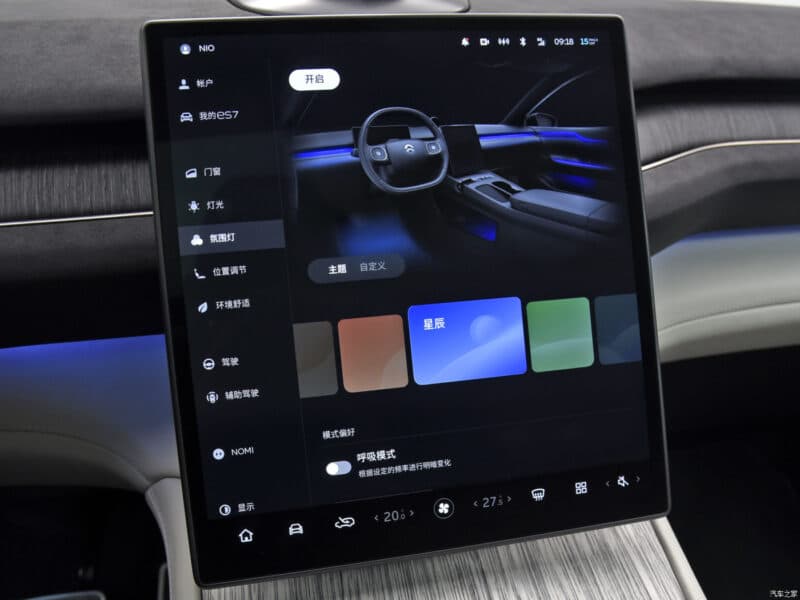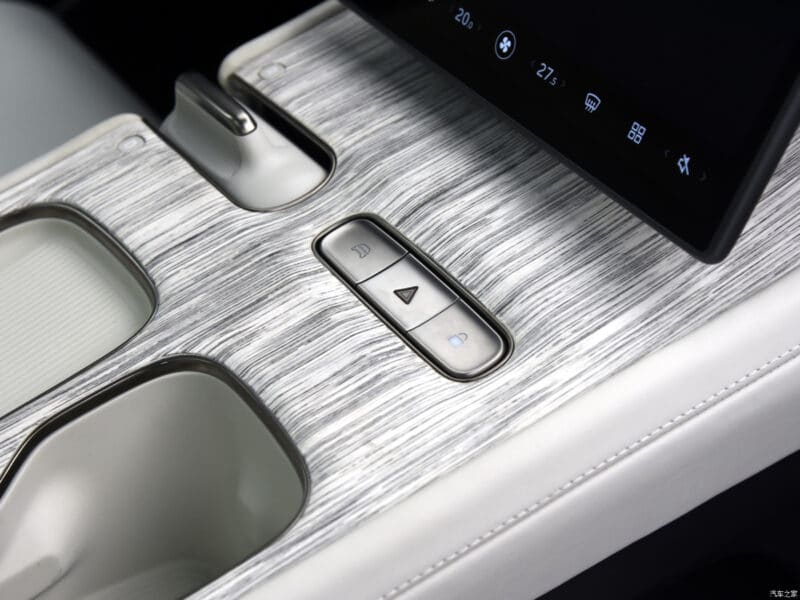 The center console with a wireless charging pad, two cup holders, the drive selector, and only three buttons. The rattan wood looks good.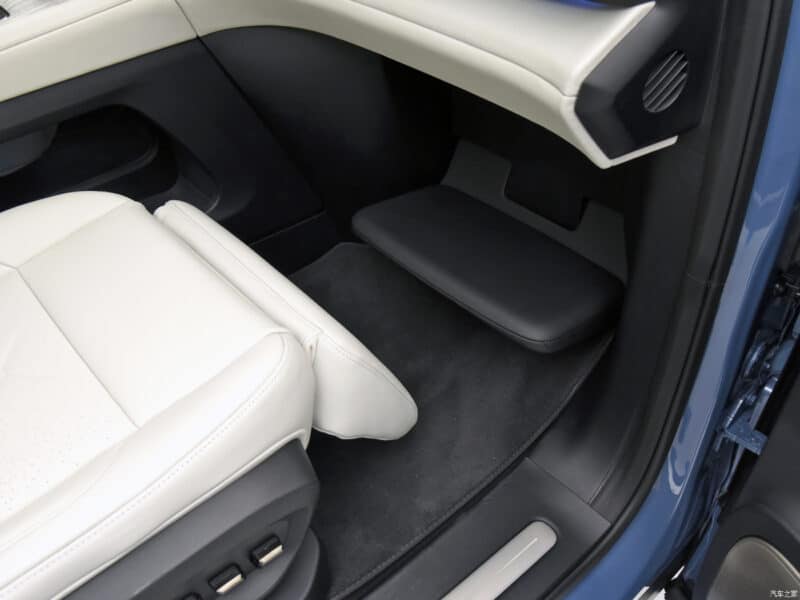 The passenger may have to do without a screen but there is a leg rest and a foot rest, so our poor passenger can at least get some sleep.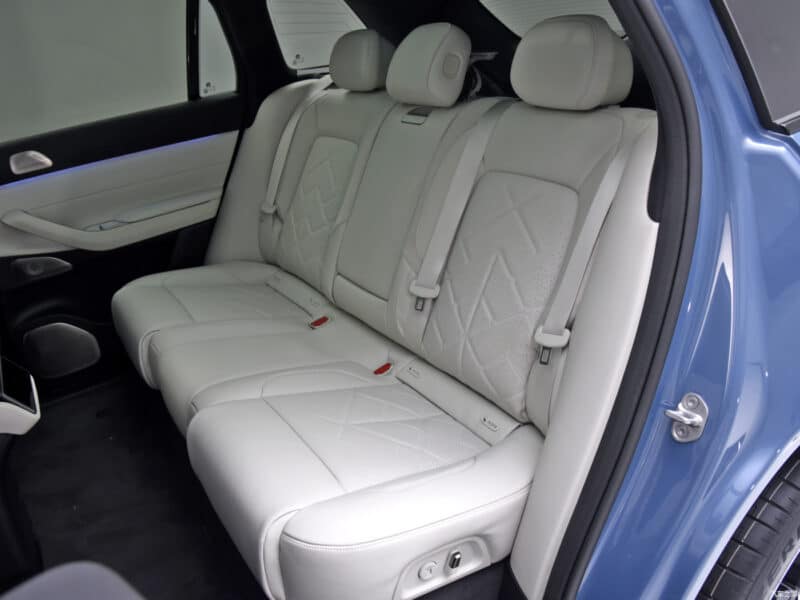 The rear cabin with loads of space and sofa-like seats. NIO says that each seat, front and rear, comes with three air cushions. The seat belts have the same color as the seats, this may seem like a small thing, but I think it hugely improves the overall look of the cabin. The white color is called 'Edelweiss White'.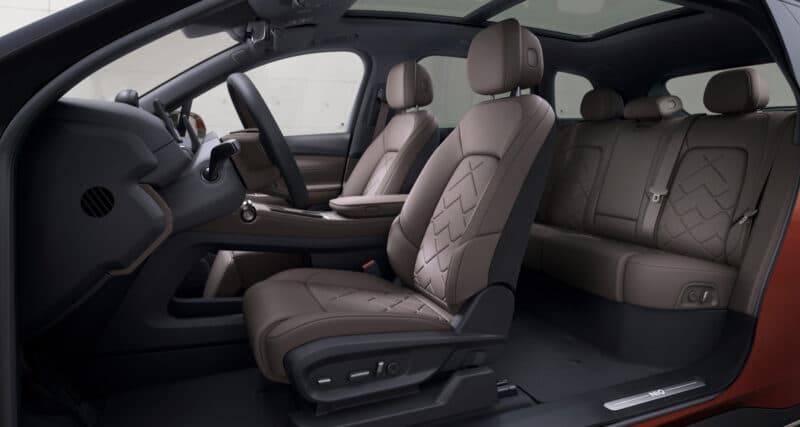 Brown belts for the 'Pamir Brown' brown interior. Classy.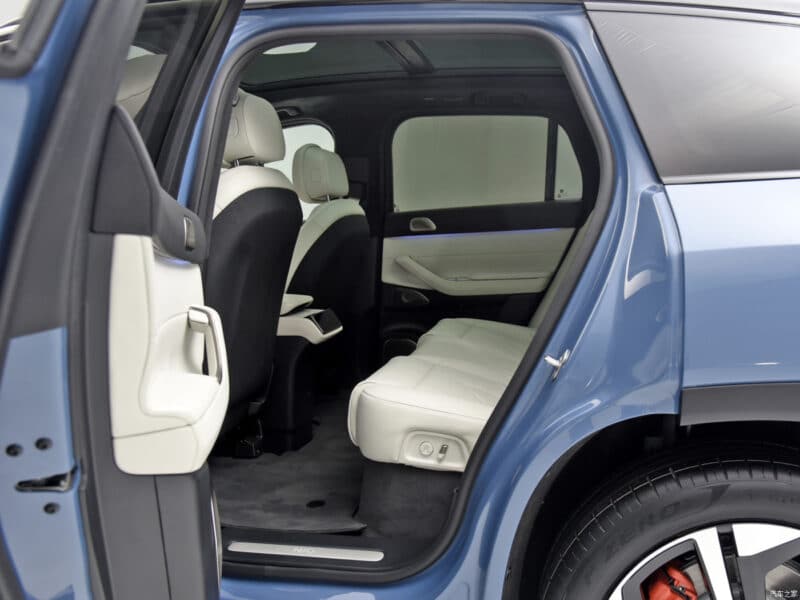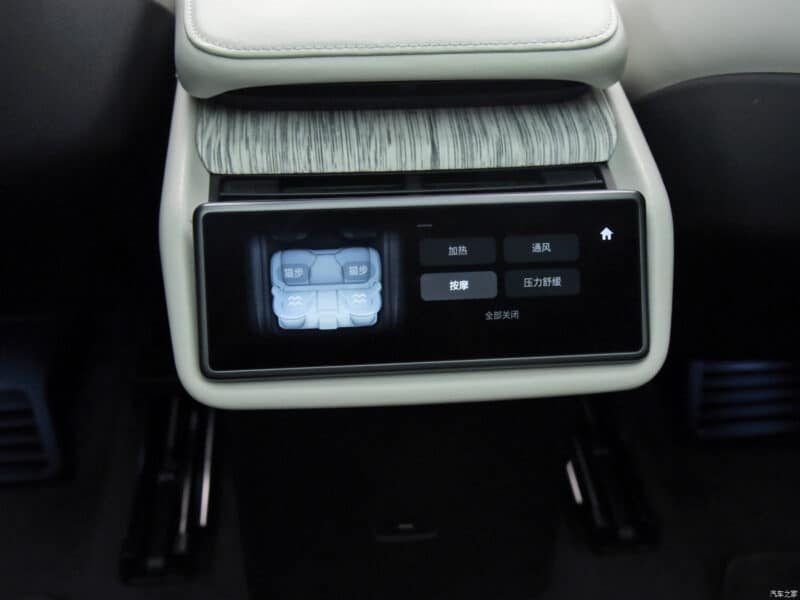 Folks in the back got their own phone-sized touch screen to control air conditioning.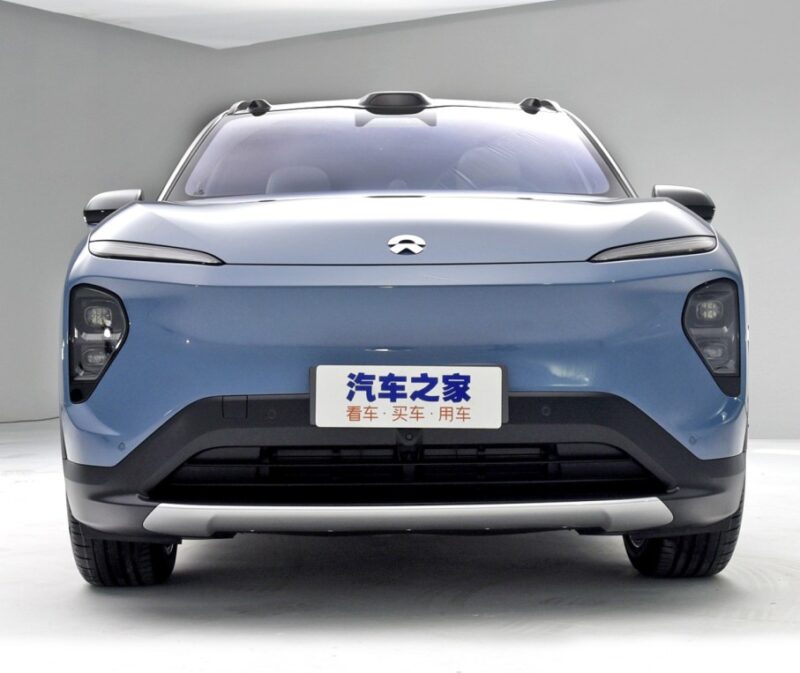 Atop the windshield are the LiDar (middle) and two high-def cameras. The ES7 features a split headlight design with the main lights located on the far sides of the bumper.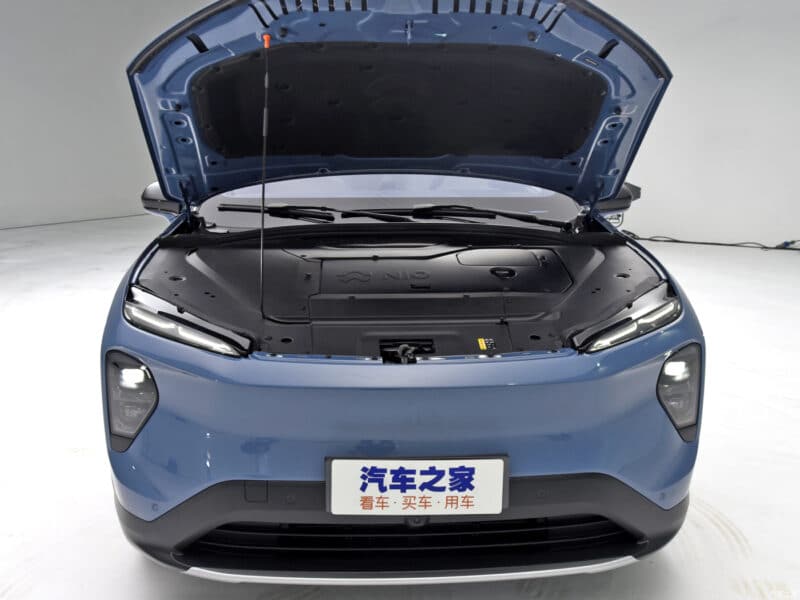 Nothing to see here, but at least the hood opens.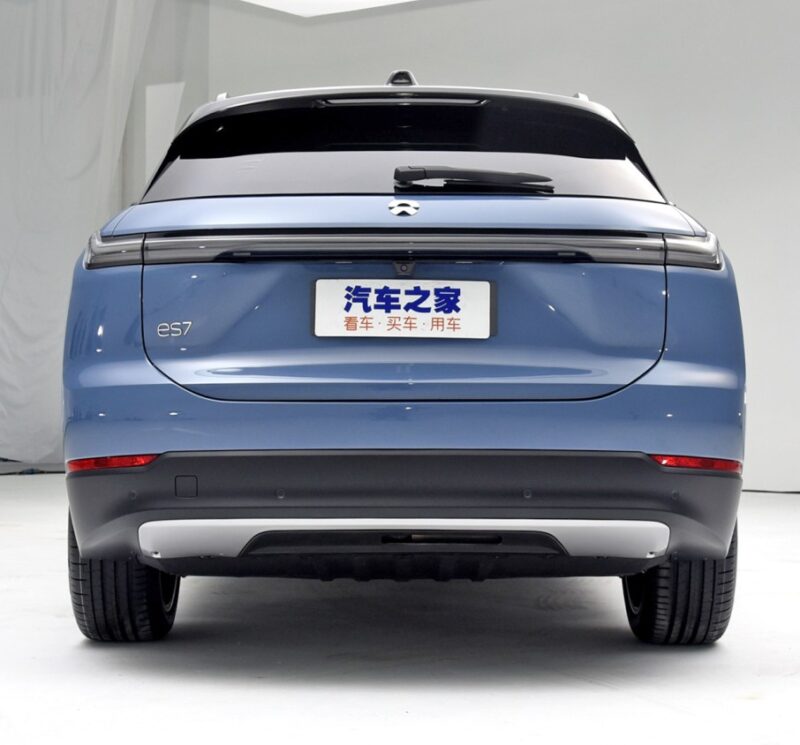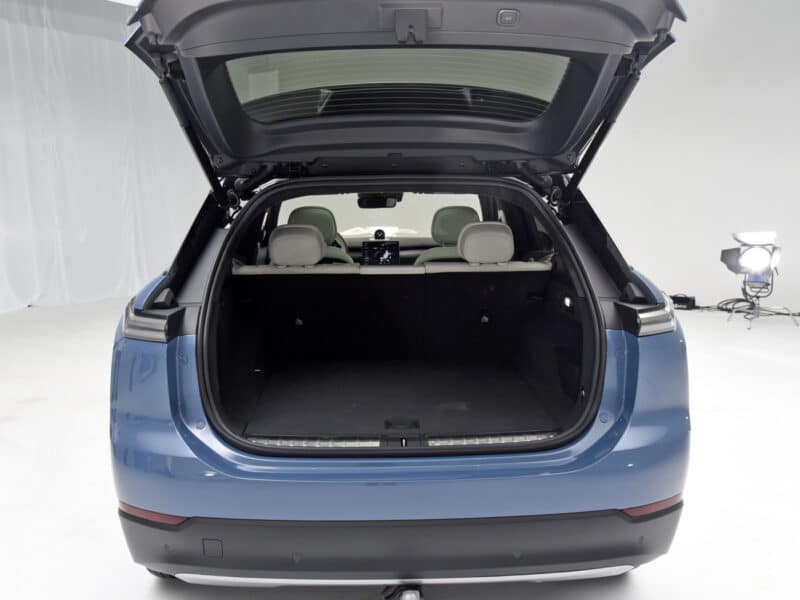 NIO claims a trunk space of 658 liters, and that includes the 'hidden' compartment under the floor. See that little knob under the bumper? That's an…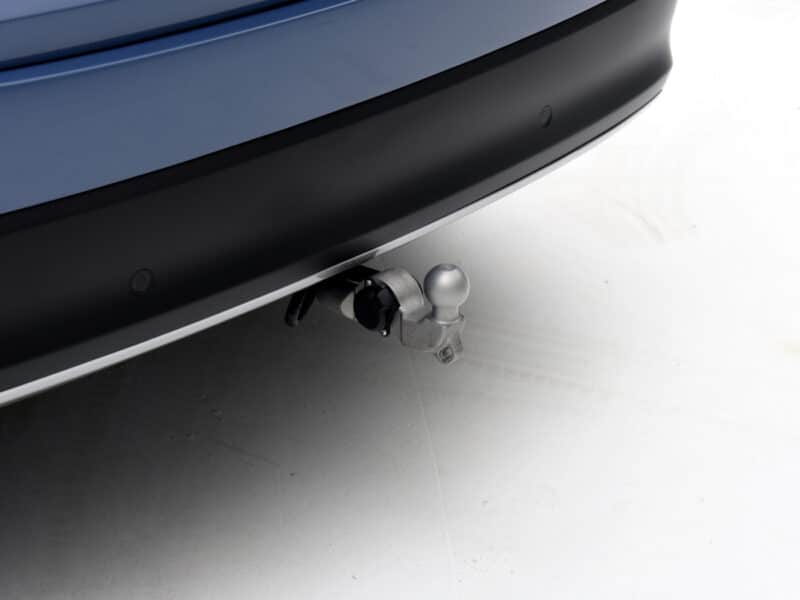 … electric tow bar. We are seeing that a lot recently, on new Chinese electric cars. The ES7 can tow a trailer or a camper trailer with a weight up to 2,000 kilo.
About the to bar, NIO says: "Add an outdoorsy vibe to the avidness for a high-quality life and go out to nature with families and friends. The ES7 is one of the first passenger vehicles in China certified to legally tow a camper trailer on the road. Time to set out on a fun trip in beautiful nature or take a motorboat or mountain bike to explore the exciting outdoors."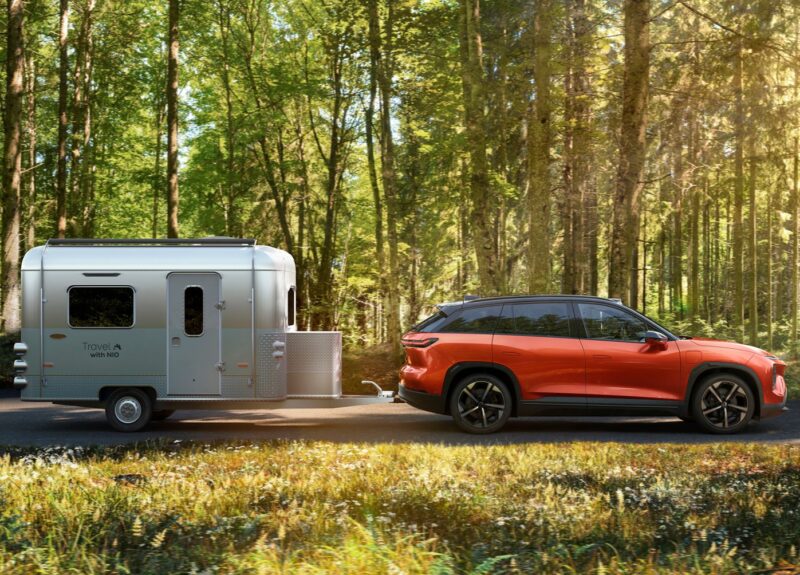 NIO's website has this strange image of a 'Luminous Orange' red ES7 towing a camper trailer, the trailer seems way too small, large enough only for a small kid or two. Come on NIO, get your Photoshop skills in order.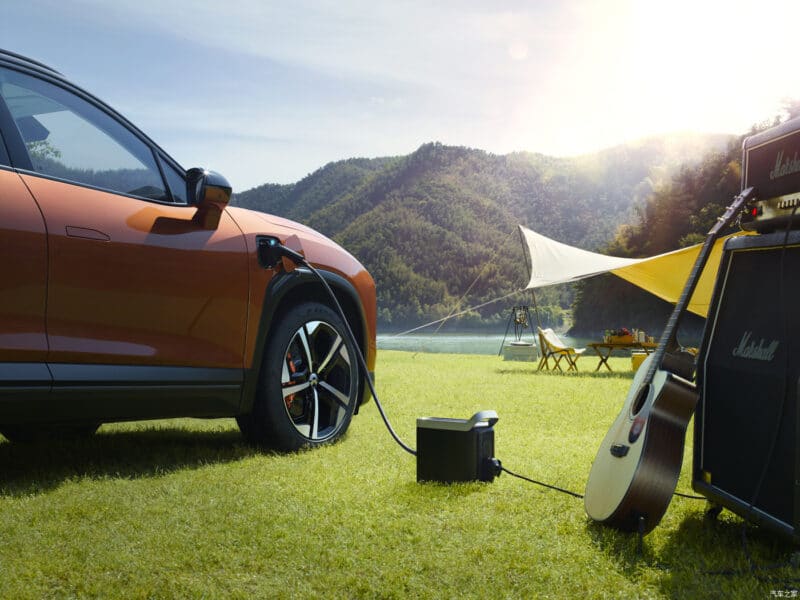 When camping one needs electricity these days. The ES7 supports discharging of max 3.3 kWh. NIO says that is enough to power a "mini bar, coffee machine, and speaker when camping". All essential stuff for survival in the wild, but I doubt 3.3 kWh is is enough to power that large Marshall amplifier + an acoustic-electric guitar.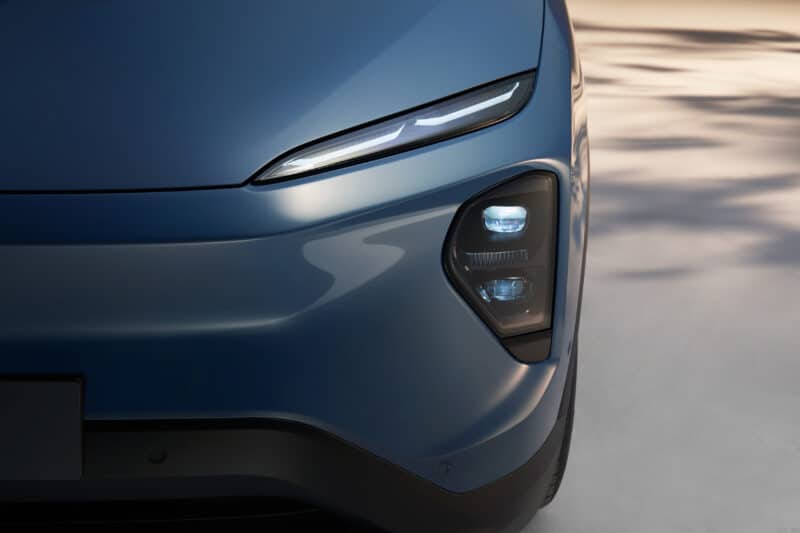 Time for some final thoughts. The new NIO ES7 is an advanced new Chinese electric SUV with proper power and range, for a decent price. However, exterior design is not super exciting, the interior tech seems somewhat dated, and how autonomous the ES7 really is is unknown. So for now somewhat of a mixed bag, but considering the positive response in China, it'll likely sell very well anyway.