Not too long ago I traveled down to Shenzhen to poke around the brand new Li Auto L9. I recorded & wrote a preview of the Li L9 and left thoroughly impressed at the tech & quality for roughly half the price of the premium German full-size SUVs. However, being just a static car I was only able to tell half the story. (Read Here).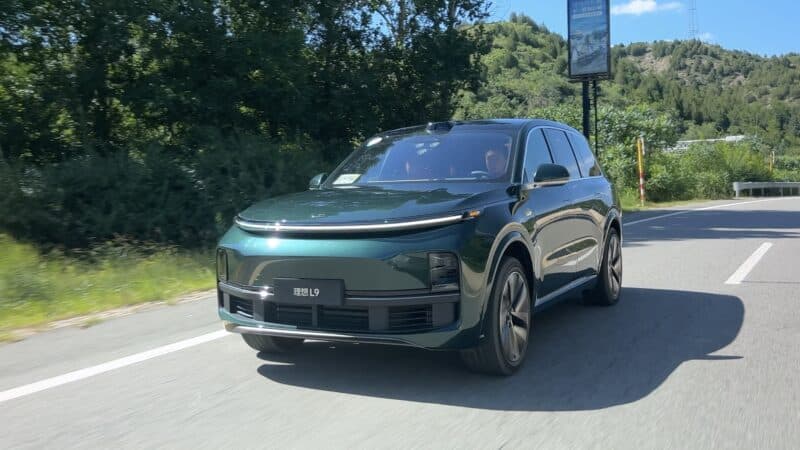 Li Auto then arranged media drives of the Li Auto L9 in Beijing. Rumors of Covid complications were rife and I nearly decided not to risk going to the Capital. However, I'm glad I did because shortly afterwards, all the media drives were cancelled due to Covid problems. So I got a bit lucky.
Using The Li L9's ADAS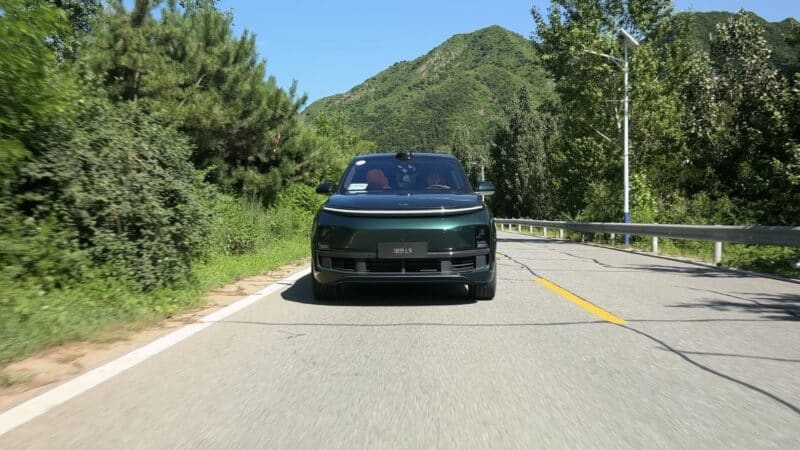 Li Auto's ADAS (advanced driver-assistance system) suite is called "AD-Max". This includes Li Auto's NOA (Navigation on Autopilot), which can only be activated on highways, running toll booth to toll booth, able to follow the navigation and switch seamlessly between highways navigating around on & off ramps. There's also Lane Keep Assist (LKA), which can be activated anytime but is really meant for elevated roads & roads with central reservations. The LKA will do some minor steering adjustments and maintain distance with cars ahead of it. Other features are Auto Park, Auto Valet Parking, where you can exit the car and the car will drive into a bay itself & Auto Emergency Braking.
After the media presentation, we hit the road in the Li L9, with a 90-minute drive on the highway. Perfect chance to let the NOA stretch its legs and show what it could do. On the drive, the system never disengaged itself, changing lanes and trying to keep its travel speed as consistent as possible. The NOA function in the L9 tries to simulate human driving habits in China. It always prefers to travel in the left-hand lane, if it gets caught up behind a slower vehicle the system will become more eager to change lanes as time goes on. Just like a human driver sat behind someone doing 80kph on a 120kph road, you'll start looking for an opportunity to overtake and resume your cruising.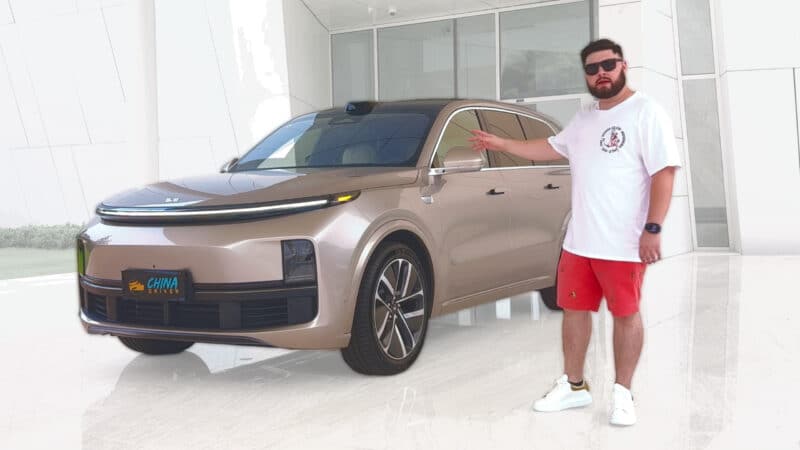 The Li Auto L9 manages to change lanes with more confidence than other ADAS systems I've used in the past. A big problem for some of those systems is they don't necessarily speed up as they are changing lanes. They prefer to move across lanes and then speed up. This means they sometimes get stuck if cars are approaching in the lane they want to move into. The L9 will simultaneously change lanes whilst increasing its speed, leading to far more confident and decisive lane changes.
The NOA was definitely more of a help than a hindrance. Some ADAS features on other cars make you concentrate harder than you would do without them. They aren't confident or you aren't sure what they are doing. This usually ends with me turning off the system and driving myself. Li Auto says if the driver feels they need to take over because the ADAS system is frustrating them then this is a failure of the ADAS system. I can report the L9's ADAS was a joy to use on our test drive route.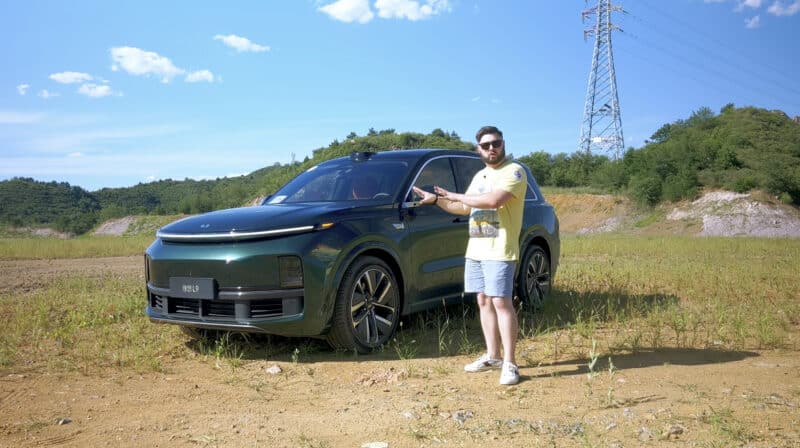 I'll take this moment to point out that unlike nearly all of its lidar-wearing competitors the Li Auto L9's 128-line hybrid lidar is actually on & working. I hope other manufacturers like Xpeng & NIO take note and stop advertising capabilities of their cars that are not actually functional at launch.
Li L9's Driver Screens
The Li L9 has multiple screens up front for the driver to use. Straight in front is a bright 13.35inch HUD, a small 4.85inch mini LED panel in the middle of the steering wheel, then two large 15.7-inch 3k OLED infotainment screens up on the dash.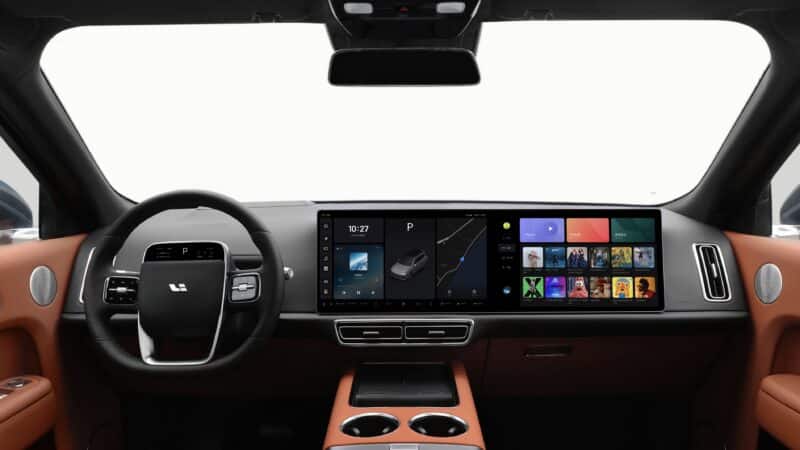 The HUD is clear & bright with color, relaying all the immediate driving info needed, such as current speed, Sat nav, environmental visualization for ADAS, and road speed limits. It basically functions as the instrument panel. It's laid out nicely with the info being easily digestible for the driver. The HUD also has an auto-leveling feature, which will adjust the positioning of the HUD dependent on the driver's height, although it can be moved manually as well.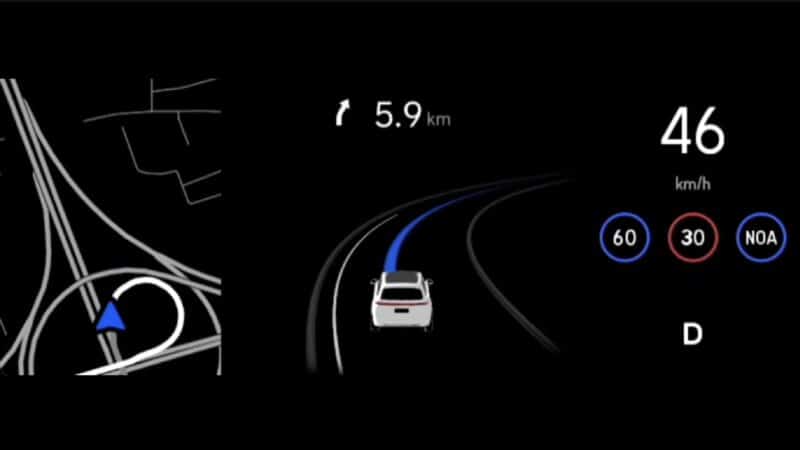 At first glance, the mini screen on the steering wheel appears to be a distracting novelty in a confusing place. But behind the wheel, it makes much more sense. The screen has less immediate information displayed such as trip data, consumption info, SoC, and fuel levels. It does have a speedo on there as well, and the current "gear" selected. To be honest you don't need to look at this screen frequently, as the HUD deals with the most immediate information. You use this mini steering wheel screen to toggle between hybrid and pure EV mode. You can also scroll through some trip info menus. For this reason, having it within finger width makes it easier than digging into the infotainment screen to switch modes or cycle menus on your main instrument panel. However, I can see some wishing it was just a button.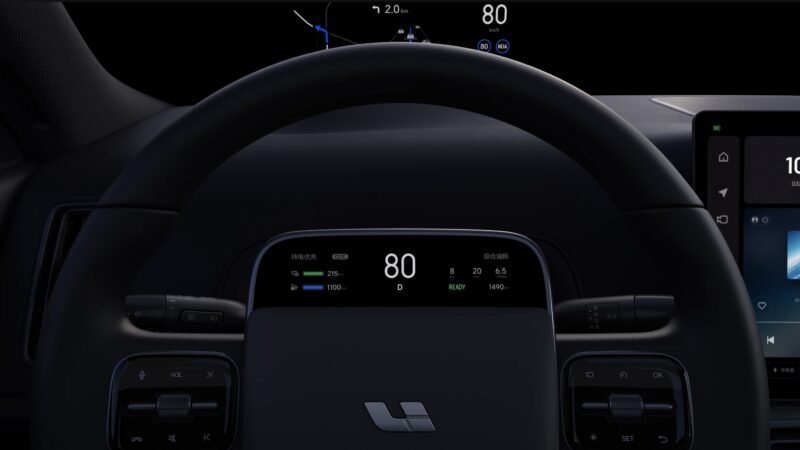 The infotainment screen is fully customizable through drag and drop mechanics similar to an iPad. You can decide if you want to see multiple tabs or focus on just one thing. The visualization graphics on this central screen are obviously far more graphically impressive than the HUD.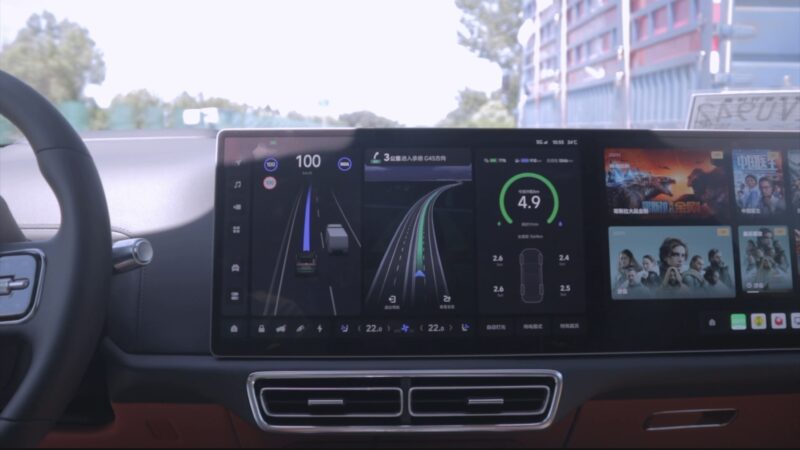 A noticeable change in the Li Auto L9 over the Li ONE has to be environmental visualization. It's now much smoother in the Li L9 thanks to its dual Snapdragon 8155 CPUs. Cars actually turn around corners rather than simply sliding sideways, bicycle wheels spin, and even people have a walking animation rather than static figures creepily sliding down the road. I passed a couple of cars that were parked at 45-degree angles as they had squeezed into a space far too small for them. The visualization showed them at a 45-degree angle versus the rest of the cars perfectly parallel to the kerb. Nice.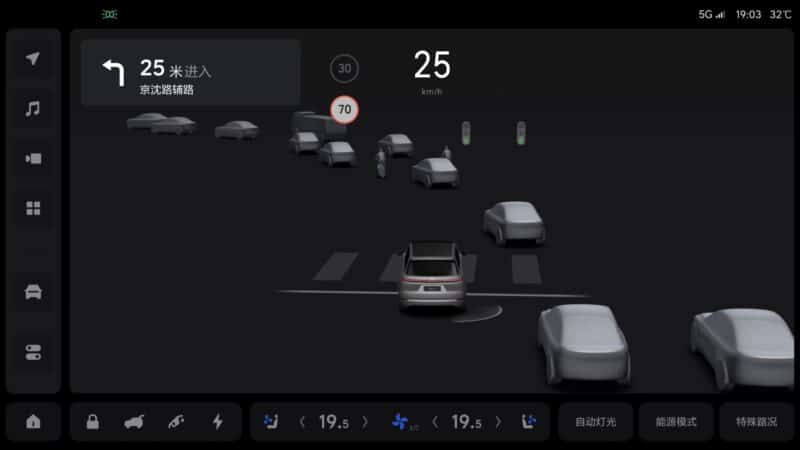 Li L9 On-Road Driving
The 4-cylinder 1.5T Miller cycle engine is far quieter than the Li ONE's 3-cylinder, with fewer vibrations. But honestly, I think a lot of reviewers jumped on the bandwagon damning the Li ONE's engine as being this monstrously loud engine that vibrates like a washing machine on full spin. But the truth was under normal driving the Li ONE's engine wasn't anywhere near as bad as others made out. Sure it had some vibrations and noise to be expected of an engine, and under full load it was a bit noisy, play some music you wouldn't notice it though.
Although having defended the Li ONE's engine the Li L9's is far superior. I kept forgetting the engine was on, even under normal acceleration. The only time any noise crept in was up a mountain road whilst accelerating. It's an engine, it makes noise…DUH! But it was more muffled, the noise was more in the background compared to the Li ONE. Li Auto claim at a constant 120kph speed the engine is quieter than a Tesla Model 3's motor whine. We didn't have a decibel meter or a model 3 to test those claims. Even if those claims are even slightly true you can appreciate how quiet this new 4-cylinder is.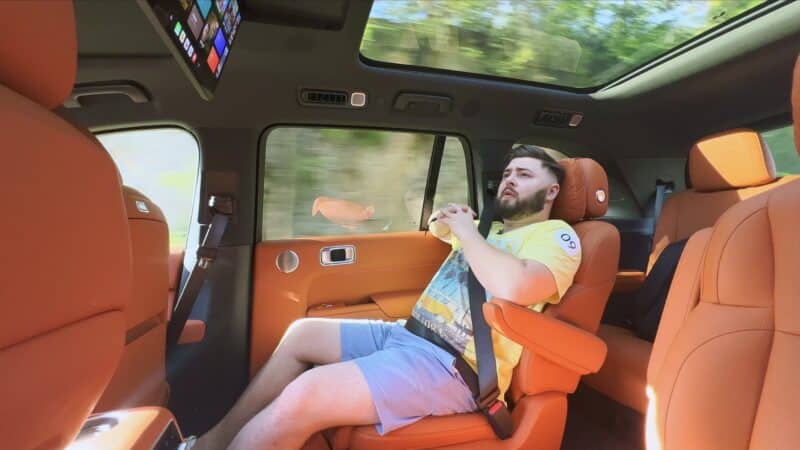 Driving on the road, the air suspension and CDC do their job and offer a sublime comfortable ride. It's worth noting that the Li L9 doesn't run on comfort-orientated tires, or with large sidewalls. It has 21inch alloys shod in 265/45 Michelin Pilot Sport 4s. Seeing as Li Auto benchmarked the Li L9 against the BMW X7 & Mercedes GLS it was expected that it would waft down the road in comfort.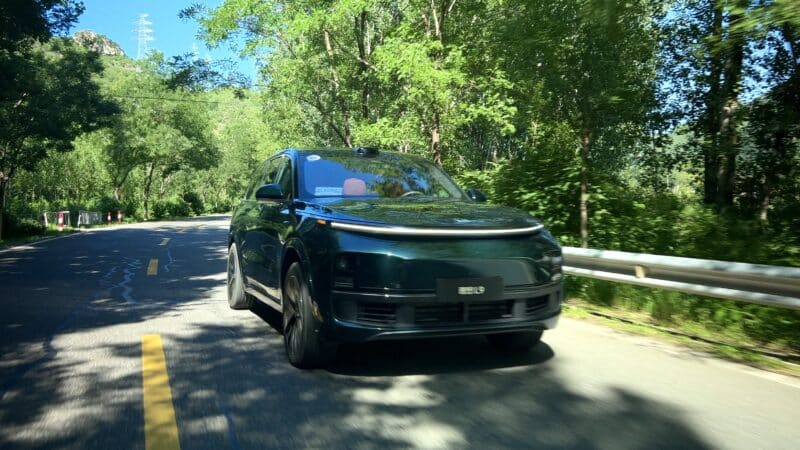 I'll have a Li Auto L9 for a longer loan at the end of the summer and I plan to see how close to the combined 1,100km (684miles) range I can get. Having now driven the Li L9, the comfort and the NOA might make the drive actually enjoyable! NOA on. Seat ventilation on. 10-point massage on. Spatial audio on. I should be able to somewhat relax on that journey.
Li L9 Rough Road Driving
After the highway drive, we arrived in the countryside, a BMW X7 & Mercedes GLS on hand for some rough road testing. I'll preface this by saying that none of these vehicles are designed or marketed as off-roaders. But the rough road testing was just that, a rough road. It wasn't an off-road course just a poorly maintained loose gravel road with some potholes and bumps. What it allowed, was to peek into how the air suspension and CDC on these three cars reacted at the more extreme ends of their luxury-orientated rides.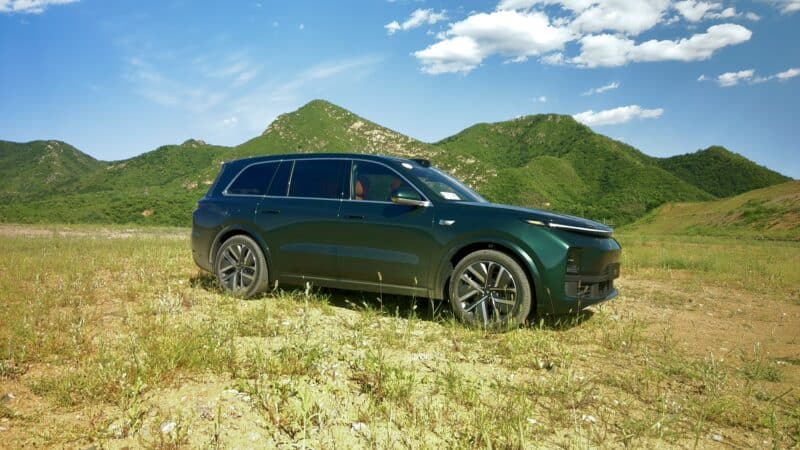 The Li L9 & BMW X7 were much better than the Mercedes GLS when initially hitting a bump, their CDC softening the blow. The bumps penetrated the GLS cabin far more, with accompanying loud thuds. However, body control in the Li L9 was more controlled than in the BMW X7. Both cars are allowed pitch forwards or backwards after hitting a bump but the Li L9's air suspension "catches" the car and returns it to a steady state much quicker, not allowing large secondary rebounds and rolls in the body. In contrast, the BMW X7 just kind of wallows around. You could say the Mercedes GLS has better body control than the BMW X7, it doesn't suffer from the same roly-poly body roll after hitting a dip or bump. However, it's much firmer and doesn't achieve its better body control with the softness and finesse the Li L9 somehow manages.
Honestly, the Li Auto L9's air suspension & CDC was mightily impressive at the extremes. Making both the X7 & GLS feel almost like amateurs in this test. Amateurs that cost over twice the money of the Li L9. We didn't get a chance to drive them back to back on the road, so this might be an area where the BMW X7 & Mercedes GLS shine over the Li Auto L9.
Conclusion
The Li L9 performs as expected for a "premium" full-size SUV. Big, comfy & quiet on-road driving behavior. I knew going into the drive the specs of Li Auto's AD-Max and I wasn't disappointed at all. To be transparent the highway drive wasn't the most difficult situation, with bright blue skies & very light traffic. I'm intrigued to get it onto a busy highway when I have one on a longer loan, to see if it handles heavy traffic situations with the same confidence. The unexpected had to be the air suspension's ability at the more extreme ends. I wouldn't suggest buying this car as an off-roader but boy did it out-perform its benchmarks by a country mile! Li Auto expects to sell a lot more Li L9s compared with the Li ONE and after driving it I can definitely see why.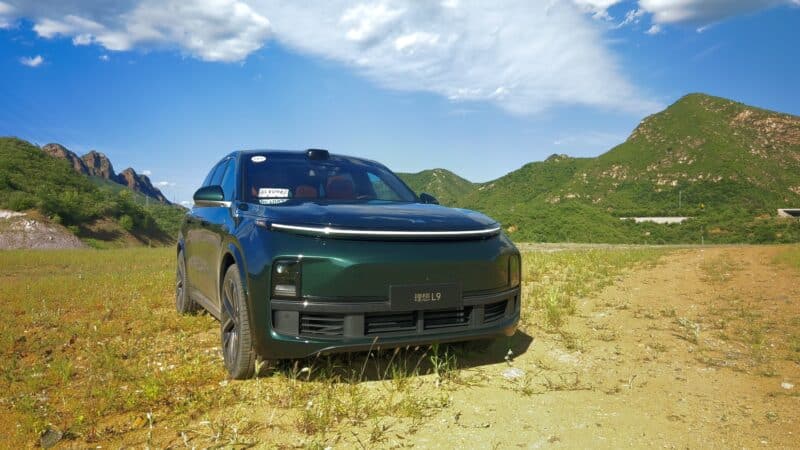 Spec and price
Just like Li ONE, there is one trim only
44.5kWh CATL NCM622 battery
Pure EV range of 180km
1.5L 4-cylinder turbo engine generates electricity for the motors (not connected to wheels)
The combined range is a staggering 1100km in the more realistic WTLC standard
Dimensions 5218/1998/1800 mm and a wheelbase of 3105 mm.
Price: 459,800 RMB (68,600 USD)
Verdict
Power & Drive feeling: 7
Passenger space: 11*
Tech and UX: 8.5**
Price quality ratio: 10
The best thing: Ride Comfort with Air Suspension
The worst thing: Highway Fuel Economy is 23.5mpg (10l/100km)
*Normally rating is 1-10, but Will insisted 🙂
**English system isn't available yet for full testing
Total: 96% CNC Rating