The production version of Sar Mecha Dragon electric sedan from Great Wall Motors was revealed in Chinese MIIT Announcements. It is a huge 5.2-meter sedan with up to 544 hp and retro styling. Let's get to know it better.
The Sar Mecha Dragon made its first debut at the 2021 Guangzhou Auto Show in China. At that time, it had only a Chinese name '沙龙' (Shalong). Its English translation is 'Saloon'. Recently it shared its international name 'SAR'. We aren't sure why they decided to write it in capital letters. Right now it looks like a pure PR-move. Anyway, we will continue to name Sar brand without capital letters only.
Sar Mecha Dragon Styling and Dimensions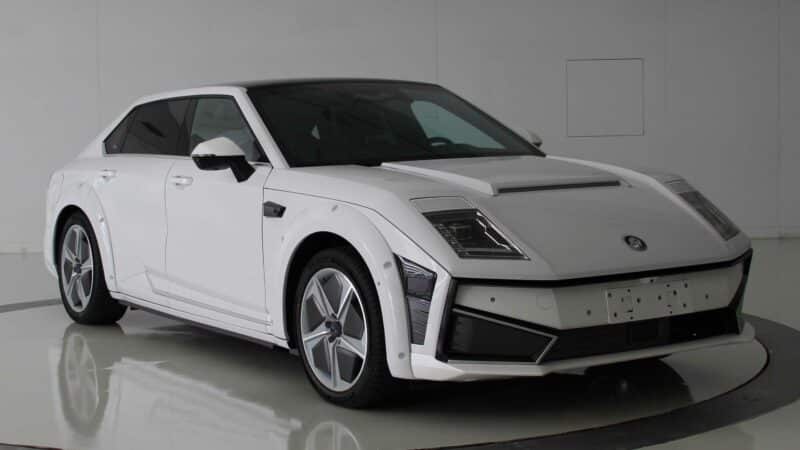 As mentioned, the Sar Mecha Dragon was first introduced at the 2021 Guangzhou Auto Show. As we can see at the MIIT announcements, its exterior design has changed little since then. It is a sedan with a fastback-like rear end and retro styling. The Mecha Dragon looks like a car from the 90s mainly because of the sharp lines, big trapeze-shaped headlights, etc. Its other exterior features include an adaptive rear spoiler, Brembo brake calipers, and fake exhaust pipes. Speaking of those pipes, they light up in red when accelerating. Moreover, they are equipped with the second generation Harman sound simulation technology. As a result, it can simulate 5 different sounds, including ignition, acceleration, etc. It's a really quirky feature for an EV, but this is what Sar decided to make.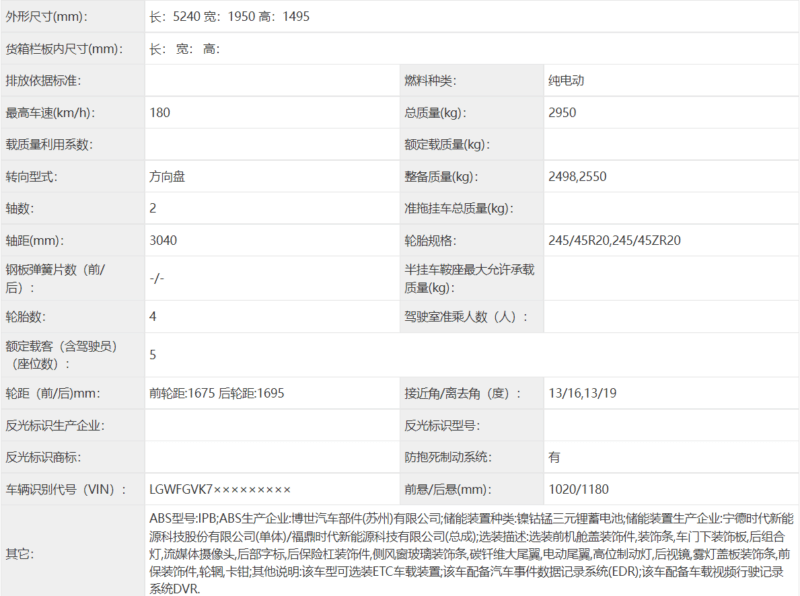 As for the dimensions of the Sar Mecha Dragon, it is a huge sedan. Its length, width and height are 5240 mm, 1950 mm, 1495 mm respectively. The wheelbase of the Mecha Dragon is 3040 mm. It's impressive that the sporty sedan with streamlined styling is bigger than the standard Mercedes-Benz S-Class. As a result, the Mecha Dragon is a pretty huge car with a curb weight of 2498-2650 kg. As for the gross weight, it reaches 3060 kilos.
Sar Mecha Dragon Powertrain and Battery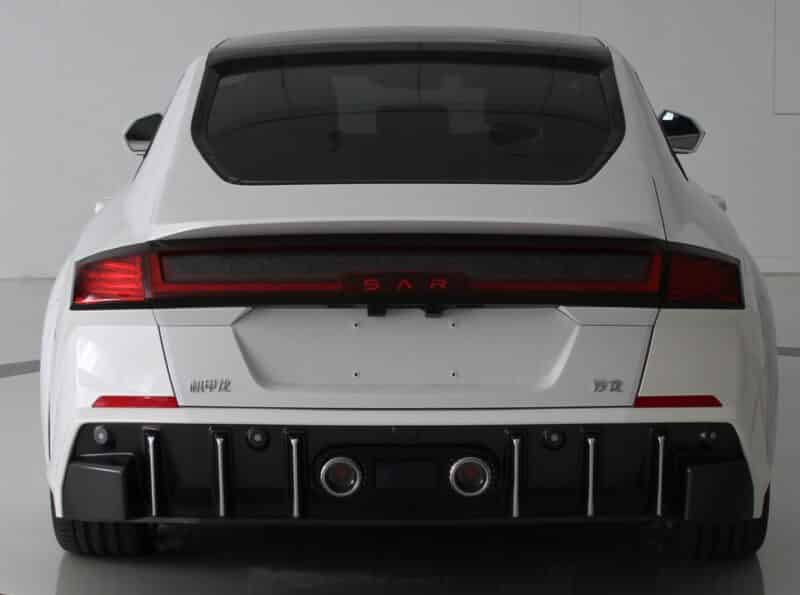 As it goes from the MIIT announcements, the Sar Mecha Dragon goes with two electric motors as standard. Its front axle got an electric motor for 180 kW (245 hp), and the rear one got one for 220 kW (299 hp). As for combined power, it reaches 400 kW (544 hp). According to Sar, its torque is 763 Nm, good for zero-to-hundred acceleration in 3 seconds. But its top speed is limited to just 180 km/h which isn't an impressive number for a sporty sedan.  

Now, let's move on to the battery of the Sar Mecha Dragon. It has a CATL battery with unknown capacity on board. It hasn't got a CTP technology. Anyway, Sar mentioned earlier that the range of the Mecha Dragon will reach 802 km (CLTC).
Sar Mecha Dragon Interior and Features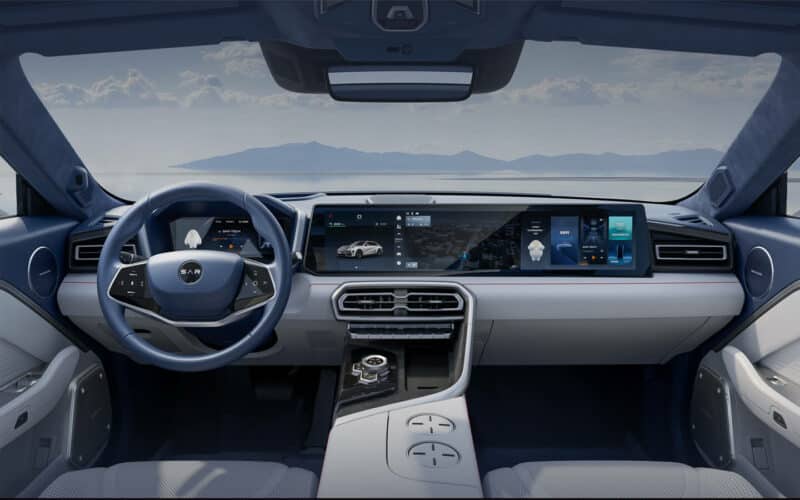 The Mecha Dragon interior hasn't been shown in MIIT announcements. But Sar has unveiled it on their website. IT has got a giant 27-inch touch screen, a 10.25-inch instrument panel, and a 25-inch HUD. It also got a round steering wheel with a Sar logo in the middle. Another exciting feature of the Sar Mecha Dragon is the 16 Harman Kardon speakers. There are two speakers in the driver's headrest.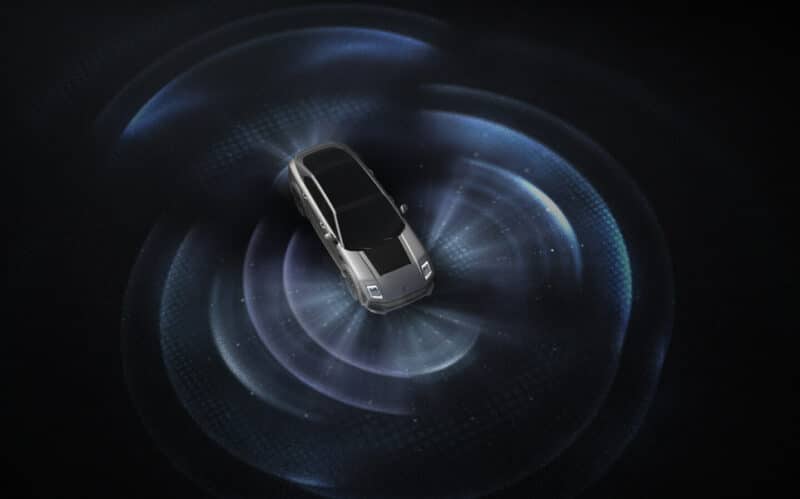 It also got a lot of autonomous driving tech on board, including 4 LiDARs, 7 ultra-high-definition cameras, 4 surround view cameras, 5 millimeter wave radars, 12 ultrasonic radars, and 1 independent high-precision positioning unit. The system runs on Huawei's Da Vinci architecture and has an NPU computing power of 400TOPS and a CPU computing power of 440K DMIPS.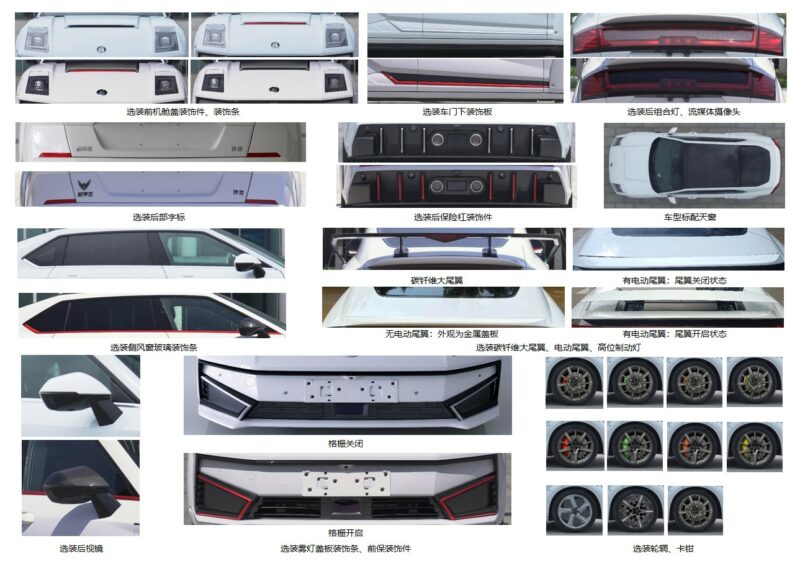 So the Sar Mecha Dragon is a very impressive and quirky car. We will be sure to take a look at it, so stay tuned!
Source: MIIT, Sar