On November 10, the 2022 Tianjin Auto Show officially kicked off with lots of automakers displaying their models to enthusiasts and buyers alike. At the AITO stand, the M5, M7, and M5 EV were on display. Since the M5 EV, designed by Seres and Huawei was announced, it has attracted a lot of attention in the auto industry, and deliveries are set to begin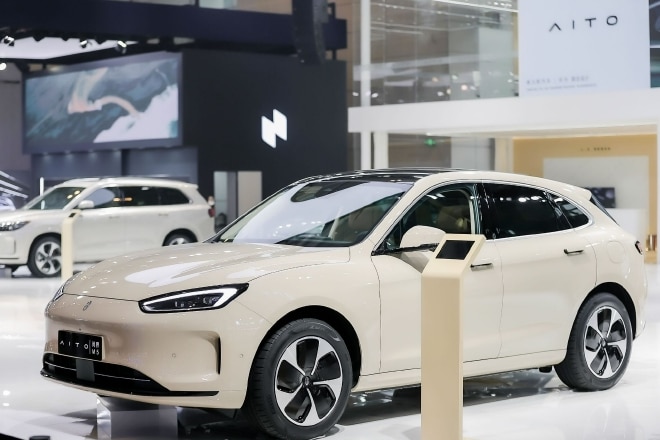 Based on the M5, the M5 EV is a midsize luxury SUV and the brand's first all-electric model. The M5 was launched in September, with two trims; a dual-motor four-wheel drive with a 552 km range and a single-motor rear-wheel drive option with a 620 km range. According to the automaker, the standard model will sell for 288,600 yuan ($41,500), while the performance version will go for 319,800 yuan ($46,000).
The single-motor model is fitted with a rear-mounted electric motor with a peak power of 200 kW and it can do the 0 to 100 km/h in 7.1 seconds. On the other hand, the dual-motor model has an extra 165 kW front motor and can accelerate from 0 to 100 km/h in a peppy 4.5 seconds. Both versions are equipped with a CATL lithium iron phosphate battery with a capacity of 80 kWh.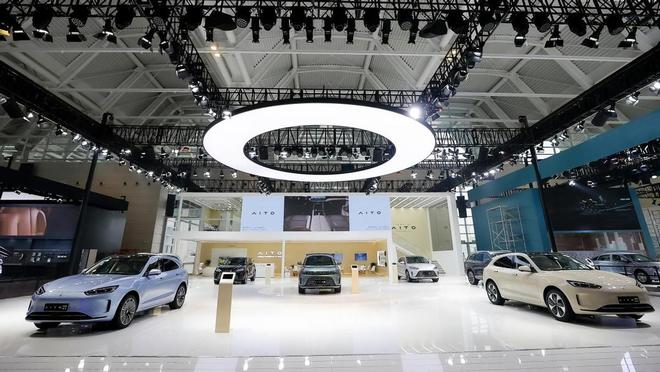 Compared with the other two extended-range models (M7 and M5), the AITO M5 EV is quite different in appearance. For one, The closed grille shows the pure electric identity, the headlights are also different. However, it has a lot of similarities with the M5, most notably the body size with length, width and height measuring 4785/1930/1620mm, and a 2880 mm wheelbase.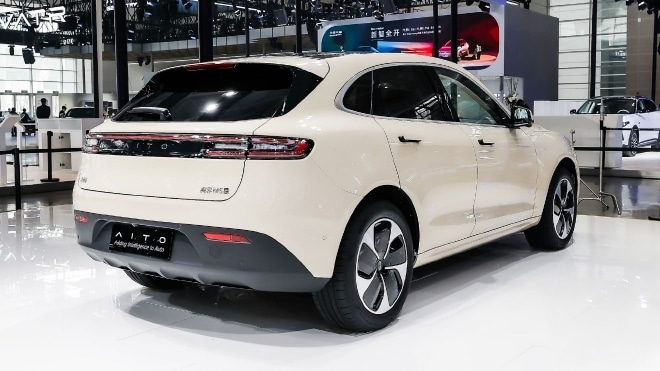 The M5 EV is built on Huawei's DriveONE pure electric drive intelligent platform, and fitted with Huawei's self-developed DATS dynamic adaptive torque system which improves battery and reduces response time to as little as 4 ms, 100 times faster than ICE vehicles. When it comes to performance and handling, the AITO M5 EV uses an all-aluminum chassis and a suspension combination of front double wishbone + rear multi-link. The front and rear axle-to-load ratio is 50:50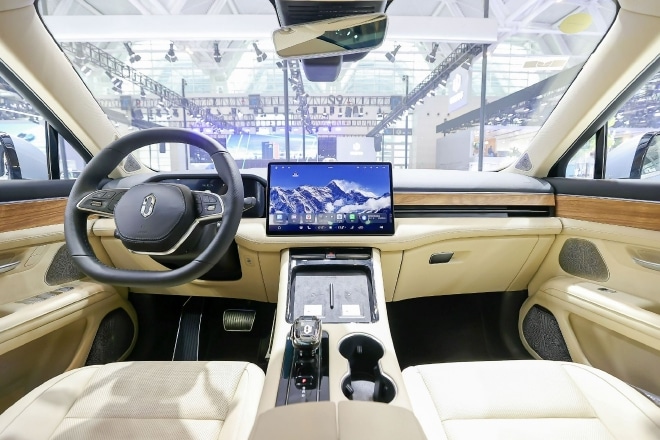 Inside, the AITO M5 EV adopts a simple and exquisite cockpit with high-quality material. For infotainment, there is a 10.25-inch instrument screen and a 15.6-inch central control screen. Additionally, the M5 EV is the first model from the brand to be equipped with the HarmonyOS 3 smart cockpit.
The automaker had earlier announced that deliveries of the M5 EV will commence before the end of the year. As of the end of October, the AITO brand has covered more than 220 Chinese cities, and the number of stores has reached 937. It is expected that by the end of 2022, the number of Huawei Experience Center and Seres User Center stores will expand to more than 1,200.