The 20th Guangzhou Auto Show starts tomorrow in China! It is one of the largest Chinese motor shows that will take place in the Canton Fair Complex with an area of 220,000 square meters. Lots of exciting vehicles have reached this exhibition hall, so let's get to know them better!
Zeekr M-Vision
Let's crack on with the Zeekr M-Vision that is definitely not one of Zeekr vehicles that we got used to. The M-Vision is a concept car that stands on Geely's SEA-M platform. Zeekr and Waymo Driver develop this vehicle together to launch it in the US as a part of the Robotaxi fleet. Previously, we have seen some spy shots and official images of the M-Vision. And now it has finally shown up at the Guangzhou Auto Show.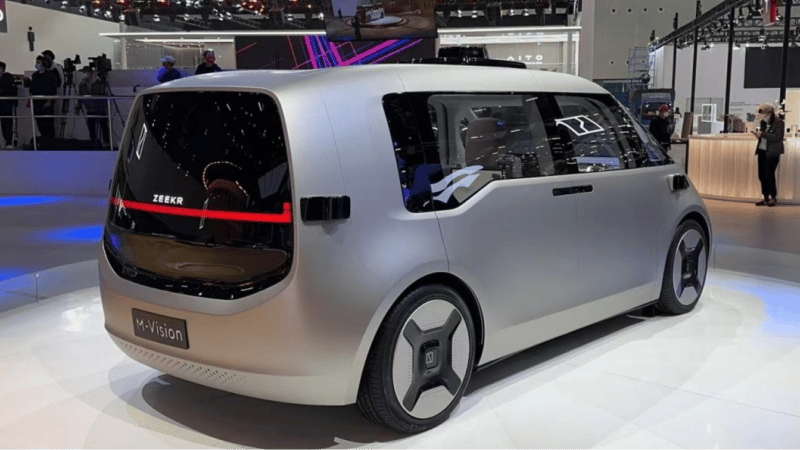 As we can see, its exterior design stays in line with those official pictures. The M-Vision got the same capsule design with the sliding doors, a lot of different sensors, and fuzzy bumpers. From the back, we can see that the M-Vision got a continuous taillight unit that goes all the way through its rear end. Its wheels have aerodynamic covers. We should mention that the M-Vision has a complicated pillar design that drastically reduces visibility. But if you look inside the Zeekr M-Vision, you will understand why its designers have made this questionable decision. There is no steering wheel there, just a screen and a pair of seats. The thing is, the Zeekr M-Vision is a car that will drive autonomously most of the time. So a lack of visibility won't be a problem at all.
GAC Aion Hyper GT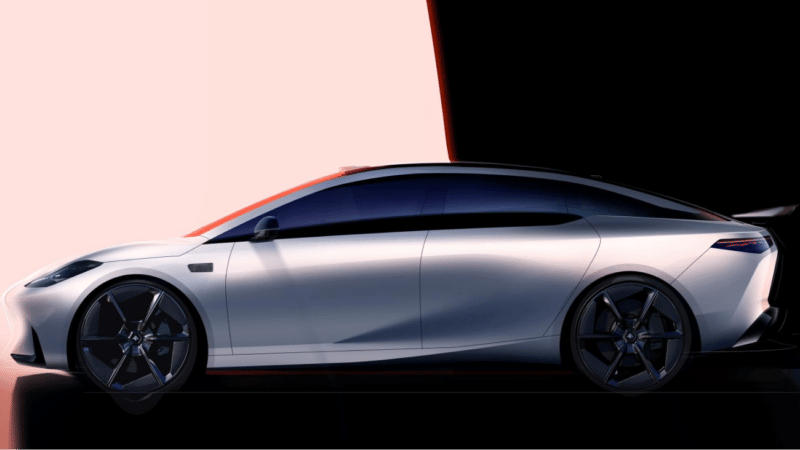 The Hyper GT is an electric sports car made by GAC. Its official shots were presented recently and now this vehicle has made it to the Guangzhou Auto Show. Basically, the Aion Hyper GT is an entry level sports EV in the 'Hyper' series. We will remind you that the Hyper flagship model is the Aion Hyper SSR with 1,225 hp. The Hyper GT has fewer horses, but these vehicles share the same AEP 3.0 platform. In terms of exterior design, the Hyper GT is a four-door vehicle with a slick shape and front 'Lambo' doors. It can speed up from zero to hundred in 4.9 seconds. More on the Hyper GT as we get it.
Hongqi E-QM5 Modified Version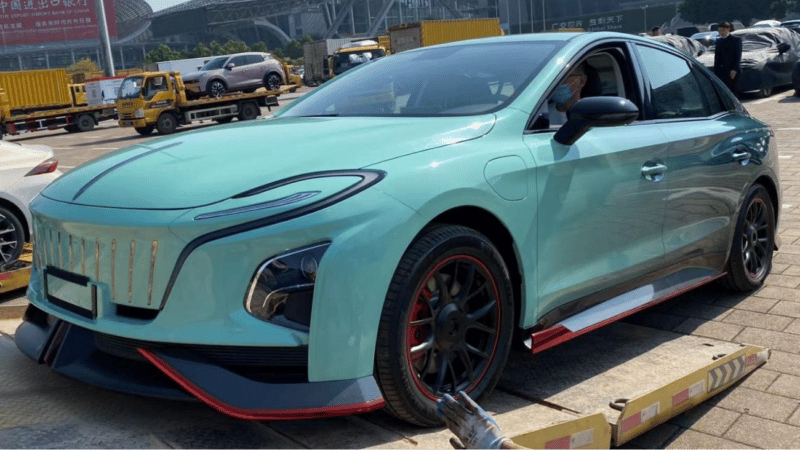 The Hongqi E-QM5 used to be a reasonable electric vehicle designed mainly for taxi services in China. But its modified version is a huge deviation from that course. As we can see, the E-QM5 got a new body color that looks like Tiffany Blue in the front end, but then it gets deeper in the rear end. It also has a sporty body kit and wheels with red trim. We don't know yet if Hongqi decided to add some power to the E-QM5 Modified Version. Most likely, it has a single electric motor on the front axle for 190 hp and 320 Nm. We should also mention that this version of the E-QM5 probably won't hit the market. It seems like it was built to attract the attention of the public, and for fun.
FAW Faway MPV… Sort Of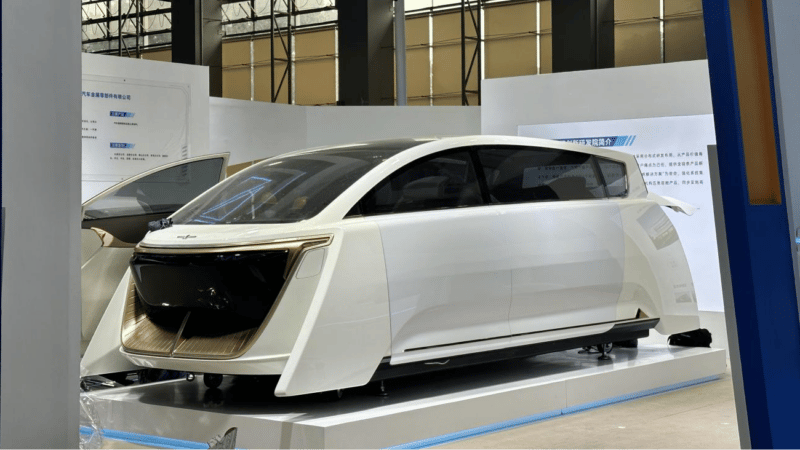 FAW Faway brought its quirky MPV to the Guangzhou Auto Show. First, let's talk about Faway because we believe that most of our readers aren't acquainted with it. FAW Faway isn't actually a car brand, but a parts supplier and a research center. It supplies brands under FAW with interior and exterior solutions. And now they've come up with its own concept car. It has appeared to be a Sci-Fi MPV that even hasn't got wheels. But it has an aerodynamic shape, a huge grille imitation, and four sliding doors. This MPV looks bizarre. We can't wait for the Auto Show launch to get to know this vehicle better.
AIAT Concept Car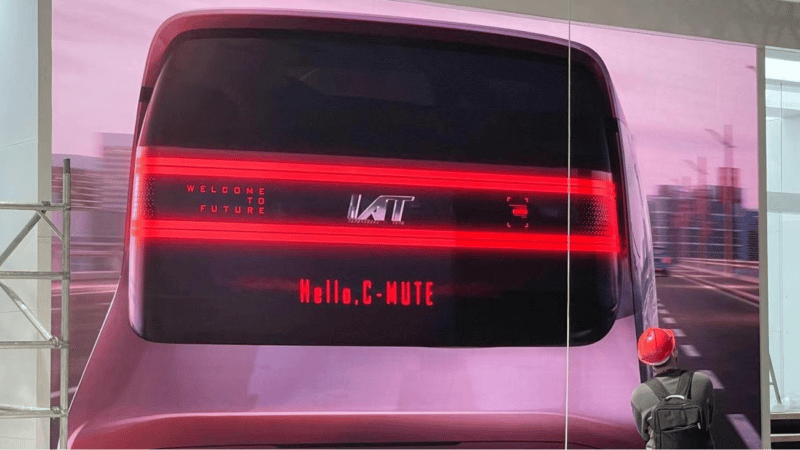 And another company has brought its first concept cat to the Auto Show. This time, it is IAT Automobile Technology with its recently founded brand AIAT. The IAT company was founded back in 2007 as an automotive design and development solution supplier. It works with quite a lot of automakers such as Geely, XPeng, Toyota, Honda, Volkswagen, GM, FAW, GAC, NIO, etc.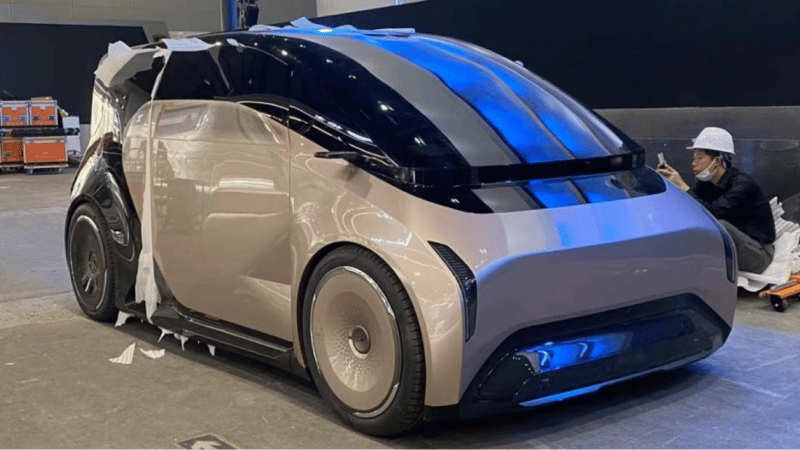 As for its concept car, it looks like a hatchback with a streamlined shape and quirky design. The name of this vehicle is C-Mute. AIAT mentioned that it will have an advanced autonomous driving system. Its back doors open backwards. And here we can also highlight that there is no B-pillar at all. It seems that it is only a concept car feature. The C-Mute is a small car, but its interior looks spacious. More on the AIAT C-Mute as we get it.
Pictures credit: Autohome, Weibo