New spy shots of the upcoming Great Wall Shanhai Canon 6×6, a monster of pickup truck with a 6×6 power train. Great Wall is the first Chinese car maker to launch such a vehicle on the market as a factory model. The 6×6 is the most extreme car in a new trend towards off-road capable vehicles aimed at affluent car buyers living in big cities.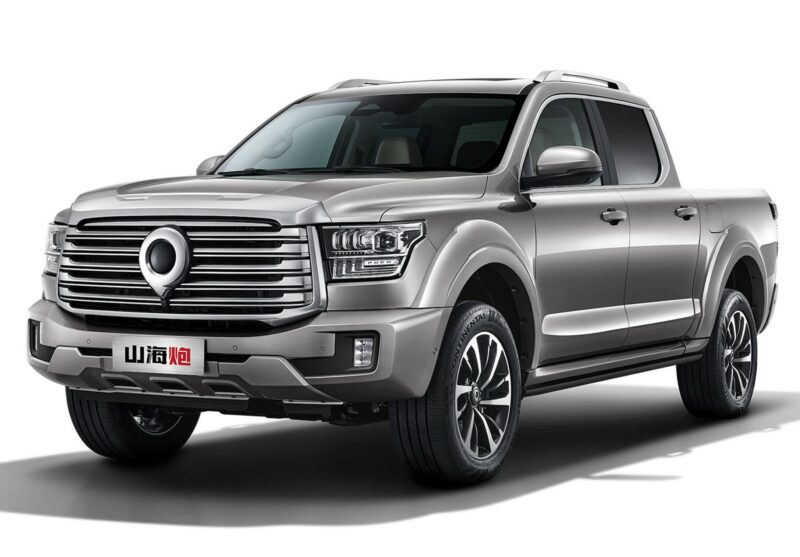 The Shanhai Canon 6×6 is a 6-wheel drive variant of the standard Shanhai Canon 4×4 pickup truck. The Shanhai Cannon is the most luxurious truck so far under Great Wall's Canon (炮) series, aka Poer series, aka Pao series. 'Shanhai' (山海) can be best translated as 'Mountains and Seas'.
The Shanhai Cannon is powered by a 3.0 liter turbocharged V6 gasoline engine with an output of 360 hp and 500 Nm. The engine is mated to a 9-speed automatic transmission. Price starts at 258,800 RMB (38,440 USD). The 6×6 version will get the same engine. Both the standard car and the 6×6 are based on Great Wall's P71 new body-on-frame pickup truck platform.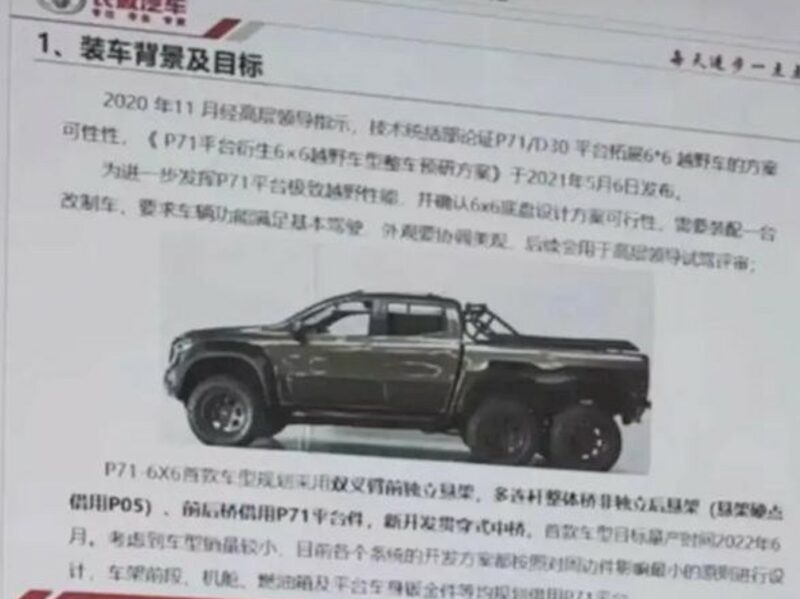 A leaked slide from an Great Wall presentation for dealers, showing the 6×6 in production form. The truck looks very racy, giant tires, with a covered cargo bed. The slide mentions a launch in May 2021, but like so many cars in China, the 6×6 has been delayed due to the pandemic.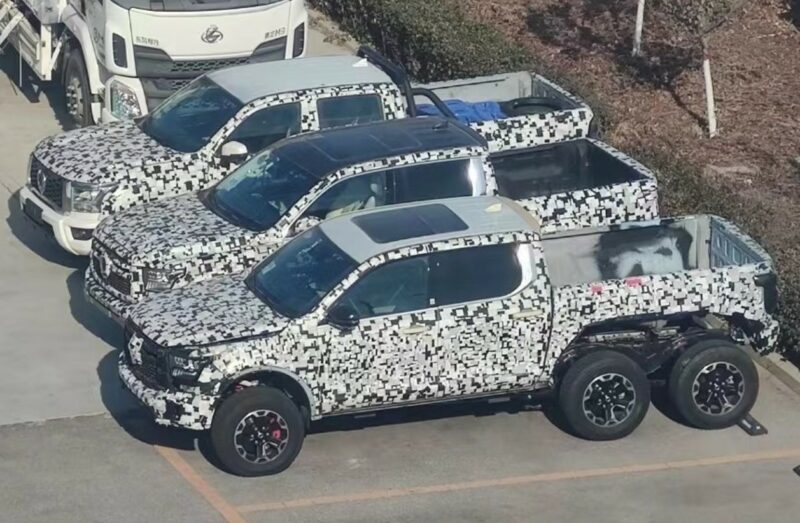 An interesting pic showing a 6×6 in front, a 4×4 in the middle, and another 6×6 in the background. The latter appears to have a slightly shorter bed.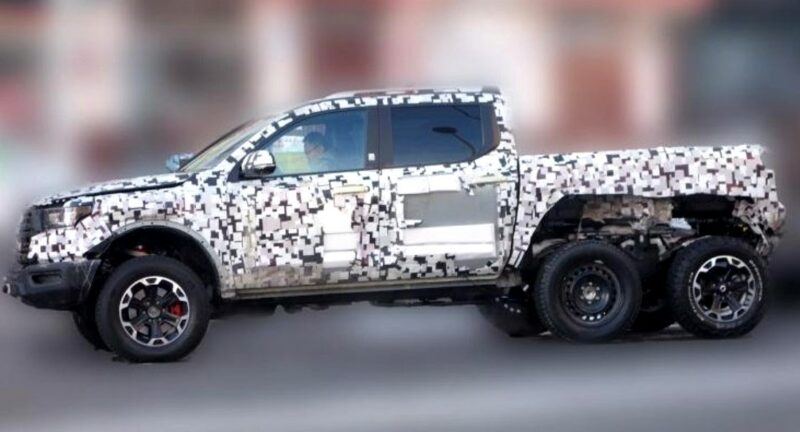 It is a huge car. We don't know the exact size of the 6×6 yet, but we do know the dimensions of the standard 4×4: 5440/1991/1924, with a 3350 wheelbase. That's enormous already, but the 6×6 will easily go over 6 meters, probably even 6.5.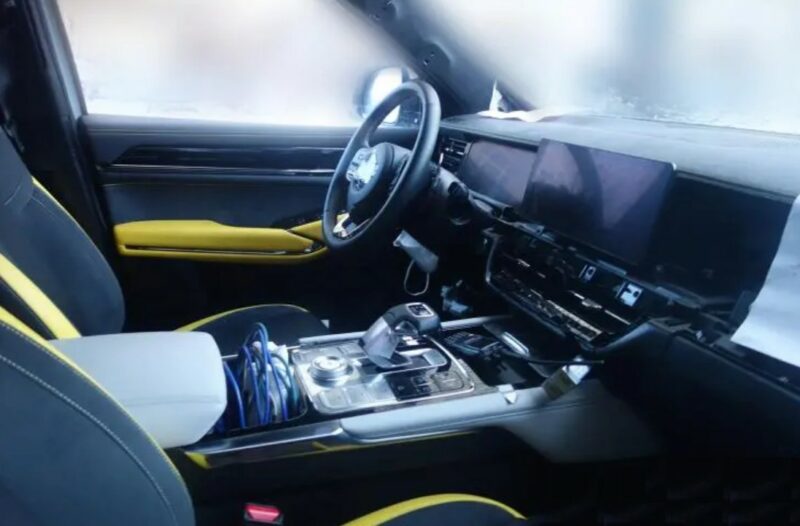 The interior is the same as the standard car but dresses up with some yellow detailing.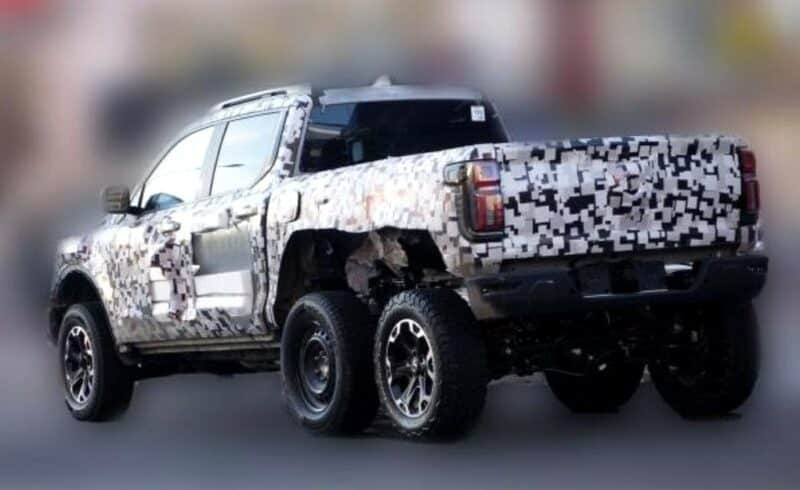 Suspension appears to be jacked up compared to the 4×4, note how high the bumper sits above the road.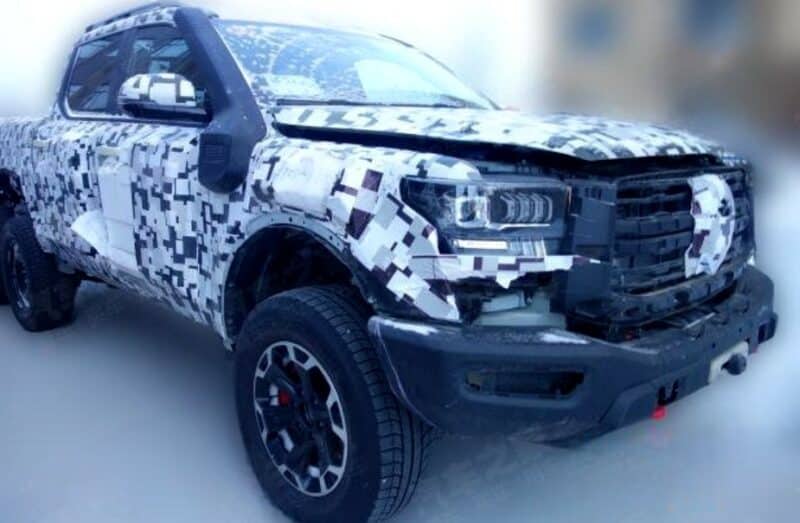 The Great Wall Shanhai Canon 6×6 is expected to debut on the 2023 Shanghai Auto Show in April, with a launch on the Chinese car market soon thereafter.