China's new car market has been impacted by the Chinese Lunar New Year, as many workers took a holiday of one to two weeks. According to the latest data from the China Passenger Car Association (CPCA), in January 2023, China sold 1.293 million new cars, down 37% year on year.
Despite the overall market decline, some auto brands still managed to perform well in the Chinese market. In terms of the five best-selling auto brands, Volkswagen ranked first with 148,004 vehicles sold and a share of 11.45%. BYD ranked second, with 133,317 vehicles sold and a share of 10.31%. The other three best-selling auto brands were Toyota, Changan, and Geely, each with a market share of less than 10%.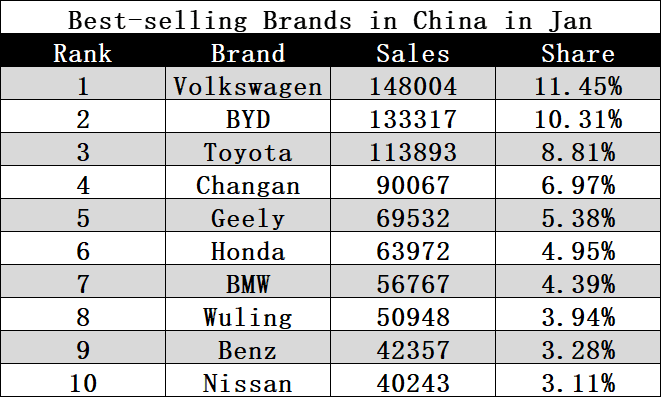 However, among the top 10 auto brands with sales, only BYD showed an increase of 40% compared to the previous year, while all others experienced a decline. Nissan and Honda were the two brands with the largest drop in sales, with a decrease of 62% and 56%, respectively. Since the third quarter of 2022, these two Japanese brands have seen a more than 30% decline in the Chinese market.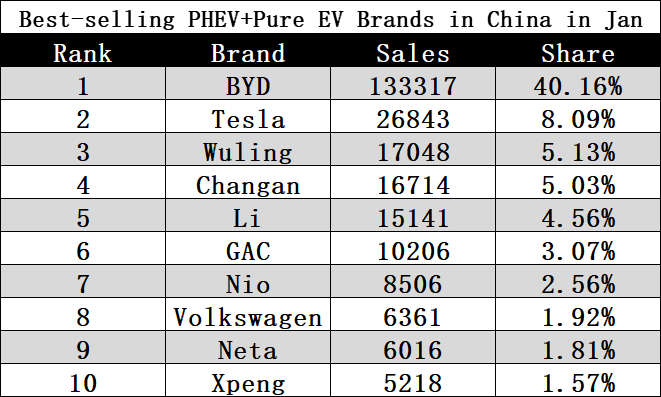 BYD Song Plus is the best-selling car. It has plug-in hybrid and pure electric versions and sold 35,585 vehicles in January. The second and third places are Volkswagen Lavida and Nissan Sylphy, respectively. Chinese cars and foreign cars account for half of the top 10 cars.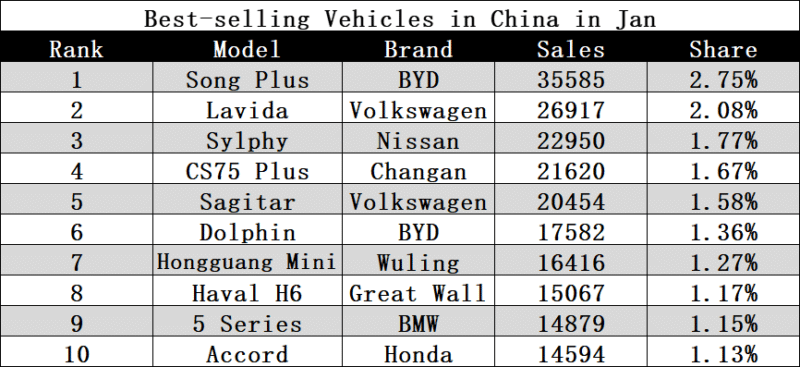 BYD was still the leader in the NEV market (PHEV + EV), with 133,317 vehicles sold and a market share of 28.39%. Tesla ranked second, with 26,843 vehicles sold and a market share of 12.54%. The other three best-selling pure electric brands were Wuling, Changan, and GAC, each with a market share of less than 10%.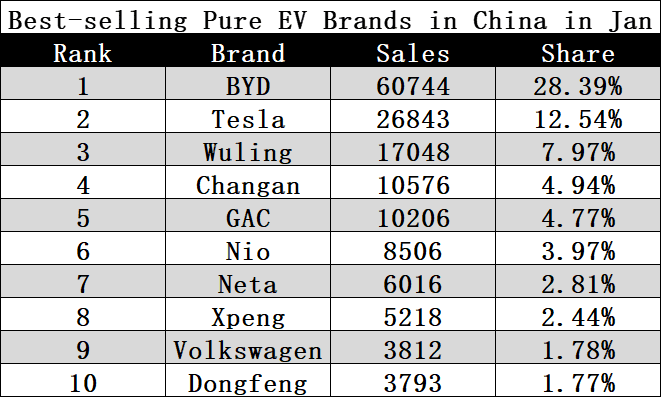 Despite the challenging market conditions, auto companies are still looking to tap into the potential of the Chinese market. The recent price reductions by Tesla have made their vehicles more accessible to consumers, while BYD has been expanding its global footprint through exports and market-leading sales.
Note: If you have read our previous article, BYD's total sales and pure electric vehicle sales in the previous article are higher than that in this article. This is because BYD has exported more than 10,000 vehicles, which are not included in the Chinese market, and the transportation and inventory of vehicles have caused some differences. The two data do not conflict. The same is true for Tesla or other brands
Related articles:
BYD sold 151,341 vehicles in January, up 62%;
Tesla Shanghai sold 66,051 EVs in January, up 10%.
Source: BitAuto, Dongchedi